Shunning The Dog
by Gina Valley
Our dog's developed a super power.
It's not a particularly enjoyable super power for the rest of us. I wish he'd developed the ability to fold laundry or to load the dishwasher, but he did not.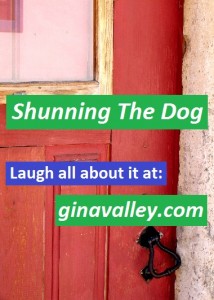 Dog experts call this new super power "rude", in that he is "barking" at us when he wants something. Of course, "barks" is a significant understatement about what he's doing.
It used to be, when he wanted something, he would just sit near whatever it was his request centered around. He'd sit by the back door when he wanted to go out. He'd sit by his food jar when he wanted to eat. He'd sit on my bed when he wanted to shed a ridiculous amount of hair.
But somewhere along the line he decided, probably after observing my children, that making some noise might speed up the process a bit. So, he got in the habit of emitting one "huff" when he sat down near something he wanted.
At the time, I thought it was kind of cute. It was actually helpful, too, because sometimes, even though he's a hefty 100 pounds, I can't hear him sit down. And, our rugs and I both want him to get outside whenever he feels the need to go.
He changed the huff to a quiet bark after a couple of weeks. Just one soft one, but definitely a bark. It was sweet. Kind of like when your baby learns to say "baba" or "mama" or "TV," and you're proud she can say what she wants.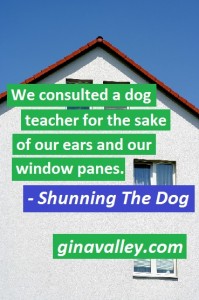 Shortly thereafter, however, he changed his one single bark to one single sonic boom. It was so loud it shook every window in our house. We decided, as responsible dog-parents and window-owners, that something had to be done.
So, we told him "No!" each time he did it.
Then, dog-behavior-experts that we are, we got up and quickly took care of whatever need he was communicating, lest he be prompted to let out the super bark again, and shatter every window in our house.
So, yes, our dog successfully trained us to meet his every demand quickly and efficiently.
Then, apparently, our dog decided that either we were too slow or he wasn't being clear enough with his directives, because our jumbo furry family member ceased his one bark air raid behavior, and resorted to a more-is-better campaign, which included a window-shaking bark every second or two until his demands were met.
We consulted a dog teacher for the sake of our ears and our window panes. (He is not a dog trainer, mind you. He is a dog teacher. He explained this to us several times. "Trainer" implies our dogs are mere pets. He "teaches family members." Funny, but he didn't seem the least bit interested in "teaching" our 13 and 14 year old non-furry family members to stop "barking" at each other while they played HALO.)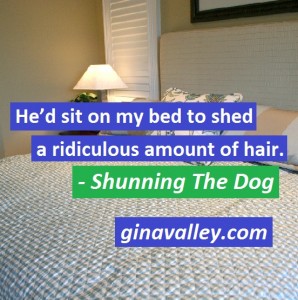 The dog teacher explained to us the best way to get rid of this window-endangering barking was to reward our dog's good behavior, and to ignore his "less desirable" behavior. He told us not to do anything for our dog while he barks at us, but to instead wait until he silently sits near whatever it is he wants.
Further, we were to "deny him socialization while he is being rude." How, one might wonder, does one go about denying a dog socialization? And, one might also wonder, how does a dog know what socialization means?
The dog teacher said we should turn our backs to our dog until he stops the behavior. I think they call that shunning in Amish areas.
If turning our backs is inconvenient, like when we've finally got the kids to stay in bed and actually get to sit down, and there is virtually no chance we're going to stand up and face the wall in an effort to teach the dog to stop barking about the package of Snicker bars on the kitchen counter, we should cover our faces so the dog cannot see them.
This explains why my husband and I were both sitting in our family room with our faces hidden, his beneath a Macy's mattress sale flier, and me with the front page of The Times draped across my upper body, when our eldest son walked into the house with his new girlfriend.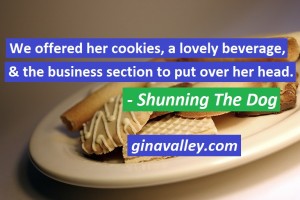 We hadn't met her yet. I feel like we still haven't.
All I could see with the newspaper over my head were her shoes, and what I am hoping was a photo of Donald Trump's hair. I couldn't hear a thing she said the entire time, as the dog was not even a little phased by our ignoring him, and continued to bark non-stop.
We offered her cookies, a lovely beverage, and the business section to put over her head.
She looked quite confused.
I guess some people just don't understand dog-teaching.
Or, super powers.
Laugh out loud!
-gina
Are your furry family members well-taught? Or, have they trained you? Shoot me a comment. I'm looking forward to hearing all about it.
Photos courtesy of Dreamstime.com – Used with permission.