Shopping Is The Devil!
by Gina Valley
It seemed simple enough.
I'd stop off at the jumbo box store to get the external hard drive I needed to back up some of my work photo files.
Simple.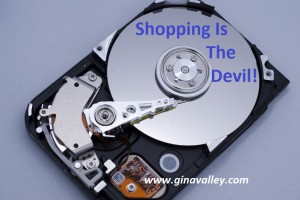 While I was there, I decided to check to see if they had the square white dishes that match ours.  We're running low on dishes, because, although my pack is unable to throw away paper plates, they have no problem tossing out a real plate or 2 every week.  We are down to sharing 3 dishes between the 9 of us if we don't want to use paper plates or my Sunday China.
I have a major weakness for dishes and for blue glass, so when I saw blue glass dishes and no one was with me to remind me of my "less is more" philosophy about life (although technically "less is more" doesn't apply to shoes or dishes, because "more is more" for those), or to distract me with purple bubble gum (I love that) or by knocking over the closest display of canned goods or fruit or canned fruit, I immediately put a stack of blue glass cereal bowls into my cart.
I had to have them.  Our cereal bowls disappear almost as quickly as our spoons.  My birthday's coming soon anyway. Besides, this way we can stop eating cereal out of our hands. Happy Birthday to me.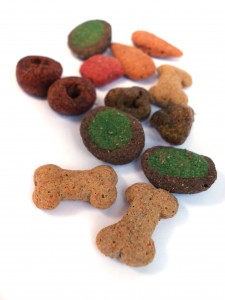 Son#1 sent me a text reminding me that we needed puppy food.  I think they should be required to sell owner Xanax right next to the puppy food.  Our puppies are 9 months old now, and still coming up with new ways to chew up my stuff.
I hefted the giant bag of chow for our 2 giant pups into the cart.  It just fit in next to the 2 boxes of white dishes. I was careful not to bump the blue glass cereal bowls with it.  I'd hate to break them in the store, and to deprive my kids of the pleasure of doing that themselves at home.
I tossed a giant bag of dog treats into my cart, too, silently praying that someone would use them to train the dogs, instead of pouring the whole bag into their bowls for dessert like they did with the last bag.
Son#1 had also mentioned that we were out of almost every size of battery imaginable.  We don't use the rechargeable batteries anymore because my kids invariably throw those out.  Come to think of it, the only things I can truly count on my kids to throw away is the stuff I don't want them to.  I carefully wedged 2 big packs of batteries into a nook between my purse and the puppy food.
I had the world's grumpiest cashier, who, among other things, instructed me that I really ought to be buying Corelle dishes, because I have kids and "those don't break."  I assume she meant the dishes.  I just smiled and thought "She doesn't know my kids.  They haven't met a dish they can't break.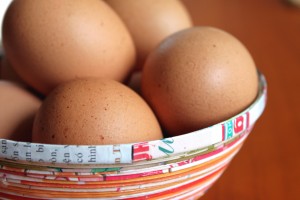 After transferring the payload from the cart into our van I decided I'd hit the grocery store on my way home.  We were out of a few minor things, like milk, bread, eggs, and anything that could even be confused with a dinner item.
It only took me minutes to fill my shopping cart to near overflowing.  It probably would have taken less time if I hadn't stood hypnotized in front to the candy aisle for 10 minutes.
After the very friendly cashier asked me 3 times if I was sure I didn't want cash back (I was starting to wonder if she was getting a kickback, or  knew something I didn't.  Was one of my kids about to need cash to replace a textbook they'd flushed or to pay for a fieldtrip they'd forgotten to mention for the last 6 months?) I tossed the bags full of provisions into our already stocked van and headed home.
As I pulled into our driveway, it hit me.
No one was home.
I'd have to haul all the stuff into the house myself.
Talk about buyer's remorse.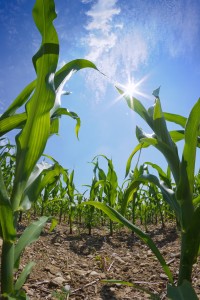 Did we really need dishes? Or, dinner?  I couldn't even leave the puppy food in the van for my pack to bring in later.  The weather has been summer-like this week.  The 85 degrees F expected today would turn our van into an oven, and cook the puppy food smell into it forever. That'd be a shame, as it'd probably drown out the rotten milk smell my kids have worked so hard to keep up in our van for years.
Even though Son#1 arrived in time to do the lion's share of the hauling, I was wishing I'd waited to do the shopping in the afternoon, so that the rest of my pack would be home to help unload and to put away all of the stuff.
I shouldn't have worried.  After Son#1 and I had schlepped everything into our house, and stowed everything in its proper place, I realized I'd be heading back to the store in the afternoon anyway.
I'd forgotten to buy the hard drive.
Laugh Out Loud!
-gina
What's your take on shopping?  Who puts everything away at your house?  Shoot me a comment.  You're here anyway, and I'd like to hear what you have to say.
And, thank you for reading and sharing.  I appreciate your support.