I Want A Kids' Shoes Tracking Device
#whatIwantforChristmas
by Gina Valley
I want a kids' shoes tracking device for Christmas. We, as in me, spend more time looking for my kids' shoes than for anything else.
Hopefully, the tracking device will come with a setting to help me locate my shoes when one of my kids has "borrowed them" (my black suede boots are particularly prone to "wandering" this time of year, apparently drawn toward the dangerous mystique that is my daughters' closet).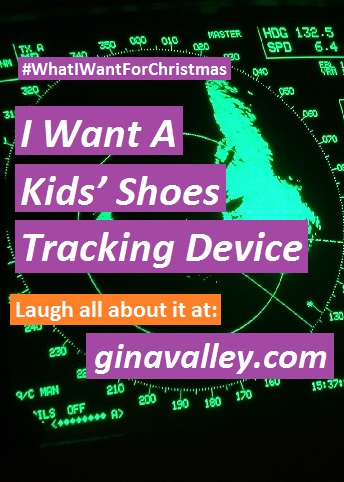 If the tracking device also has a setting that allowed me to determine whether a child's missing parka was left at school or on the soccer field, even better.
But, I'd be more than happy with a basic kids' shoes tracker.
I'm betting Santy Claus has an amazing shoe tracker to keep track of all the elves' shoes. He could pass that on to me. I don't mind a little wear and tear, as long as the tracker works, and finds shoes, even if they don't have pointy toes.
The Jolly Guy needs to realize I'm ready to put out for this, too. And, I'm not just talking cookies and milk.
I'm willing to throw in some very fancy eggnog with a big splash from a very old bottle, just the thing to put some spring back into his step on a long night of deliveries.
As long as I can find the bottle.
Laugh Out Loud!
-gina
Be sure to hook up with me on Facebook and Twitter  and Pinterest so you can see all of my #whatIwantforChristmas posts.
I'm looking forward to reading your #whatIwantforChristmas posts, too. Shoot me your Facebook, Twitter & Pinterest links if we aren't already connected. I'm looking forward to giggling along with you!
Be sure to invite your friends to join in by sharing my What Do YOU Want? post with them on all of your social media spaces.
Photo courtesy of 
Stock.xchng
 – Used with permission