Seriously Today – We'll Be Laughing Out Loud!
by Gina Valley
Sometimes parenting is hard.  Actually, most of the time.
It's often satisfying.  We're usually glad we chose to do it, happy we have kids.  But, it's usually long on responsibility and short on fun.  Even the fun is a lot of work.  At the end of the day, sometimes, looking back, we're just glad it's the end of the day.  A lot of times, really.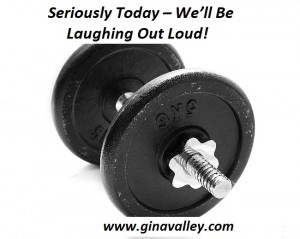 Parenting is exhausting and heavy.  Worth it, but exhausting and heavy.
Wouldn't it be nice to lighten the load?
I think the best days of parenting are the days when we laugh.  That doesn't mean there aren't serious moments, life-impacting moments.  It just means there was a spoonful of sugar with that medicine.
I've found that laughs can be far between in parenting unless we parents plan for them, especially in our culture of busyness.
Around our house I think of it as "planned spontaneity."  Opportunities for we parents to do silly, fun, non-productive things with our children.  Doing something together with a purpose does draw parents and children together.  BUT, doing something together simply to laugh together cements that relationship.  I think this becomes even more important as our children grow into teens and young adults.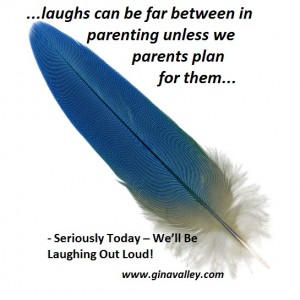 Every family, even the most straight-laced and somber, has a favorite laugh inducer.  Even so, every family can use more laughing.
This Thursday, I get to talk about that:  laughing with our kids, and how to do more of it, especially for dads, as they often have less time with their children.
I don't get nervous, but if I did get nervous, I'd be nervous.  I have the honor of guest hosting #DadChat this week, while Bruce Sallan, #DadChat's founder, is traveling. Our topic is: Laugh Out Loud at #DadChat
Please come hang out with me this Thursday, January 9, at 9PM Eastern/6PM Pacific. We'll chat for an hour.
Everyone is welcome: dads, moms, aunts, uncles, kids, puppies, everyone.
Please consider this your official engraved invitation.
I'm looking forward to hearing what you and your family do to laugh together.
What do/did you do that always gets/got a laugh from kids (yours or others)?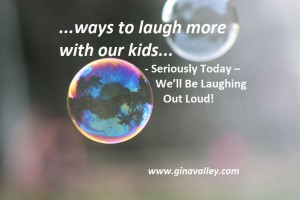 What do you remember your p
arents doing when you were a child that made you giggle?
What did you and your friends do to get a laugh as kids?
Who is the Laugh Whisperer in your family?
How can you encourage your children to find more joy?
How do you turn that frown upside down?
Why did the chicken cross the road?
What is the favorite joke around your home?
It's going to be a fun discussion. We'll all take away some new ideas about ways to laugh more with our kids and to bring out more joy in our lives.
If you're on Twitter, you can easily join in by searching #DadChat this Thursday, January 9, at 9PM Eastern/6PM Pacific.  I'll be on 15 minutes before then.
If you aren't on Twitter, you can join just for this chat quickly & easily by clicking on this link.  After you sign up, be sure to follow my accounts (@GinaValley and @GinaValley2) .  I will follow you back.
Please let me know if you have any questions about signing up or how to follow or participate in a Twitter chat.  I will do my best to answer them correctly.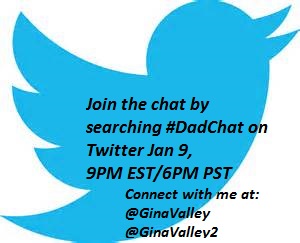 Be sure to follow both my twitter account @GinaValley and my back up twitter account @GinaValley2, if you haven't already done so.  I'll be using both during the chat in an effort to stay out of Twitter jail (that's when Twitter freezes your account for a couple hours, because its software has detected you sending out what it thinks are too many tweets too quickly).
I'm looking forward to hanging out with you and to sharing laughs and ideas for more of them.
And, I appreciate your support.
See you Thursday!
Laugh Out Loud!
-gina
Will you be there?  How do you keep the laughs coming in your home?  What never fails to give you a giggle?  Shoot me a comment.  I'm looking forward to hearing all about it.
Photo courtesy of Stock.xchng – Used with permission