Secret Life Of Road Signs…Gina's Favorites
by Gina Valley
I'm traveling with my family this week, so, to keep you in giggles, I've loaded up some of my favorite past posts.  Laugh along with this Gina's Favorites Throwback post.
The Secret Life Of Road Signs
Ahh, the holidays!  The season of road trips is upon us.  Perhaps you're planning a peaceful, family driving adventure over your kids' school break, too. Here's a little secret – Road signs are NOT there to help or inform you.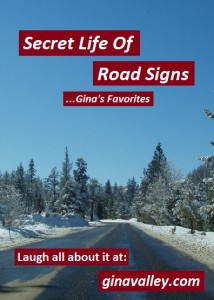 Road signs are the highway department's little joke.
It's a laugh on you.
Fortunately, because of my significant series of sojourns, I have decoded the true meaning of some vital signs, and I'm going to give you the inside scoop. I'm a giver like that.
That large, low, peeling billboard advertising Frank-n-Nittie's Truck Stop & Taxidermy isn't there to help you find something to eat and something to gross out your kids.  It's conveniently placed there so your friendly state trooper has a hiding place to aid in nailing you for speeding.
That sign that says "Rest stop 1 mile.  Next rest stop 55 miles" is not there so you can conveniently off-load and stretch your legs before what will be a long interval until your next opportunity.  On the contrary, it's there to get your hopes up, your family awake, and the shoe hunt started.
After you wake your sleepers and convince them they have to go, whether they had to go or not, after the shoes are on, the seats are in a fully upright position with their tray tables folded away, and the DVD is paused, you will find the exit is blocked by bright orange cones and another sign 'cause they are "working to improve for your convenience." Excellent!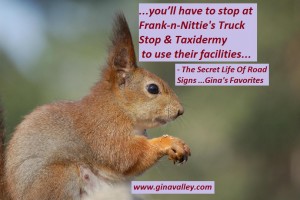 At this point everyone in your car, and heaven help you if you're part of a caravan, will suddenly have urgent off-loading needs, and you'll have to stop at Frank-n-Nittie's Truck Stop & Taxidermy to use their facilities. Of course, their facilities are only open to paying customers, which is why, for the rest of your trip, Reggie The Rigid Squirrel will be wedged in next to your seat.  Make sure you get a receipt.  They will ask at the border.
That merging traffic sign, you know the one, is a sneaky bugger.  It looks like two arrows are performing some sort of act that's illegal in 23 states.  It's supposed to provide you with advanced warning that a lane is going to join the road and then merge into your lane.  In theory this would give you time to plan ahead to ensure a smooth, stress-free merge experience with the other vehicles.
But, what it really means is there'll be no vehicle as far as the eye can see in either direction until you get to the merging point. At that very instant a 45 foot long motorhome will suddenly materialize and try to occupy the very piece of asphalt your vehicle is currently occupying, a Porsche Cabriolet will suddenly appear doing close to Mach 1 to pass you, and a tractor trailer will suddenly be coming head-on toward you as he attempts to pass the Prius in his lane.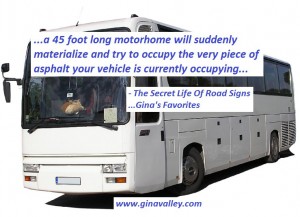 On a positive note, you won't need coffee to stay awake after that.  You might need an off-loading facility, though.  Hopefully, you're near Frank-n-Nittie's.
Lastly for today is that "Slow traffic keep right" sign, which means it's time to choose between being sandwiched by angry, tailgating big rigs in the right lane or to have your rear run over by the Millennium Falcon as it cruises by ready to make the jump to light speed in the left lane.  Potato. Potahto.  It's really your call.
Be sure to commit these to memory.  They will be on the test, or at least on the road.
Happy Trails!
Laugh Out Loud!
-gina
What was your last road trip? Do you travel around the holidays? I'm looking forward to hearing all about it! Be sure to shoot me a comment!
Photos courtesy of Stock.xchng – Used with permission