School Is A 4 Letter Word!!!
by Gina Valley
I don't want to hear it.
I've been making a valiant effort to avoid it. Yes, I'm in denial and I know that's not healthy and I don't care.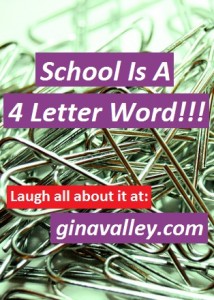 It's the middle of summer. Stop saying "school."
We're in the middle of heat wave. Stop saying "school."
It's still July, for goodness sake. Stop saying "school."
School can't start. I don't even have tan lines yet. We haven't even gone on vacation yet. And, frankly, simultaneously shopping for bathing suits, school supplies, and winter boots is not my idea of a good time.
The far greater majority of our days are already dominated by school:
Getting to school.
Getting home from school.
Getting homework done.
Going back to school to get the book to get the homework done.
They say a school year is 180 days, but that doesn't include the weekends, evenings, and holidays spent working on school projects and participating on school academic, artistic, and athletic teams.
It's really closer to 432 days per year.
Even during the summer, we're still deep in the school mix with summer reading lists and sports practices, not to mention calls, emails, and letters from our schools about overdue text books and upcoming orientations.
It's nonstop.
But, couldn't we, just for a little while, just for a couple months, go with the unhealthy and be in denial? Couldn't we pretend that great wave of academia is not looming, every-present, waiting to crash down upon us? Couldn't we just ignore the giant textbook-toting elephant in the living room and kitchen and newspaper in nearly everyone's home for just a little while?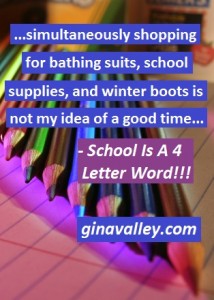 Is it really a break from school when we're always surrounded by headlines, emails, ads, and tweets about school? Is it really a break from school when even the gift shop at Disneyland has a Back to School aisle?  Is it really a break from school when both the local teacher supply store and the liquor store are sporting "Stock up: School Starts Soon!" banners?
Yes, our kids need a break from the grip of academia, but we, their parents, need one even more.
Or, at least I know I do.
So, chill out, Target.
Relax, WalMart.
Take a break, Macy's.
Call back later, Verizon.
Sign off Yahoo, Google, and Amazon.
No, I don't want to save 70% on school supplies this week. No, I don't want to buy one book bag, get one half off today. No, I don't want to read about the top 10 ways to fight summer brain drain right this second. No, I don't want to get the latest 4G devices to give my kids an electronic, educational edge this month.
What I want is for this summer break to last another couple years, or at least to have the time off we have left to be free from the mention of school.
I want to look at the giant pile of wet swimsuits and dripping beach towels, and to not think about the giant pile of school clothes soon to replace it.
I want to forget to make dinner until 9:30pm, without thinking it's really about time to get everyone on a decent sleep schedule, so they can get out of bed in the mornings for school.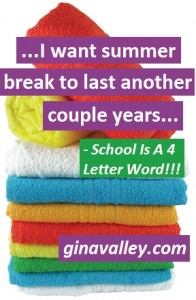 I want to think about sand and sunshine and caterpillars, not pens and notebooks and carpool schedules.
I want my kids to be looking for water balloons and beach towels and marshmallows, not PE clothes and math books and backpacks.
And, the only thing I'd like to see in an ad is a new beach chair, preferably at half-off.
Because ever since my youngest son "borrowed" a "few" parts from my beach chair to make a catapult, it's been reduced to a piece of brightly colored fabric with a few aluminum rods across it. It's really just a bumpy beach rug now.
Of course, no one sells beach chairs in July, especially in the middle of a heat wave.
I'll have to wait to buy one until the traditional beach chair selling season.
In the middle of December.
Right after the first big snowfall.
And the week before ads for the big Get Ready For Summer!!! campaign start.
Laugh Out Loud!
-gina
Does summer seem to get shorter every year to you, too? Are you looking forward to school starting, or are you dreading it? Shoot me a comment. I'm looking forward to hearing what you think.
Photos courtesy of 
Stock.xchng
 – Used with permission.