Sometimes, bad menus happen to good people.
And, sometimes, people are just horrible cooks.
It wouldn't be a holiday if we didn't have tons of food. But, let's face it, just because there's tons of it, doesn't mean the food will be fabulous.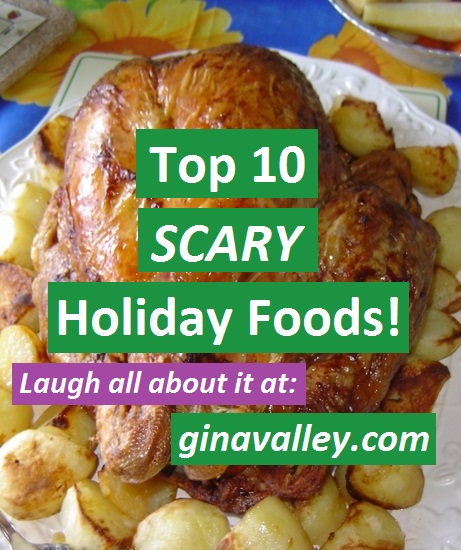 Or, edible.
You don't want to end up with one of these holiday disasters on your plate. So, whether you're spending time with friends and family or visiting restaurateurs, be sure to keep both eyes wide open as you approach the buffet.
In a thankful, celebratory kind of way, of course.
Top 10 SCARY Holiday Foods
#10 – Mashed With Our Feet Potatoes
#9 – Don't Know Why These Beans Are Green Casserole
#8 – Pre-Owned Stuffing
#7 – We-Hope-That-Orange-Stuff-Was-Pumpkin Pie
#6 – Cranberry-ish Sauce
#5 – Corns bread
#4 – Brussel Sprouts (nothing funny about this one. They're just awful, even on their best day.)
#3 – Sweat Potatoes
#2 – Turkey Sushi
#1 – Uncle Bert's Bathtub Brewed Sparkling Apple Cider
Remember, we all have much to be thankful for.
Especially, that we can always stop by McDonalds on the way home.
Laugh Out Loud!
-gina
Any disastrous dish holiday memories you'd like to share? Shoot me a comment. I'm looking forward to hearing all about it.
Photo courtesy of Freeimages.com – Used with permission.