It Has A Pulse!
by Gina Valley
My 12 year old came home with a gift from satan on Friday.
Ok, it wasn't actually from satan.  It was from Lenore*, his best friend's mom.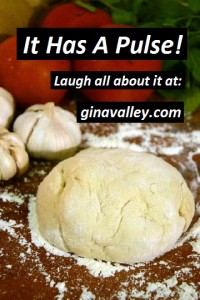 *Lenore is a very nice person. She definitely is NOT satan. You know I'm just making with the jokes here, right, Lenore?
But, it seemed like something satan might send home with my kid.
You've probably already guessed what it is.
That's right.
It was a Ziploc bag full of Friendship Bread Starter.
That, by the way, is a total misnomer.This goo has never started a friendship, although I'm willing to put dollars to doughnuts (what does that even mean?!?!) that it's ended more than a few.
It's probably started a several wars.  In fact, I'll bet if we were to carefully investigate Kim Jong-il's culinary past, we'd find evidence of a Friendship Bread Starter bag showing up at his house right before he went off the dictator deep-end.
I don't need people to send plastic bags full of fermenting goo, complete with its own massaging and feeding schedule, to my house.  I'm just not ready to make that kind of a commitment to a bag of goo. Frankly, I have trouble keeping the bread I buy from rotting. I don't want the pressure of trying to deal with a pre-bread time bomb.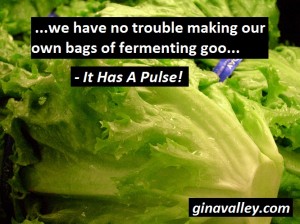 Besides, we have no trouble making our own bags of fermenting goo.  I have a veggie crisper drawer full of them right now.
Sending the bag of nastiness to me by way of one of my pack members is even worse.  They forget to close our refrigerator or to mention our microwave is on fire.  Remembering to hand me a bag of goo is never going to be at the top of any of my kids' to do lists.
When Son#2 was in 3rd grade he was nearly blown into the next county when a forgotten Friendship Bread Starter bag buried deep in the black hole which was his backpack created enough gas to not only break the seal of its Ziploc bag, but to also create a sort of jet propulsion system while he was walking home from school.
Fortunately, he landed on his head, so he wasn't hurt*.
*Valley children pride themselves on their hard heads. Why just this weekend one of my 13 year old's friends broke his arm in 4 places when he accidentally hit my son on the head while they were jumping on a trampoline. True story.  I wish I was making that up.
We had to call in the HazMat team to incinerate Son#2's backpack. But, he did get an "A" on the science project he wrote about it. I'm sure my promising to send a sample bag of Friendship Bread Starter to his teacher, if he needed additional visual aids to improve his grade, in no way encouraged his teacher to immediately give him top marks.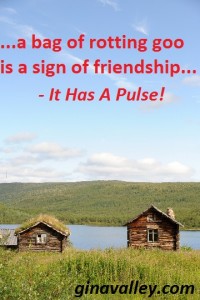 How did the tradition that receiving a bag of rotting goo is a sign of friendship even start?
Was somebody living in the Little House On The Prairie feeling lonely and looking for a way to endear herself to her neighbors? Did she think "I have a bag of rotting stuff. I know. I'll give some of it to everyone I know, and then they'll all be my friends"?  Didn't they have social anxiety medications back then?
Does this work for any rotting food?  Can I expect my neighbor to be honored if I label our bag of melting romaine "Friendship Salad Starter"?
Does it have to be in a Ziploc plastic bag? I have some Texas toast on our kitchen counter that's rapidly turning blue and developing the ability to breathe, but it's got a clip, not a Ziploc.  Is it suitable to be "Friendship French Toast Starter"?
Can it be anything labelled "Friendship"?  We've got a new pet, a rat named "Minnie," who I'd love to pass on (Son#1's snake wouldn't eat her, so Son#4 named her, which caused her to jump from being "food" to being a "pet").  If someone would be required to accept her graciously because I did it, I'd be more than happy to whip out a pen and label her "Friendship Pet Vermin Starter."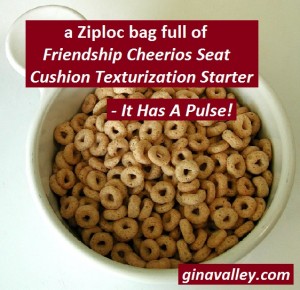 Can I apply this principle to other areas in my life?  How about a Friendship Bag Of I Don't Know What The Heck This Is from my freezer? Or, ten boxes of Friendship Attic Clutter Starter from our attic?
This could revolutionize my de-cluttering plan for our house.
I'll have to be sure to put together a Ziploc bag full of Friendship Cheerios Seat Cushion Texturization Starter for Lenore while I wait in the school parking lot after school today for my kids.
Actually, there's probably plenty of Cheerios, melted crayons, and broken pencils down the front seat alone to fill 15 big Ziploc bags.
Or, should I say 15 Friendship End Of The Year Teacher Gift Starters?
Laugh Out Loud!
-gina
Has anyone ever given you a bag of Friendship Bread Starter?  Did you follow the instructions? How did it turn out? Did it explode?  Shoot me a comment.  I'm looking forward to hearing all about it.