You know how sometimes you impress your family and friends with your skill and competence?
Yeah, me neither.
Last night a little moth flew straight into my face, landed on my nose, freaked out, and tried to fly away. But, he must have forgotten how he got there (or maybe he just had a poor sense of direction. Not judging here. Just reporting) (Although I am pretty sure he's male, since he didn't ask for directions and I know how you guys hate to do that), so instead of flying away from my face, he cruised forward and went underneath the bridge of my glasses.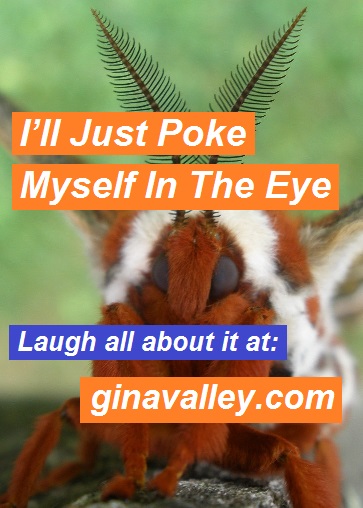 So, the hyper Lepidoptera got trapped between my glasses and my eye. This further, apparently, freaked out the moth (I believe that "freaked out" is in fact a scientific measurement of the quantity of spazzing out an organism is doing, even though The Professor continues to insist that it is not). So, the moth took off flying and crashed directly into my right eye.
My winged assaulter then proceeded to fly the short route between my eye and the lens of my glasses repeatedly and rapidly, alternatingly bouncing off of the glass of the lens and the lid of my eye (thankfully my eyelid has that built in "close you fool!" reflex, because, heaven knows, I wasn't thinking quickly enough to shut it).
I'm pretty sure the little bugger completed his Kamikaze circuit at least 20,000 times in the ten seconds it took me to wrest my glasses from my face (you know, sometimes my glasses just fall off, but during this moth-related emergency they seemed to be cemented onto my ears with some sort of invisible glue).
I, naturally, remained completely calm and relaxed throughout the whole experience.
By "calm" I mean, naturally, "screaming and running around"(that counts as cardio, right?). I'm pretty sure the moth was screaming, too. The Professor says that moths can't scream. But, the moth was right by my eye, and I'm fairly certain I could see his little mouth screaming.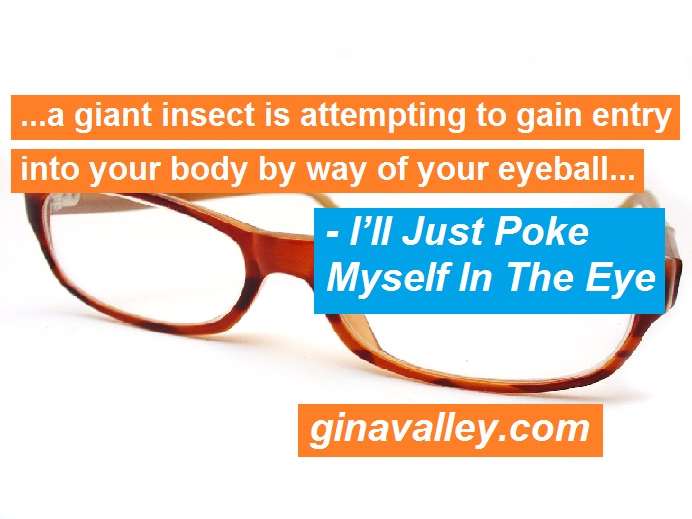 I'm also pretty sure that when a giant insect is attempting to gain entry into your body by way of your eyeball, it's the perfect time for screaming. Now, granted, this was a tiny moth, but I think the appropriate-screaming-time designation still applies.
You never know what those things are capable of morphing into. After all, moths start out like little worms. They somehow turn themselves into an animal that can fly. Who knows what they can change into if one of them somehow manages to burrow into my brain. I'm not about to give one of them access to my gray matter by way of my eyeball just to see what flies out later. I 'm still using my brain. Well, some of it, anyway.
After panicking, and barely managing to survive this furry, aerial assault, I then, as so frequently happens when I'm involved in something stupid I hope no one else in the world ever finds out about, felt a deep need to tell someone about it.
Very often, partly because he's nearby, and partly because I know he won't tell anyone (who'd believe him anyway?) I decided to tell The Professor what happened.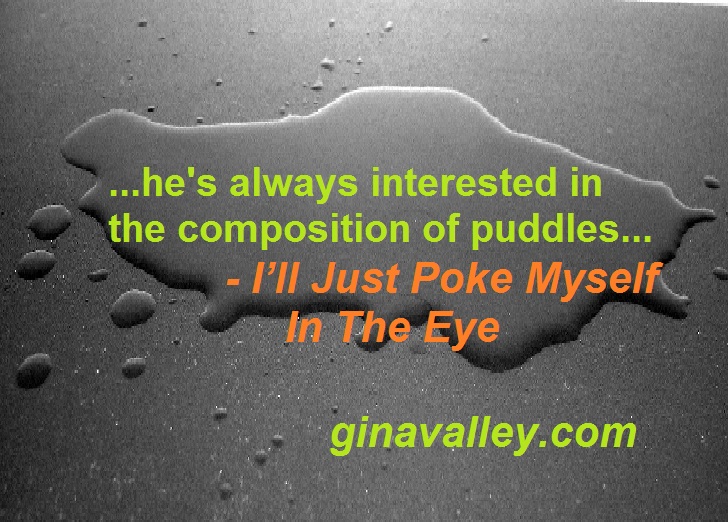 He started off pretty interested, because my moth incident had resulted in a puddle on the floor. He's always interested in the composition of puddles, partly because he's a scientist interested in chemicals and partly because he's a dad interested in not stepping in piddle.
He sort of lost interest in my short tale of moth woe early on when he determined I'd created the puddle when I dropped my bottle of water while doing graceful ninja moves (my description) (probably would have been referred to as "I think mom is having a seizure" had any of my pack been witnesses) in an effort to evade my furry winged stalker.
As I was demonstrating the bizarre trajectory the moth took, I managed to poke myself in the eye with my fingernail. I thought this was an especially brilliant move on my part because I was wearing my glasses at the time.
The Professor didn't seem impressed with my finger agility or the extent of my injury. In fact, he went so far as to imply that I was over-reacting to the situation, and by "imply" I mean he  actually said, "You're over-reacting to this situation."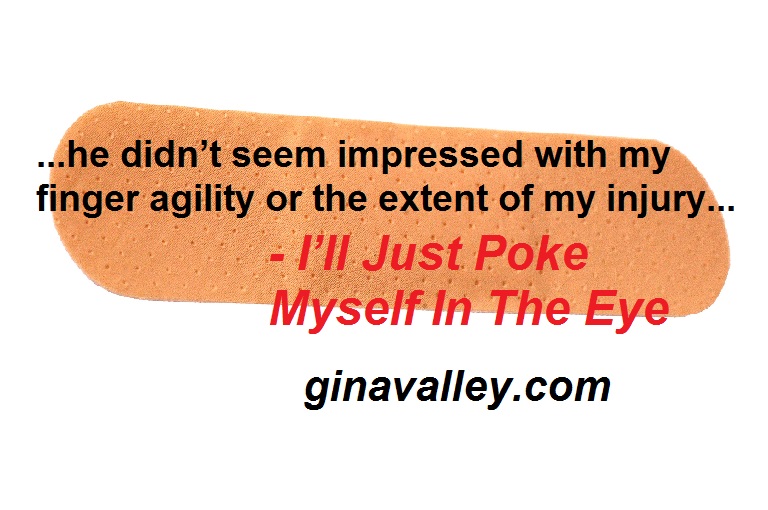 My temporary blindness didn't seem to raise any sympathy either. He did suggest that I only type on the left side of the page until my vision in my nail-impaled right eye had returned to its normal clarity.
He's a big help.
That's ok, though. I won't take his lack of compassion personally.
In fact, I'm thinking of surprising him with some homemade chocolate chip cookies to take to work tomorrow, if my eye stops watering soon enough to make them.
The surprise will be that they're not going to be chocolate chip cookies. They're going to be oatmeal cookies with raisins. He hates those. They get stuck in his teeth.
We'll see who's over-reacting when he bites into one of those.
Laugh Out Loud!
-gina
Have you freaked out recently? Were your loved ones helpful, or too busy laughing? Shoot me a comment. I'm looking forward to hearing all about it.
Photos courtesy of Stock.xchng – Used with permission.
This column is based on I'll Just Stick My Finger In My Eye, which first appeared on ginavalley.com May 11, 2013.