Please DON'T Paint The Dog!!!
by Gina Valley
I wish my kids were bored.
My friends often lament the frustration of dealing with their children's boredom during school vacation. I try to be sympathetic, but I really don't understand it.
My kids aren't bored.
My oldest daughter isn't bored, because she's been busy coloring her hair with purple Kool Aid.  She's determined that Kool Aid is an excellent, non-toxic dye. It sticks to, and permanently stains, anything it touches, including the new bathroom rug and matching shower curtain, the freshly painted bathroom walls, the white bathroom countertop and cabinet, the wood floor in the hall, her bedroom ceiling fan, the desk in my office, and one of her guinea pigs.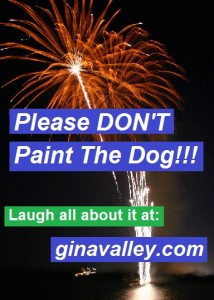 In fact, the only thing the purple Kool Aid didn't color was her hair.
One of my children is not bored, because he or she (no one has yet taken credit for this anti-boredom activity), figured out how to, perhaps in honor of the upcoming Independence Day festivities, produce an impressive fireworks display, using only a ball of aluminum foil, a magic marker, and our brand new microwave oven.
He or she also figured out how to fill the entire house with toxic smoke, how to keep the local firefighters from being bored, and how to destroy a brand new microwave oven.
My two youngest sons aren't bored, because they've been busy proving I was wrong, and testing the Law of Gravity. They determined they could, in fact, get a bike up into their treehouse, even though I said that I didn't think that was possible. And, they reconfirmed the overwhelming, unbending Law of Gravity by attempting to ride said bicycle down the slide from their treehouse and into the wading pool.
They did, however, find that the Law of Gravity prevented them from splashing down into the wading pool, and instead landed them in the emergency room, where one of them got 7 stitches in a very personal place.
My youngest daughter isn't bored, because she's been busy combing through the shrubs around our house for lizards. She's also discovered that if she brings in one of her new found reptile buddies, and drops it on my desk when I'm not paying attention, I'll be quite startled, and have to put more than enough dollar bills into the swear jar for all of my children, and most of their friends, to get an ice cream from the ice cream man every time he rolls by this week.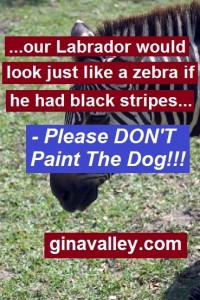 Our 5 year old isn't bored, because he is currently spending every waking hour perfecting his Hide-n-Seek game. It's with great pleasure and pride that I'll be able to tell his kindergarten teacher he has, in fact, developed his fine motor skills to such an extent that operating scissors is no longer a problem.
The eye holes he cut in the curtains of every room of our house so that he could see out while hiding behind them, however, is a problem.
One of my daughters is not bored, because she's been very busy "re-styling" our dog. Our big, male Labrador is currently sporting dangly pearl earrings (which I was relieved to find are clip-ons), a coordinating 3-strand pearl necklace, a pink bow above each of his floppy ears, and bright purple nail polish on most of his toenails.
I wondered if it would've made more sense to paint our girl dog's toenails.
I was wondering why I thought it made sense to paint any dog's toenails when my daughter commented that our nearly white, now fashionisto Labrador would look just like a zebra if he had black stripes.
As she ran off, followed closely by our now extra-stylish dog, a wave of panic swept over me.
I hollered after her:
"Please, don't paint the dog!"
I really wish my kids were bored.
Laugh Out Loud!
-gina
Is it summer break in your neck of the woods? Are your kids bored? Do you wish they were? How about your neighbor's kids? Are they climbing the walls? Shoot me a comment. I'm looking forward to hearing all about it.
Photos courtesy of 
Dreamstime.com
 – Used with permission.