Spray Away!!! …Gina's Favorites 
by Gina Valley
Laugh along with this timely Gina's Favorites post.
Spray Away For The Holiday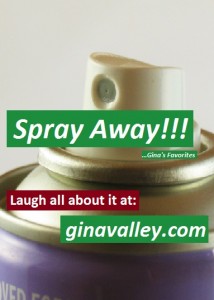 Remember when your pre-school kids brought home macaroni frames and sea shells magically transformed by gold spray paint?  Well, that still works.  A can or 2 or 30 of gold (or silver) spray paint  can transform your home, change your life, and have you totally ready for the holidays before lunch.