As I'm traveling to visit my family this week, today's post is one of my favorites from the past. – gina
Hello, Officer…Gina's Favorites
by Gina Valley
I heard the COPS theme song blasting in my head so loud that my head was involuntarily bouncing along.
Bad boys, bad boys
Whatcha gonna do, whatcha gonna do
When they come for you
I blame Gabriel Iglesias.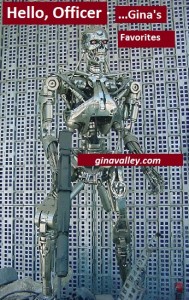 He's hysterical, but that was totally his fault.  I know I was only thinking about that song because of his Road Trip story, and his playing the COPS theme in it.  If he'd been sitting next to me, he would have been laughing.
But, he wasn't there.
It was just me.
And, my soundly-sleeping-not-going-to-even-believe-this-happened-until-I-show-them-the-ticket-and-maybe-not-even-then pack and The Professor.
And, what appears to be Arnold Schwarzen-cop. This guy was big.  Gym big.  Gym giant.  And, he did not look happy.  I wasn't sure, but I thought he might be unhappy because there was a tiny chance that I was accidentally traveling just a tad over the speed limit.  And, by tad, I mean, I have no idea how much over the speed limit I was going.
But, it wasn't my fault.
I blame the state of California.  The speed limit along the 5 north changes constantly.  I'd seen everything from 45 MPH to 70 MPH.  I knew he was going to ask me what the speed limit was for that stretch of highway, and I honestly had no idea.  I just knew that I was not pulling a trailer, so I was supposed to know what the top sign said.  Which I kind of didn't.
I blame Bon Jovi.  It's My Life was playing.  How do you not accidentally speed when that's blasting on the radio?  It would be un-patriotic not to.  I was just trying to be a good citizen.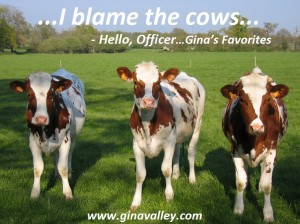 I blame the cows.  They were all lined up along the fence by the highway, and it looked like they were heckling the cars as we all drove by.  It was hysterical.  I swear they were calling out to the cars and laughing.  I was transfixed. How could I possibly be expected to keep an eye on the speedometer with that type of clearly deliberately distracting behavior going on?
I blame the speedometer.  When I noticed that officer Schwartze-cop had taken notice of me, I did what any generally law-abiding citizen would do.  I assumed I was doing something wrong, and checked the speedometer to see exactly how wrong I was.
Well, our speedometer has something of a "defect," so I was unable to determine exactly how fast I was going. I knew he was going to ask me if I knew.  Should I have told him that I didn't know because my speedometer is only labeled up to 99MPH and the pointy thing was way past that?   Maybe I should have kept that to myself.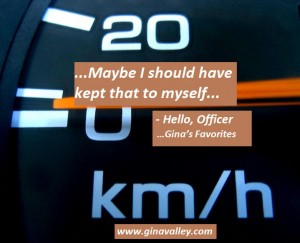 I was a bit nervous, because I wasn't sure how it was going to go with this officer.  I just knew that I had to get the COPS theme song out of my head, or I was going to bust out laughing when he got to my window and end up standing on the side of the road trying to walk a straight line while my whole pack and The Professor sleep through the entire thing.
He was very polite and professional and merciful.
I received a ticket for a much lessor offense than it could have been.
And, I got through the whole thing without blurting out "Come with me if you want to live."
Laugh Out Loud!
-gina
Have you messed up anything recently?  Do you find yourself in hot water when you get distracted?  Shoot me a comment. I'm looking forward to hearing all about it.
I want to make it clear that I have nothing but respect for peace officers and the important work they do.  I could never do it, and I am thankful that they do.
I have deliberately not mentioned any identifying information about this officer to protect his privacy.  And, also because I have several friends who are California Highway Patrol Officers and when they figure out whom this officer is, they will be taking him out for drinks to celebrate for a year, and I will never hear the end of it.