Not Your Average Tweets
by Gina Valley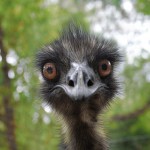 We can all use an extra giggle today.
Here's some of the tweets that made me laugh in the last week.
Great tweets from great tweeps:
Nothing like having your 7yo son answer the phone and hear him say, "My dad can't come to the phone right now, he's got diarrhea."

— Abe Yospe (@Cheeseboy22) April 8, 2013
Nothing makes people forget how to speak their native language like a voice mail prompt.

— Shari VanderWerf (@shariv67) April 4, 2013
You think you're pretty smart until you have to figure out how to turn on someone elses shower.

— Uniquely Twisted™ (@rage_chaos) March 22, 2013
I have OCD and ADD, so everything must be perfect..but not for very long.

— Jessica Northey (@JessicaNorthey) April 4, 2013
I moved our antique dresser downstairs by myself and now I'm at Home Depot looking for paint, drywall and a lot of glue.

— Brian Hope (@Brianhopecomedy) April 4, 2013
I spilled garlic sauce all over my shirt at lunch. I'm not too upset though because now I'm vampire proof.

— Jimmy Wibbles (@Jimmywibbles) April 3, 2013
I'm going to attempt to fix my dryer tonight, which means I'll probably be shopping for a new dryer tomorrow.

— Rock (@TheMichaelRock) April 3, 2013
How much Hershey's Chocolate Syrup before it's really not a SlimFast shake anymore?

— Andry H'tims (@Thing_Finder) April 2, 2013
I'm old enough to remember being the tv remote.

— Rusty (@PeaceInTruth1) December 21, 2012
My kids and I disagree on what time Saturday morning starts.

— Ron Mexico (@Coastiefish) April 6, 2013
Last night3-Crying "I'm scared of the pig"Me-The piggy bank?3-crying "yes"Me-I'll take it out 3-Straight faced"leave the money"

— Double B (@DaddyBeerGuy) February 8, 2013
I will be ready for summer I just downloaded a tanning light app for my phone.

— Luvs2Laff (@Luvs2Laff6) April 5, 2013
How many Weight Watcher points for holding down a stranger and licking chocolate crumbs off her face?

— Jennifer(@runawaycupcake) April 5, 2013
9's first year of kid pitch baseball. Coach told the team they were going to get hit at least once.9 raised his hand and asked, When?

— LeiaMarie (@LMGinTN) April 9, 2013
If two people love each other nothing is impossible…Except deciding where to eat.

— Dakota (@One_FineMess) January 11, 2012
I accidentally called 911, so I set my house on fire so I wouldn't look stupid.

— Y .(@notorious_stars) November 14, 2012
How many raisins do I have to add to this bag of M&Ms before it qualifies as trail mix? One? I say one.

— peterjames48(@peterjames48) April 6, 2013
Hey guy in the car behind me. Honking your horn isn't going to help me type any faster.

— Mike Rafone (@Cali_Kid_Mike) April 12, 2013
Twitter – because most of us would rather be sit down comedians.

— Ryan (@RSF788) April 11, 2013
Just punched myself in the face trying to adjust my bra, in case you were wondering if I could bring sexy back.

— JennyFromTheBlock1 (@madgej2716) November 20, 2012
Join me on Twitter for lots more giggles.
How did we get our minute by minute giggles before social  media?
Laugh Out Loud!
-gina
Who makes you laugh on twitter?  Who makes you laugh in the real world?  Do you have a friend who can always make you smile?  Shoot me a comment.  I'm looking forward to hearing all about it.