Super Bowl Sunday is all fun, frolic, and food. It's full of cheering and eating and drinking. There's a concert right in the middle of it. And, there's some football.
The Monday after, on the other hand, not so much.
Let's face it, the day after Super Bowl Sunday is really Not-Super Monday.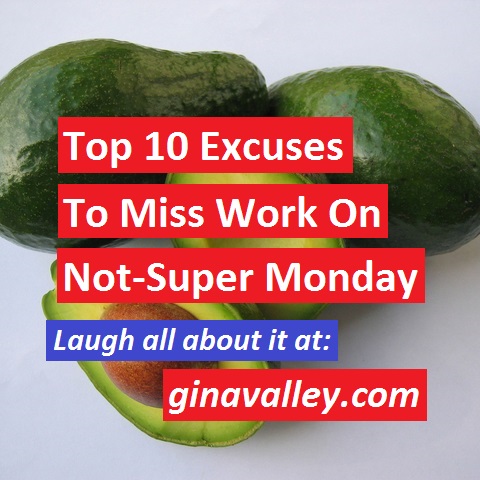 Not-Super Monday is the ugly twin to Super Bowl Sunday. It's filled with exhaustion, upset stomachs, and headaches. Your garbage cans are overflowing, your whole house is sticky, and the dog keeps hocking up chicken bones. It's not a super day.
The orthodox way to celebrate Not-Super Monday is to burrow deep under the covers, and sleep all day in the dark. Not an easy thing to do in your cubicle at work.
This year alone, it's estimated nearly 7 million people will stay home from work to celebrate Not-Super Monday.
Perhaps, you'd like to join in on this Monday morning after-party party, but you're way too tired from running back and forth to the kitchen for more hot wings to come up with a great excuse to give your boss.
No problem. I've got your back. I'm a giver like that.
Top 10 Excuses To Miss Work On Not-Super Monday:
#10. You're still waiting for the avocados to ripen, so you can make guacamole.
#9.  You have to take Great Aunt Marge to the chiropractor because she threw her back out while she was gawking at the "boys in them thar tight, stretchy pants!" Again.
#8.  You have to wait around for the plumber to show up, because someone attempted to flush the stuffed football your nephew brought when he came over to watch the game at your house.
#7.  You aren't allowed to drive because your eyes are swollen shut from crying about that Answer The Call Verizon commercial. Sniff. It's just so dang sweet and happy and sad and wonderful!
#6.  You're rechecking your computations to be sure the 1.35 billion chicken wings supposedly consumed in the US on Super Bowl Sunday does in fact equal more than 4 wings for every man, woman, and child in the country, and wondering if you were supposed to have 16 since your sister, Uncle Bert, and your brother-in-law didn't have any.
#5.  Your golden retriever is a huge New England Patriots fan, so you can't possibly leave him home alone at a time like this.
#4. The "Why is it called football when they don't use their feet?" discussion with your know-it-all cousin from Caracas turned a bit physical after you screamed, "How's this for using my foot?!?!" And, long story short, you agreed to drive your cousin's pizza delivery route for him until he can comfortably sit down again.
#3.  You were up all night having nightmares about Danny Devito swimming in chocolate in that M&Ms commercial. What the heck, M&Ms? What the heck?!?!
#2.  You're pretty sure all those broken mirrors in the halftime show gave you bad luck, and you aren't ready to risk rush hour traffic yet.
#1.  You tried a bottle of your brother's bathtub brew, and you're not yet prepared to be out of visual contact with the loo and its "Super Bowl."
I'll be happy to write you a note for the entire week, if necessary.
Laugh Out Loud!
-gina
Did you watch the Patriots and the Eagles gridiron battle? Which was your favorite commercial? What's your favorite snack? Or, did you do something else you enjoyed this weekend? Shoot me a comment. I'm looking forward to hearing all about it.
Photo courtesy of 
Dreamstime.com
 – Used with permission.