Not So Much Goodwill Hunting
by Gina Valley
So, I finally got through what appeared to be at least a 17-way intersection downtown (gotta love driving in the heart of San Francisco).  Traffic was, big surprise, moving at nearly the speed of a slow crawl.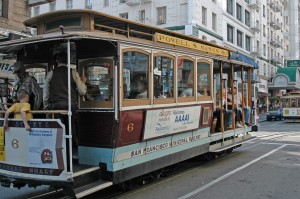 This may be hard to believe, but I really do love driving through the downtown streets of San Francisco.  Freeway traffic is mind numbing wherever you are, but surface streets in a big city are lined with fun as far as I'm concerned.  The more traffic the better (as long as I'm not going to be late), because it gives me time to check out all of the craziness going on right outside my vehicle.
After finally clearing the maze-like intersection I was surprised to find that traffic did not exhibit its usual post-intersection momentary speed pick up.
We actually slowed down so much that pedestrians and snails were passing us.
I killed time by checking out the cool pumps this guy wearing a tiger-print, halter-top, pant suit was wearing, and debating with myself whether the black patent leather stilettos he'd donned were too conservative a choice for the wild outfit, or an artful contrast to the funky jungle wear.
I also contributed to the greater good while nearly parked on whatever street that was by reminding people going into stores that they needed to bring their own bags.  I'm a giver like that.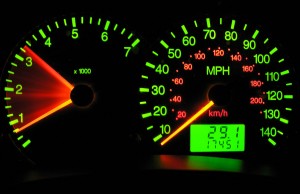 As we were barreling down the street at nearly 5 miles per hour (hard to say exactly how fast you're going when the needle on the speedometer hasn't reached the numbers yet) I became aware that the problem was not the standard big city afternoon traffic.
Up ahead I could see we were approaching, ever so slowly, another intersection.  This one was, shockingly for San Francisco, of the standard, boring 4 way type.  But, the problem was not people rubber necking the rare, standard intersection.
What they were looking at was the giant Goodwill Store on one of the corners of the intersection.  Or, perhaps more accurately, the 3 police cruisers double parked out in front of it.  Before I'd been able to get past the store, another squad car came screeching in to join the others.
Apparently, the Goodwill Store was being robbed.
Seriously.
Sort of gives Good Will Hunting a whole other meaning, huh?
Who robs the Goodwill?  I mean, wasn't this stuff just one step above trash yesterday?  They could've  probably just had it, if they asked nicely.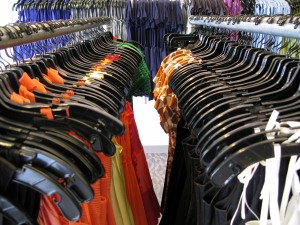 Don't get me wrong.  I love Goodwill and other thrift stores.  They're the ultimate in re-purposers, and they do a lot of good.   I've found some great stuff at thrift stores.  My daughters love to look for "vintage" clothes, and I've been known to bag one-of-a-kind tea cups for my collection.  I once found a first edition Superman comic book for The Professor.  And, one of my favorite handbags is actually a leather camera bag from the 50's that I got at a thrift store years ago, while scouting for baby clothes.
The fact that they're willing to take all my junk, and thus save me the embarrassment of having a yard sale and admitting I own the stuff, is just icing on the cake.
Nonetheless, if we're really honest about it, all of that stuff truly would have been dumpster bound, were it not for this last group home for orphaned stuff.
It's not like there's some sort of wholesale cost to re-coop on it.  This stuff arrived in a trash bag.  Did they really think they needed to steal it?
I was hoping they would haul one of the masterminds behind this inane assault out to one of the squad cars while traffic was forcing me to linger nearby.  But it's probably better that they didn't.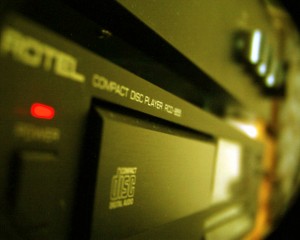 I probably would've abandoned my vehicle right there in the middle of traffic in my rush to get to the perpetrator.   I would have grabbed him (you just know it was a guy.  No woman is going to risk getting caught robbing anything but Macy's or Saks) and asked, "What were you thinking?!?!  Is this what you want to do with your life?  Puleeze!  Have some pride.  Have some self-respect.  Good grief, man, there's a Best Buy right down the street."
I don't care what anyone says, if you're robbing a Goodwill, it's time to re-evaluate your life choices.
Of course, if you're sitting outside the Goodwill in traffic that hasn't move for 20 minutes hoping that you'll get a chance to interrogate the perpetrators, you might need to do a bit of introspection as well.
Laugh Out Loud!
-gina
Seen anything weird lately?  Do you ever find yourself wishing you could ask people what on earth they were thinking when they did something clearly stupid?  Ever wonder where a giant guy finds a tiger print halter top pant suit in his size?  Shoot me a comment.  I'm looking forward to hearing all about it.