Why Didn't You Tell Him You AREN'T Blind?
by Gina Valley
"Why didn't you tell him you aren't blind?"  I asked.
You can count on kids to blurt out every possible detail…as long as you don't want them to. But, when a word from them could set the record straight or make everyone's life easier, suddenly, they're bound by a vow of silence.
"Why didn't you tell him you aren't blind?"  I asked.
There're questions only parents ask. That's definitely one of them.
"Why didn't you tell him you aren't blind?"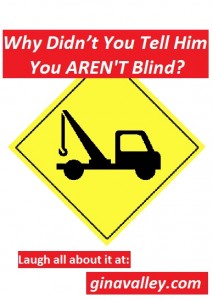 My 12, 13, & 15 year olds were riding with their dad in his dad's enormous vintage Impala when the decades old car decided it didn't want to continue any further. Unfortunately, they were in the left-hand turn lane of a large, busy street at the time. My husband, wisely, had our kids remain in the car, safely buckled, while he stared at the engine, willing it to start again.
We're not really car-people. If we ask it nicely to start and it doesn't, we're pretty much out of ideas.
Our children are gifted with our family's tendency toward very low scores in the height percentile rankings. We Valleys are not tall people, and we seem to be getting shorter with every generation. So, the giant car, once their grandfather's pride and joy, dwarfed my children as they sat buckled in the backseat.
They were on their way home from the eye doctor. All 3 of the kids had had their eyes dilated, so all 3 were wearing large, dark glasses.
A young police officer arrived to help, and he misread the situation a bit.
He saw our children and likely thought they were much younger than they actually are. Apparently, he also misread what the dark glasses meant.
"He told us to hold hands so no one would get lost while he took us across the street," my 12 year old complained.
"Then, he told us not to worry, because our daddy would be with us soon. Our daddy!" my 13 year old said, with obvious disdain.
"He thought we were four years old," my 14 year old added. He's always ready to stir the pot.
"And, blind! He thought we were blind," my 15 year old proclaimed in her best Oh. My. Gosh! I'm so embarrassed tone.
"Why didn't you tell him you aren't blind?"  I asked.
"I didn't want to hurt his feelings," my daughter answered.
Somehow, I had enough strength not to visibly roll my eyes at that. But, they were certainly spinning inside my head.
Laugh Out Loud!
-gina
Have you had to stifle a giggle when you child presented a less than logical response? Do you ever wonder what they're thinking? Or, are they trying to drive us crazy? Shoot me a comment. I'm looking forward to hearing all about it.
Photos courtesy of Stock.xchng – Used with permission