NO ONE Will Do THIS For Their Family
by Gina Valley
Laugh along with this Gina's Favorites post.
There's One Thing NO ONE Will Do For Their Family
We've all said it.
Especially we parents.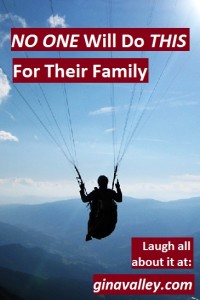 "There's nothing I wouldn't do for my family.  Nothing."
Hmmm.
"I'd take a bullet for my family."  "I'd step in front of a knife to save them."  "I'd scale a mountain."  Swim an ocean.  Anything."
"There's nothing I wouldn't do for my family."
Sure there is.
No one, no one, will eat the last 2 pieces of a loaf of bread.
Nope.  No one.
We all leave those nasty things for the rest of our family.
We all reach around that first "heel" to get to the good bread. Someone else can eat that cruddy, first, tough piece. Gotta have that soft, fresh bread to keep up our strength for our stepping-in-front-of-a-bullets skills.
And, when all the good bread is gone, do we eat those last two loan slices?  Those banes of the bread world?  The heels of home cooking?   Do we choke them down before opening a new loaf, as we instruct our family members to do?
Not a chance.
We open the new bag, and go in for the good stuff, again reaching around the first crud piece at the front. We have to be prepared to fight off a pride of lions, for goodness sake. We need the good bread.
Sure, we'll jump into a vat of hot oil to save our littles.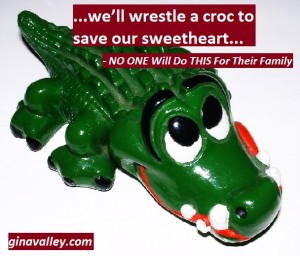 Yes, we'll wrestle crocodiles to save our sweetheart.
But, don't ask us to eat those nasty bread rejects.
My family is full of crusty bread avoiders, and I can prove it.
We have a large basket we store our bread in on one of our kitchen counters.  We call it, you might want to write this creativity down and pin it on your Pinterest board, "The Bread Basket."
Last week, I decided to empty our bread basket to hunt for any green bread.  I knew I needed to perform this check for lack of food hygienic-ness, because one of my kids had been assigned the "empty the bread basket and check for green bread" chore the day before, and had assured me all was well in our bread world.
Nothing ensures that something did not get done quite as certainly as assigning the job to one of your kids, and having said kid tell you that the job was completed.
So, a hunting I did go.
As it turns out, my pack's aversion to clipping bags of bread  shut resulted in our multitude of bags of bread being kept rather dry, and, thus, green-fuzz free (with the exception of one particularly unfortunate half-loaf of wheat bread I found securely sealed at the bottom of our bread basket.  The trapped moisture in the bag had worked with the bread to produce a truly science-fair-worthy slurry of green fuzz and black goo).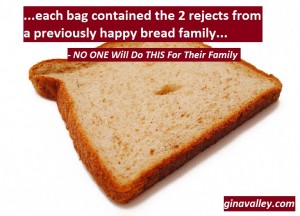 The other TWELVE bags of bread (yes, twelve!) were in great shape, if perhaps a bit on the dry side.  But, most notable, beyond their sheer numbers, was that each bag contained only 2 pieces of bread. The ends from their eras. The two rejects from a previously happy bread family.
As I stared at the evidence of our familial bread self-centeredness, my inner Martha Stewart sprang to life.
I could dry out those poor, rejected bread souls, and turn them into bread crumbs for meatloaf and such.  I pulled out a couple sheet pans, laid out all of the slices on them, and placed the pans on top of our stove.  I planned to put the pans into the oven after dinner was done cooking, to dry the bread out thoroughly.
Then, in the after school chaos, I forgot all about my bread project.
As each of my pack got home, they had a snack at our breakfast table before seeking me out in our family room for their daily after school debriefing.
Then, we slipped into full scale homework mode. There was algebra to help with, papers to sign, emails to send, history chapters to read. It was academic overload, but a necessary part of our day and their education.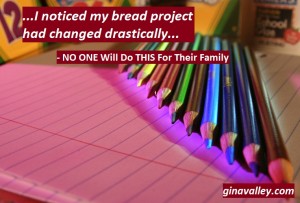 In the blink of an eye, 2 hours had passed, and it was past time to get dinner on the table.
As I scurried about our kitchen, handing dinner components to children to place on our table, I noticed my bread project had changed drastically.
There was only 4 total slices left on the sheet pans.
I was bewildered.   I looked on the floor.  I looked in the oven.  I tried to remember if the dog had been hanging out in the kitchen.  But, I was unable to determine where the stale stuff had gone.
Just as I was beginning to accept the fact that the bread had grown legs, and scampered off of its own volition, Son#1 asked me, "What are you looking for, mom?  I think everything for dinner's already on the table."
"I had a bunch of bread on these pans, and I can't figure out where it went."
"Oh, well, I ate some for snack," he replied.
I was beyond surprised. "Why?" I asked him.
"It was on the stove. I figured it was something you'd made for snacks today," he responded.
"What did you think it was?" I asked, trying not to laugh.
"I don't know. It tasted like old bread, so I only ate 4 pieces," he said.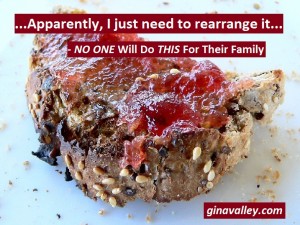 Chatting with the rest of my pack at dinner revealed that the rest of the missing 20-something slices of bread had also been consumed as post-school snacks, with the belief that I had somehow "made something" with it.
Some put jam on it.  A couple used butter.  My youngest ate 3 slices dry.
So, apparently, I don't need to be a hero, and choke down those reject slices.  I just need to get them out of the bag, and onto a pan.
I guess I've been wasting all the time I've been spending actually cooking stuff.  Apparently, I just need to rearrange it.
Laugh Out Loud!
-gina
Who finishes the loaf of bread at your house?  Is there anything you wouldn't do for your family?  Shoot me a comment.  I'm looking forward to hearing all about it.
Photos courtesy of Stock.xchng – Used with permission