As I'm spending extra time celebrating with my family, today's post is one of my favorites from the past.
I Need An Intervention…Gina's Favorites
by Gina Valley
The Food Network is like crack.
I know it's bad for me, but I keep going right back to it time after time after time.
Now, don't get me wrong.  I like to cook. I love to cook, actually.  But, watching it makes me yearn to cook like they cook.  Nothing else will do.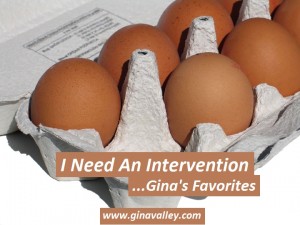 I look at my cooking scenario and am nearly scream, "I can't work like this!"
The Food Network makes me realize that in order to prepare a proper piece of ingestible artistry I need to have my children off in a mysterious unspoken wonderland, a pristine kitchen, and all of the ingredients pre-measured into those cool little clear glass bowls.
I think we broke all of those bowls, and even if we have any, it would take me more than the hour long program to find them.   Half the time I can't even find our carton of eggs.
How can I possibly create amazing culinary delights in my chaotic life after watching cooking Utopia?  It's too depressing.  I don't even have that magic sink that you drop dirty dishes into and they disappear during the commercial break.
I wish they would do cooking shows for real people. I don't mean those reality shows where contestants are given cactus chunks, a tomato, 6 artichokes and an unlabeled can, and told to prepare a meal for eight cowboys in under one hour.
How about a real show with real people showing real solutions to real problems.  Really.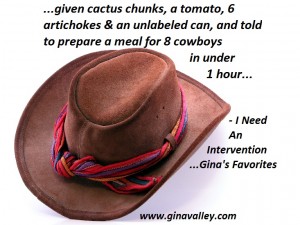 How about a show where contestants must prepare a week's worth of meals for preschoolers without using chicken nuggets, string cheese or Cheerios?  No fair reminding them that Jonny currently refuses to eat anything orange (color, not flavor) or that Lily will "die" if any of her different foods touch.
How about a show where the host has to paw and burrow through a real home's cupboards in an effort to find the ingredients and the pan to make meatloaf before a 3 year old wakes up from her spontaneous nap, which can only mean she is getting sick, all while helping a 14 year old with her algebra homework and a 10 year old make a Diary if a Wimpy Kid diorama.
How about they show us how to make that cream puff tower surrounded by spun sugar while a mother-in-law hovers over every move, constantly repeating in a heavy, old world accent, "Oooh, the next time you see me, I'll be dead," without the chef engaging in eye-rolling or snappy comebacks, such as, "Don't make promises you aren't going to keep!"  That would be holiday magic.
How about they show us what to make when your stockyard-owning friends from Texas and that nice vegan couple with the peanut and soy allergies you met at the soccer tournament in Malibu both come over for dinner on the same night.  Surely, there is something that can be made for them all, besides reservations.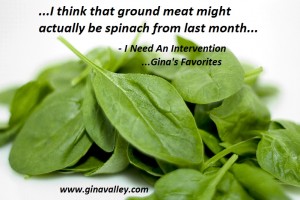 And, how about a show where they make dinner with what we have when we have neither the basics nor time for a trip to the grocery store?  I'd love to see them come up with something yummy using only the slightly wilted lettuce, 2 cans of garbanzo beans, a half used tub of fromage blanc cheese, and the pound of ground meat left in the back of our fridge at the end of the week.  Now that would be a challenge.
Especially since I think that ground meat might actually be spinach from last month.
If you need me, I'll be hiding from my kitchen.  And, the meat/spinach.
I'll probably be watching The Food Network.
I need an intervention.
Laugh  Out Loud!
-gina
Do you watch The Food Network?  Do you have a favorite show you love or love to hate? How about the other "reality" networks like HGTV or DIY or Lifetime?  Do you find inspiration or frustration?  Shoot me a comment.  I'm looking forward to hearing what you think.
Photo courtesy of Stock.xchng – Used with permission