Mom Makes Me Laugh!!! …Gina's Favorites
by Gina Valley
Today is my mom's birthday. It's going to be a tough day for both of us, as it is the first one she's spent without my dad in 63 years. So, we'll both be looking to laugh. Laugh along with this
Gina's Favorites
post.
My Mom Makes Me Laugh
My mom isn't one of the first people I think of when I'm thinking of funny people, but she should be.
She taught me how to short sheet a bed when I was still in kindergarten.  She'd stick plastic fruit in my dad's lunches, and put dog biscuits in the cookie jar when we were little.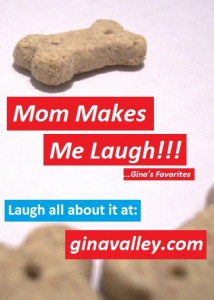 She's got a rock that looks just like a baked potato, and she serves it to unsuspecting company for dinner.
Every single April 1 she convinces my dad that her car has a flat tire, and he goes out to check it. It hasn't been flat yet.
And, there was the fishing trip my dad took with my brother-in-law a couple years ago.
My mom, then 73 and battling Parkinson's disease, was going to be left home alone in their remote mountain home for the week my dad was away on the trip.  Being alone for a week while my dad was gone was a big deal.
A registered nurse and a mother of 5, my mom is a detail-oriented, highly organized person.  She, realizing her personal and situational limitations, knew she had to plan and prepare.
She made a list.
She even numbered the items by priority.
What was the first thing on her list?
What was that one essential she had to complete prior to my dad's departure to feel that all would be right and secure in her world?
Was it stocking up on groceries?  No.
Was it filling the car with gas?  No.
Was it finishing the laundry or putting emergency contacts near the phone or double checking their security system?  No. No. No.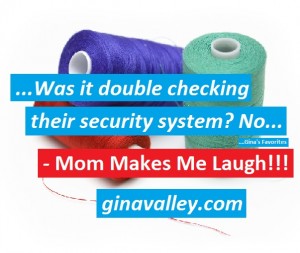 Number 1 on her list was:  sew all of the underwear my dad packed shut. Every single pair.
And, she did it.
She makes me laugh, and that is such a blessing.  It reminds me that no matter how rough a day may feel laughter will draw us back together.
Happy Mothers' Day, Mom! I love you!
Laugh Out Loud!
-gina
Visit my Who ARE These People? post for more giggles inspired by my parents.
Visit my Seriously – I Cried Today post for a poignant look at struggles my mom has faced.
Do you have fond memories about someone who mothered you?  Is there a silly story that makes you smile every time you think about it?  Shoot me a comment.  I'm looking forward to hearing all about it.
Photos courtesy of 
Stock.xchng
 – Used with permission