Mechanical Mayhem
by Gina Valley
Reaching the bank of elevators in the center of the building that houses the Cardiology Department is always good for a laugh.
Even if nothing else funny happens, the fact that there're 8 different elevators, but only 1 or 2 seem to be willing to accept passengers on any given day adds that WalMart-check-out-line element of humor to the experience.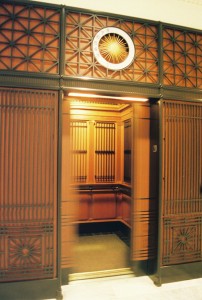 Yesterday as I approached the first elevator, I met up with a gentleman, who was using a cane due to a leg injury.  He'd already pushed the button to call the elevator, so I knew we wouldn't need to wait more than an hour or two more for its arrival.
As it turned out, the last elevator on the left side "dinged" its approach within a minute of my arrival in the elevator loading and unloading zone.  Both of us started toward the elevator with the green "up" arrow lit above it.  I figured, as he was hindered by his injury, that I would play the "gentleman," and hold the elevator for him.  As it turned out, I didn't.
I couldn't hold the elevator for him, because I couldn't get into the elevator.  It opened its doors and immediately closed them.  Repeatedly pushing the elevator call button (you should always push it repeatedly.  It lets the elevator know who's in charge) did not cause the doors to re-open.  My fellow elevator waiter and I laughed.
"Maybe we'll get the next on," he'd suggested.
"Maybe," I'd agreed, not totally convinced.
About a minute later, the same elevator, never having changed its floor indicator, "dinged" again, and, again, did a lightening quick open and close of its doors.  I think I growled audibly because my fellow traveler chuckled a bit.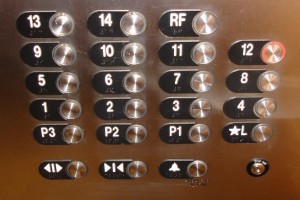 I'm a competitive person.  No elevator is going to beat me.  I positioned myself directly in front of the EWA (elevator with attitude), my nose nearly touching it, and signaled to my fellow traveler to push the call button.  Grasping my plan, he shuffled quickly behind me.
This time when the elevator started to open its doors I dashed in before they were even halfway open.  I slammed my palm against the "open door" button, while leaning against the doors, trying to hold them open long enough for my fellow traveler to enter.  He made it across the threshold just as the doors began sliding me out of the way.
I jumped out of the way just as the doors snapped shut with a bang.
My fellow traveler locked eyes with me and said, "How are we going to get out?
Laugh Out Loud!
-gina
Has an elevator tried to eat you recently?  Do mechanical things sometimes seem to have it out for you?  Ever been stuck in an elevator? Shoot me a comment.  I'm looking forward to hearing all about it.