The Great Meatloaf Project
by Gina Valley
I'd planned to make meatloaf for dinner, but my day had gone anything but as planned.
My family loves meatloaf.
I know that's weird.
Most kids think meatloaf is nasty stuff, right up there with fruitcake and Brussel sprouts on the desirability scale.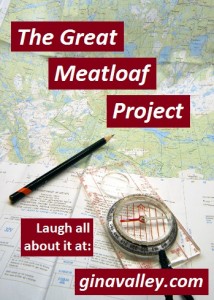 I remember, when I was a kid, thinking of meatloaf as some sort of bland, consolation meal we had when there was absolutely nothing else available. But, my pack loves the highly seasoned meatloaf I make. So does The Professor.
So, when I mentioned to my 13 & 14 year old sons that I wouldn't have time to make meatloaf, I wasn't surprised they were disappointed.
I was surprised when they offered to make the meatloaf as a favor for me.
They would be in the kitchen doing all the legwork to put the meatloaf together. I would supervise and provide gentle guidance, while working on my laptop, from our nearby family room.
It seemed like the perfect plan.
So, I really should have known better.
Rarely does anything thing that seems like a good plan work out that way. A perfect plan never goes as intended.
The first hiccup in The Great Meatloaf Project was that the recipe was only in my head.
Of course, I had to write down my recipe, as my kids cannot read my mind, no matter how much they think they can. But, I reasoned with myself, realizing the large amount of time it would take to list all of the ingredients and steps, not to mention trying to find paper and a working pen, that I've been meaning to start writing my recipes down, anyway.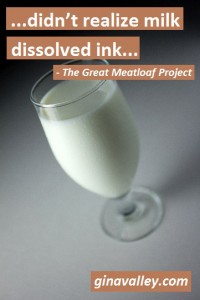 And, I had to convert my "3 big handfuls of this" & "a thumb-sized pile of that" & "enough so it smells really good of that other stuff" into real measurements for my sons.  The scientist in me was tempted to use the metric system, but, since most of our measuring devices are of the standard American English system, cups, teaspoons, and pounds won out over milliliters and kilograms.
Apparently, I determined, my 8 handfuls of chopped onions is about 2 cups, and my giant bowl of half ground beef and half ground turkey is actually 7 pounds. Who knew?
It took me about an hour to figure out all of the ingredients and their measurements, and to write them down. It took me another 10 minutes to re-write the whole thing after my 13 year old accidentally spilled his glass of milk across it, resulting in disappearing ink.
I didn't realize milk dissolved ink. Lesson learned.
I recopied the recipe, and then made a copy of the recopy with our printer. Just in case.
I suggested, strongly, to my sons that they assemble all of the necessary ingredients and needed measuring devices prior to starting The Great Meatloaf Project. They ignored my advice. I don't know why that surprised me.
I kept both ears alert as I sat down with my computer and got back to work.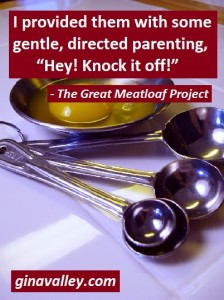 The sounds of two young professional chefs floated out from our kitchen. It sounded a lot like the chatter on Iron Chef.
"You're stupid!"
"No, you're stupid!"
"No, you're stupid!"
I provided them with some gentle, directed parenting, "Hey! Knock it off!"
They were silent for at least 2 seconds, before they slipped into giggling, and what I hoped was the sounds of making progress on the meatloaf.  I was pretty sure I was hearing ingredients landing on the table, but it might have been my son's taking turns jumping off the counter.
Sometimes it's better not to know.
At one point my 14 year old asked, "Is the spoon with a capital T a tablespoon or a teaspoon?"
I answered, "A tablespoon."
My 13 year old said, "Oh, well, it probably doesn't make much difference."
I asked, "What doesn't make much difference?"
"Don't worry about it, Mom. Everything's under control," they answered in unison, which every parent knows is a frightening thing.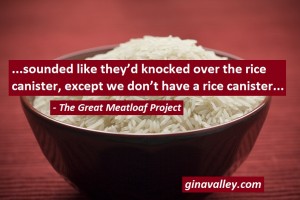 I was tempted to go see what they were up to, but I decided it was better to maintain a "Don't Ask, Don't Tell" stance.
I heard a crash, and some sort of avalanche. It sounded like they'd knocked over the rice canister, except that we don't have a rice canister.  I was just hoping it wasn't the brand new package of bread crumbs. They'd need those to make the meatloaf.
"Was that the bread crumbs?" I hollered.
"Uh..no?" my 14 year old answered, sounding like he wasn't completely convinced himself.
"Do you need some help?" I asked.
"No! Don't come in here," my 14 year old said.
"Just relax, mom. We got this," my 13 year old said.
I was not relaxed and I did not think they "got this," but I really did not want to go in there. So, I didn't.
After all, how bad could it be? The fire alarm hadn't been triggered, and nothing was oozing under the door. Yet.
I decided to choose ignorance. They say, "Ignorance is bliss," right? Of course, "they" weren't going to come clean up our kitchen's Post Traumatic Meatloaf Mess, either.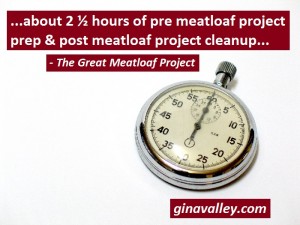 Remarkably, no actual physical altercations between my two budding gourmets ensued during the Great Meatloaf Project, although they nearly came to blows while deciding who got to put in the eggs. And, surprisingly, my head did not explode due to the mess, although I do expect at least a week of breadcrumb-based nightmares.
By my calculations, my sons well-meaning gesture to save me the 30 minutes I'd normally spend putting together meatloaf for dinner caused me to spend about 2 ½ hours of pre meatloaf project prep & post meatloaf project cleanup (after they "cleaned up.") (how did they get ground beef on the ceiling?!?!) . That doesn't even take into account my mental anguish, pain, and suffering throughout the ordeal…I mean favor.
At dinner, everyone complimented my sons on the taste of meatloaf they'd put together. It was quite delicious. My 13 year old son said, "Hey, mom, since this project turned out so great, we should help you make the spaghetti sauce tomorrow."
I don't think I can survive any more help this week.
Laugh Out Loud!
-gina
Anyone helping you this week? Did you help out in the kitchen when you were a kid? Shoot me a comment. I'm looking forward to hearing all about it.
Photos courtesy of Stock.xchng – Used with permission