Where The Heck's Miss Manners?…Gina's Favorites
by Gina Valley
I'm traveling with my family this week, so, to keep you in giggles, I've qued up some of my favorite past posts. Laugh along with this
Gina's Favorites Throwback
post.
Where The Heck Is Miss Manners?
I don't like to offend people.  Most of the time.
I try to do the right thing.  Almost always.
But, sometimes it's hard to know what to do.  Some situations present themselves at a time or place where Googling "What the heck should I do now?" isn't a viable option.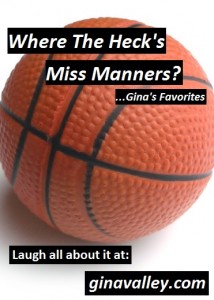 Where is Miss Manners when I need her?
I've got some questions.  I need some answers.
What is the etiquette when the woman 2 rows in front of me at my nephew's basketball game announces loudly, "But, I shaved my armpits"?  Did someone ask her?  Should I offer congratulations? Am I supposed to issue a fur status report about myself in response?
What is proper toilet paper etiquette when I'm traveling? What am I supposed to do when the tube is empty at my mom's house?  I have come to realize it's my sworn duty as a mom to change empty toilet paper tubes, but she's a mom, too.  Which of us should change it?  It's her house, but it was used up by my kids. Should I change the roll, or switch into kid mode and pretend I didn't notice it was empty?  Is there some middle ground, like setting a new roll on top of the empty roll?  I don't want to step on her toes.
What am I supposed to do according to public bathroom etiquette when a woman comes out of the stall in the bathroom at the filling station, bypasses the sink, grabs a paper towel, and heads out the door?
Do I start singing Cleanliness Is Next To Godliness in an effort to jolt her out of her filthy reality and back to the sink and soap?  When I see her preparing a chili dog for herself in the station's minimart is it wrong to grab my children and run out screaming?  Is it acceptable to spray her with Purell?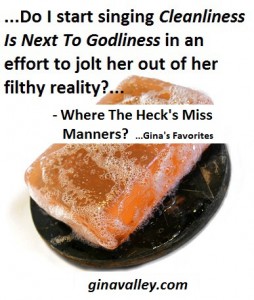 And, when I get outside and back to our van and the woman at the gasoline pump in front of ours is smoking an extra-long menthol while she fills up her Rambler, am I required by etiquette to run over her to ensure her genes will be out of the gene pool?  Or, is it ok if we just get out of the blast zone as quickly as we can?
What does etiquette require I do when my youngest nephew says, "This sandwich is the best one I ever had, Auntie G! It's even better than the ones my mummy makes!"?   Am I allowed to call and gloat, I mean share the cuteness, with my sister?  Or, should I just post it on Facebook for the whole world to see?
What am I supposed to do when I'm going through the line at the Big Red Store with my 2 year old and he takes a good long look at the extremely large cashier, and says, "Whoo, that's a big one!"?   Am I supposed to dig my own hole to crawl into to die from embarrassment in, or will that be dug for me?  Should I bolt out of the store? Or should I stay and tell everyone that's he's a neighbor's kid?
If you see Miss Manners, get her cell number so I can text her.
Laugh Out Loud!
-gina
What questionable etiquette situations have you been in?  What did you do?  Shoot me a comment.  I'm looking forward to hearing all about it!
Photos courtesy of Stock.xchng – Used with permission