Lessons From The Amazing Mall Mania
by Gina Valley
I'm way behind with my Christmas prep this year, so I've been doing last minute shopping.  Judging by the crowds I've encountered, so has everyone else.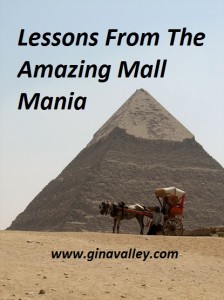 I've picked up a few tips while I've been tripping the malls fantastic (or maybe I was tripping fantastically in the mall.  Hmmm. Hard to say).   You might want to keep these lessons in mind while you're out picking up that last minute horrible holiday sweater or jar of marshmallow crème.
For example, never assume that just because something is in a store, wearing a price tag that it's for sale.  I foolishly thought that the books in the giant pyramid made up of the latest book by the late Tom Clancy were for sale when I spied it at Costco.   But, after she scanned the copy I'd put in my cart, the cashier scowled and interrogated me, "Where did you get this book?  It's not allowed to be sold until next week.  Where did you get it? Where?!?!"
I debated with myself about whether to tell her, "I crafted it at home and brought it in just to mess up your day" or "If I go down, I'm taking all of you with me!"  But, since her right eye was already twitching, and she seemed the type to have an itchy trigger finger, I went with "A one arm man dropped that into my cart."
If she got the joke, her stare didn't reveal it.  The way she violently scanned my bananas, though, did seem to reveal her hatred of the yellow fruit.  Sad, as banana haters are a lonely bunch (see what I did there?).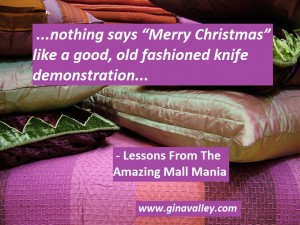 Also, keep in mind that things are not always as they appear to be.  If, for example, you're in a discount store, you may encounter an aisle blocking crowd, made up of people who are congregating to watch a knife demonstration (By the way, nothing says "Merry Christmas" like a good, old fashioned knife demonstration) (Is there anyone who actually needs a knife demonstration?  Who doesn't know how to use a knife?).   And, you may decide to squeeze between the crowd and the corral of pillows behind it.
I encountered just such a situation (still can't fathom what was holding these people's attention as the knife-man sliced up every day, sliceable stuff, i.e. like bread, meat and cheese.  "We grasp the cheese firmly, then we slice easily. We grasp the bread firmly, then we slice easily…").  I thought that, as it appeared to be made from 4×4's, that the pillow corral was quite sturdy, and could easily support the pressure of me leaning against it.
Well, I was wrong.
The entire corral gave way and collapsed around me with a disturbing crash, burying me in pillows and 4×4's.  Fortunately, there was a giant crowd there to witness the collapse, and to capture my embarrassment on their cell phones (it didn't really happen if no one snaps a pic with their cell phone). The embarrassment that flooded through me as I felt myself rapidly descending into the pillow pit was quickly replaced by shock, when I opened my eyes, looked up, and saw a large man holding an even larger knife leaning over me.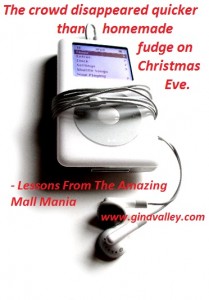 For a second there, I thought I was about to become part of the knife-man's demonstration ("We grasp the clumsy woman firmly, then we slice easily…").
After I tunneled out the back of the avalanche site, I was ready to end my time of retail torment.  At the end of our excellent adventure, is a vital lesson to remember.
The checkout lines were daunting.   I announced loudly how surprised I was to see, in the very back of the store, a display of iPod Touches marked down to $59.95.  The crowd disappeared quicker than homemade fudge on Christmas Eve.
Worked like a charm.
Except that my husband and teenagers got swept away with the crowd.
On the other hand, the ride home was quite peaceful.
Laugh Out loud!
-gina
What lessons have you learned as you face the battlefield of store aisles this holiday season?  Have you caused any avalanches?  Shoot me a comment.  I'm looking forward to hearing all about it.