Laugh, Cry, Or Stab Somebody With A Fork!
by Gina Valley
Laugh along with this Gina's Favorites post.
Laugh, Cry, Or Stab Someone With A Fork!
If there was even one clean fork in this house I'd have stabbed somebody.
Daughter#1 called during my morning meeting, which frankly wasn't going that well anyway. Someone had just said that he didn't understand my fee since I "just have to write down what pops into my head." He then pointed out that it isn't like I have to "work hard like a plumber or even an NFL player."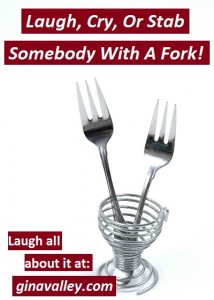 My cell phone buzzed with Daughter#1's call right then, denying me the opportunity to search through my purse for a fork. That's really too bad, because, as long as the jury had a few writers, artists or even pole dancers on it, I'm sure I'd never have been convicted.
I stepped out of the meeting to take Daugher#1's call. My kids know to text when I'm scheduled for meetings, because I can always answer those subtly. They're to call only if there is an urgent problem, like bleeding from an artery or being on fire or having head lice. So, naturally, I was concerned.
I was also a sucker.
Daughter#1, who is in high school, was calling me with a sock emergency, as in she needed some.
Now, you need to realize that when she left for school in the morning, I had mentioned her lack of socks. I'd told her to go back up to her room to get some before her ride left. Nothing stinkier than shoes that have housed naked feet.
But, it wasn't her feet that were suffering from her lack of sockage. It was her hands. She needed socks to make a sock puppet. In her college preparatory history class. Did I mention she's in high school?
When I noted that she could just get hers off of her feet, she mentioned, in fine teenage form, that she hadn't exactly taken my sock advice that morning and wasn't wearing any.
I texted a picture of a fork to her.
—
I bought a new, fluffy bed for our girl puppy, as her brother had spilled a gallon of milk on her old one. Even twice through the washing machine hadn't gotten rid of the smell, so it had taken a trip to the rubbish can.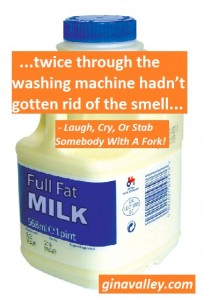 Our 70LB delicate feminine flower seemed thrilled with her soft, new sleeping place. She jumped on it, bit it several times, and then did her tradition pre-snooze 3 spins.
But, she didn't lie down to snooze after the last spin. I thought she'd decided to sit down instead, but I was wrong. She wasn't squatting to sit. She was, unbelievably since she's been house trained for months, squatting to piddle.
Big canine that she is, her output was tremendous. The flood she produced quickly filled every nook and cranny of the fluffy, tufted bed.  Seeing the rising tide, I let out a yell. This startled the pup, and she and her piddle-soaked feet took off galloping through our house, leaving a trail of shiny, wet paw prints.
While I attempted to delicately wrangle the drenched bed out of my house, our boy puppy crashed into me, jolting the bed and causing much of its liquid cargo to splatter onto the floor. And my feet.
If I'd had a fork, I'd have used it.
—
Homework time was a joy to behold. My 12 year old, for example, morphed into a screaming, fit-throwing two year old, and took 37 minutes and 2 temper tantrums to write 1 spelling word definition. I handled the situation with extreme parental grace by turning into a screaming, fit-throwing two year old myself. Of course, my tirade was a bit more impressive than his. I have broader vocabulary.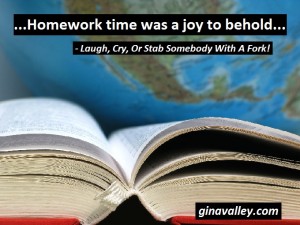 I knew better than to allow myself to think about a fork at that point.
With our pack finally all in their beds for the night, I decided to tell The Professor the tale of my day's woes. He is, after all, required to be sympathetic, at least until death parts us. He listened intently as I began.
I was not even half a sentence into the stabby story of my day when, not only did that man nod off, he flippin' let out a snore that woke the dog.
But, I didn't yearn for a fork.
I went and got a bowl of warm water.
Laugh Out Loud!
-gina
How's your week going?   Are you laughing?  Any fork-worthy events?  Shoot me a comment.  I'm looking forward to hearing all about it.
Photos courtesy of Stock.xchng – Used with permission