La Crosse Makes Me La Stupid
by Gina Valley
Son#2 took up La Crosse this year, and we've all been confused ever since.
We're a big sports family.   We follow the pros and college teams for a variety of sports. We love to go to games, and argue over brackets.  We all have our favorite teams, and have a great time harassing each other about who's favorite is doing the best.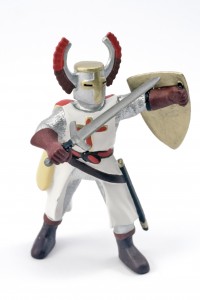 But, by far my favorite sports activity is to watch the teams my kids are on.  Unlike The Professor and me, our children are gifted athletes.  Apparently it skips a generation (enthusiasm I have.  Skill, not so much).
I've been on the sidelines cheering for my children at soccer, basketball, football, baseball, volleyball, hockey, archery, and tennis.  According to ESPN, I can throw dance, chess, and spelling bees into that athletic pile, too.  I've coached volleyball, soccer, and baseball.
I have a pretty good grasp of the basics for most sports, and a great depth of knowledge for a few.
But, this La Crosse thing has thrown me for a loop.
I've been to 10 or 12 games now, and I still can't figure out what's going on.  I mentioned this to my buddy Joan, because Joan's son has played La Crosse for years.  I expected to receive some helpful tips about the basics of the sport or some suggestions for further reading.
Not what I got.
Apparently, even after having been involved in the sport for years, Joan is still nearly as confused as I am.  In fact, instead of a clarification of the rules, Joan told me about how during several games refs had paused play in order to explain some rules to parents and spectators.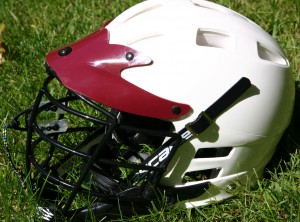 Excellent.
It's a strange sport.  I wonder if Google even knows the rules.
First off, they toss around a ball that's supposedly made of rubber, but actually feels like it's composed of lead or granite.  They use sticks with baskets on the end to do this.  That's right, a basket on the end of a stick.  I think maybe 6 year olds made up this game on a rainy day when they were stuck inside for recess.
The baskets and the sticks players use are clearly many different sizes.  Son#2 said that this is based on the position a player usually plays, but I think he might be making that up.  I've noticed sticks in varying sizes from stubby sticks less than the length of my arm to long sticks that are taller than I am.
From where I sit in the stands, most of the baskets are about the size of a cantaloupe, although, as they're a multitude of colors, it's hard to say for sure.  The guy that hangs out near what I assume is the goal, although that might just be the hockey in me coming out, has a basket bigger than a tennis racket.  He looks like he's prepared to catch watermelon in it.
Son#2 has a middle-sized stick with a middle-sized basket, and he is a midfielder.  I don't know if there's a correlation.   I do know that I've never seen him in the middle of the field, so I'm not clear on why his position is called midfielder.

Based on what I've seen at the games so far, all the players, with the possible exception of the goalie (if that is in fact his real name), are playing the same position, and it should be called "Run-Around-Like-A-Swarm-Of-Bees-Is-Chasing-You-And-Smack-People-With-Your-Stick."  Now that I think about, my kids have been playing this in our backyard for years.
Odd as the equipment is, though, the wardrobe is even odder.  Their lower half appears adorned for soccer, but without those pesky shin guards to protect their bones from the constant assault by sticks and the lead ball.  Their upper half appears to be decked out for tackle football, complete with pads and a large helmet.  I'm not sure, but I think they're wearing hockey glove, too.
During the first game, I briefly wondered if the scoring was similar to golf where you want to get the lowest score possible, as at halftime our team had 2 and their opponent had 22.
But, with the assistance of some informative chants directed at the coaches by some other parents in the stands, I ascertained that we did in fact want to score more goals than the other team.  In fact the urgency conveyed by some of the suggestions offered to the coaches and referees led me to believe that the score of the game is quite possibly a life or death matter.
I mentioned to The Professor, as we sat watching a recent game, both wondering why a foul had been called against a player who seemed to be on the bench at the time, but not against a player who was smacking another repeatedly with his stick, that at first glance the game appeared to be something of a combination of hockey and soccer.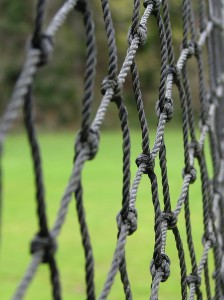 The Professor asked if they had perhaps combined the bad parts of both.
He was joking, of course.  There are no bad parts in hockey.
At yesterday's game while my head was in its usual La Crosse game fog, the right side of my body was being scorched by a hot spring sun, and the left side of my body was developing frost bite.  It was like standing on the planet Mercury.  Somehow it seemed fitting for the game.
As I sat there shivering and sweating I was treated to a performance by Super F Man.  Some might say he has a limited vocabulary.  I say he's got a gift.  I mean, truly, the man deserves a cape.  He was able to string entire sentences together using virtually only the f word.  "F! That f'in' f'er really f'in f'ed us up! F!"  He of course used the entire f-word, not just the one letter.  It was surprisingly entertaining to   listen to.
The man is a master.
I don't think he knew the rules any better than I did, though.
Laugh Out Loud!
-gina
Is there some activity you find mind boggling?  Do you have a favorite sport?  How you doin'?  Shoot me a comment.  I'm looking forward to hearing all about it.