It's that time of year.
I'm a bit envious of all the Hallmark and Kodak moments everyone seems to be having. It's even worse now that they arrive via email and Facebook, along with the ever faithful snail mail batches.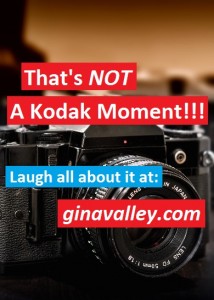 You see, we don't have Hallmark moments or Kodak moments.
What we have is closer to America's Funniest Video moments, except that, of course, no one brought the video camera, and even if they had, it's not charged and the memory card is full.
We have moments like when I noticed my youngest son had something brown running down his leg when he got out of our van in the school parking lot. Keep in mind his leg was in pristine, post-shower condition when we left our house, so the mystery substance was somehow acquired en route to school, while in our van.
My husband gave me the "Don't ask! Don't tell!" look that parents often exchange when they know there is no way the answer can be good news. I, fool that I am, ignored him and asked our son what was running down his leg. He shrugged, and said, "I dunno." Then, he stuck his finger in it and tasted it, before pronouncing it "Bar B Q sauce!" I had an "I'm Not Sure Whether I Should Throw Up Or Laugh" moment.
We have moments like when my oldest daughter over-slept, and we were all in our van waiting none-to-patiently for her. She came dashing out of our house, dressed in her school uniform, and practically threw herself into our van. She was carrying her shoes and backpack while she frantically brushed her hair and tucked in her school uniform shirt.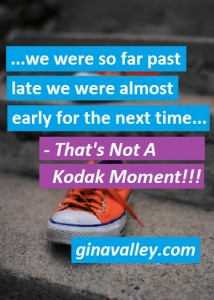 I immediately drove off, as we were so far past late at that point we were almost early for the next time. As I pulled into the church parking lot, she asked, "Why are we stopping at church?" to which her oldest brother replied, "because it's Sunday morning, smart one. Nice outfit, by the way." My daughter, then, had an "I Need A Hole To Crawl Into Now" moment.
We have moments like when I went to have the nail lady make me look like a grown up again (I really should not be allowed near nail polish. It's not my gift) & our boy puppy, (despite the fact that I gave him his medicine, which has the side effect of making him sleep for a couple hours, before I left) apparently only slept for a couple minutes, got bored, and shredded everything he could get his paws on in our family room, including all of the empty gift bags I bought the day before to use for Christmas gifts.
As if his destruction was incomplete, while I was gathering up the tattered remains of the formerly beautiful gift bags, our puppy stood in the middle of the mess and started to make that sound that every dog owner dreads: the sound that signals something is about to make a reappearance that should not be making a reappearance. The sound that something evil this way comes. The sound that triggers screaming and the rushing of the canine out of the house.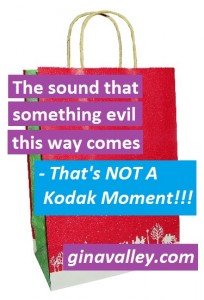 But, he's young and pliable and quick, and I couldn't catch him, much less relocate him, prior to his completing his re-visitation with the ingested gift bag parts. I braced myself in anticipation of his "I Ate Too Much Shredded Paper" moment.
Turns out, he didn't have an "I Ate Too Much Shredded Paper" moment.
No, he had an "I Ate Too Much Glitter…And Someone's Glove" moment.
I, then, had a "Yet Another Reason I Hate Glitter" moment.
Immediately followed by an "Oh Crud, That's My Glove" moment.
Laugh Out Loud!
-gina
What kind of moments are you having? Is your family more Kodak or crazy moment prone? Shoot me a comment. I'm looking forward to hearing what you think.
Photos courtesy of 
Stock.xchng
 – Used with permission