Top 10 Signs Your Kids Are On Summer Break …Gina's Favorites
by Gina Valley
Summer is in full swing around here. It must be, otherwise, I've lost my mind for no apparent reason. While I look for it, laugh along with this timely
Gina's Favorites
post.
Top 10 Signs Your Kids Are On Summer Break
Have you developed a twitch that you can't explain?  Has the noise level in your home risen to uncountable decibels?  Is every towel you own covered in mud?
I think I know what you're suffering from. You might just have a case of Kids-On-Summer-Break.
Here's some signs to check for.
Top 10 Signs Your Kids Are On Summer Break.
#10.  You've put green and red popsicles on the food pyramid as vegetables.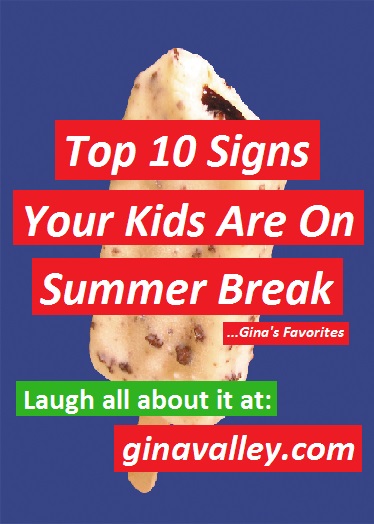 #9.  You have no idea what day of the week it is (even more than usual!).
#8.  You aren't sure when the last time your child took a real bath with soap and everything was, and you wonder if the time they dumped bubbles into the lake while they were swimming counts.
#7.  You think ice cream for dinner is a nice change from the watermelon your kids ate exclusively for the previous 2 days.
#6.  You wonder how many days in a row your child can wear a swimsuit before you legally have to call in the HazMat Team.
#5.  The hose in your yard has been running non-stop for more days than you can count.
#4.  You've hollered "When I was a kid, we played outside!" more than 15 times. In one day.
#3.  You spent $35 on lemonade making supplies, which your children made into a thick, yellow liquid, and sold to passersby for a total of $3.75, just so you wouldn't have to answer the "Can we watch TV now?" question again for a few hours.
#2.  You dog's coat looks extra shiny because someone covered him with sunscreen. Twice.
#1.  No one will go to bed.  Ever.
Relax. After all, things could be worse.
It could be time for Back to School.
Laugh Out Loud!
-gina
What's your favorite summer memory? What do your kids like to do on a lazy summer day? Shoot me a comment. I'm looking forward to hearing all about it.
Photo courtesy of Stock.xchng – Used with permission.