Top 10 Great Things About My Kids Helping Make Dinner…Gina's Favorites
by Gina Valley
Two of my sons made dinner for us a couple nights ago. It was delicious, but our kitchen still hasn't recovered, and I'm still having meatloaf-based nightmares. So, I figured my
Top 10 Great Things About My Kids Helping Make Dinner
 post would be perfect for Throwback day this week. Laugh along with this
Gina's Favorites
 post.
Top 10 Great Things About My Kids Helping Make Dinner
My kids are helping make dinner tonight.
Right now 12 and 13 are browning meat for tacos.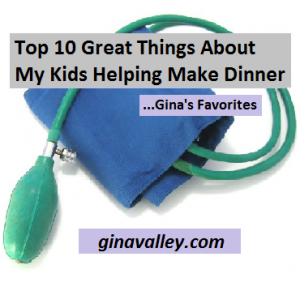 Yes, I made sure the fire extinguishers are ready to go.  No, I haven't had a nervous breakdown.  Yet.
I'm trying to smile and to remain positive.  I think I'm actually grimacing and developing an aneurysm.
When I decided to insist that my children start helping more with the day to day needs of our family, I forgot that meant that I'd need to face the results of my children helping with the day to day needs of our family.
They're still learning.  Having them more deeply involved in the processes that keep our home running has lots of far reaching effects.  It teaches them responsibility.  It reminds them about the efforts made on their behalf.  It's raising my blood pressure.
Plus, there are some clear benefits to having my progeny help make our evening meal.
10 Great Things About My Kids Helping Make Dinner
#10.  Mystery ingredients keep your mind sharp.
#9.  No stress about washing the pots and pans.  You have to wash the whole kitchen anyway.  A couple metal vessels pale in comparison to that.  Might have to wash the whole downstairs.  One time, they even trashed our van while browning meat for tacos.  I'm still trying to figure out how that happened.
#8.  No serving dish necessary.  The food is already "artfully" presented all over the stove, counter, floor, and ceiling.
#7.  The dog has been fed.  Repeatedly.
#6.  You have no trouble limiting your serving size, as you wonder how many body parts were scratched during the dinner creation process.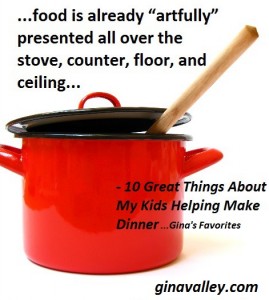 #5.  It will qualify you to be an excellent candidate to appear on Kitchen Impossible or Dr. Phil.
#4.  It's a great time to inventory your kitchen, as every cupboard and drawer, as well as the refrigerator and freezer, will be left open for easy analysis.
#3.  Dinner conversation will be effortless.  Between the I made this!'s and the What is this?'s all conversational opportunities will be filled.
#2.  Your kitchen floor will have a new, decorative design, and permanent non-slip surface. 
#1.  The following day your spouse will be much more likely to utter those three little words you so long to hear: Let's eat out.
Maybe I'll just have a cup of tea.
Laugh Out Loud!
-gina
Are the helpers around your place helping?  What do you wish you had more help with?  Is there a chore you like to do?  Shoot me a comment.  I'm looking forward to hearing all about it.
Photos courtesy of Stock.xchng – Used with permission