Why Aren't My Kids Better Liars?…Gina's Favorites

by Gina Valley
I'm taking this week off to deal with some family issues, so I've lined up some of my favorite posts to keep you giggling. Laugh along with this
Gina's Favorites
post.
Why Aren't My Kids Better Liars?
Why aren't my kids better liars?
It's not like they don't practice.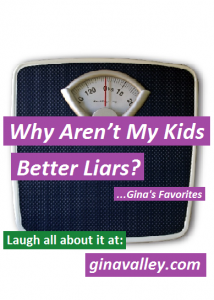 I feel like such a failure.  Clearly, I'm not providing them with the deception training they need to develop into the amazing liars I know they could be.
Maybe I need to call in a professional to provide private coaching, like a politician or a used car salesman or a weight loss counselor.
Consider yesterday's example:
I asked Son#3 & Son#4, "Did you finish cleaning your room?"
"Yes!" they answered in unison, already opening the cabinet to access the Xbox.
"Is it actually clean, or did you just stop working on it?"  I asked to clarify their answer.  I watch Law & Order.  I know how to interrogate.
"It's clean!" they answered in unison, sticking to their story, while they tug-o-war'ed with the favored XBox black controller.  They've been watching NCIS for denial tips.
I totally support a "Trust but Verify" policy in both international relations and child proclamations, but yesterday that policy was frustrated by a case of the dizzy, nauseated thing going on, which made me running up and down the stairs every 5 minutes to check on my minions somewhat problematic.  I had to continue my investigation verbally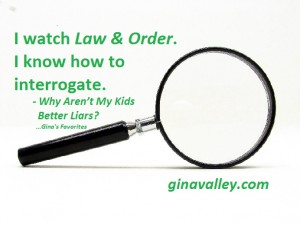 "Are you sure?" I asked, carefully maintaining eye contact to watch for hints of deception.  That's what Patrick Jane does.
"Yes!" they again answered emphatically, in unison.  Son#3 had somehow managed to wrest the coveted black controller away from Son#4.  I was surprised that Son#4 wasn't complaining about being stuck with one of the less loved light colored controllers, but I didn't allow it to get me off track.
I gave them both "The Eye," and asked, "Could a blind guy walk across your floor without getting hurt?"  Sometimes you have to get specific to eliminate semantics.
"Yes," Son#3 answered slowly. "He'd be wearing shoes, right?"
"He should probably wear boots," Son#4 offered, while lining up their Skylanders.
"Clean your room!" was my closing argument.
Or, perhaps consider Daughter#3's poor performance last month after she walked past my office with perfectly curled tresses rather than her naturally straight hair:
"Did you use my curling iron?" I asked, knowing the answer, as it's the only one in the house since the "Why is the mattress on fire?" incident of 6 months ago.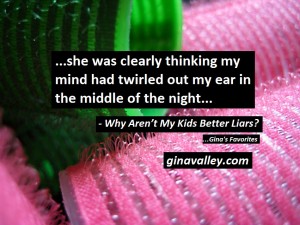 "No," she said, picking up speed a bit in a race to hit the stairs before I hit her with the next question.
I can move fast, too, and darted out into the hall to ask, "Then, how did your hair get so curly?"
"I must have slept on it funny," my 3rd born, feminine-flower answered.
"You slept on it funny?  It doesn't look funny.  It looks curled. You're supposed to ask before you use other people's stuff and you know it."
"I must have twirled it around my finger a lot in my sleep," she suggested, clearly thinking my mind had twirled out my ear in the middle of the night.
I couldn't help but do a brain revealing eye roll.  I hollered down the stairs to her, "Put my curling iron back in my bathroom right now, before I twirl you around something."
And, who can forget last week's record grounding-inducing, pathetic attempt by Son#2 when I came upon him entering the house as I was on my way out at 6:00AM on a Saturday morning:
"Why are you up?" I asked.  Seeing him awake on a Saturday at 6:00AM usually means I forgot about a 7:00AM soccer game, or the world is ending.
"I got the paper," he answered holding up the newspaper he had retrieved from our driveway.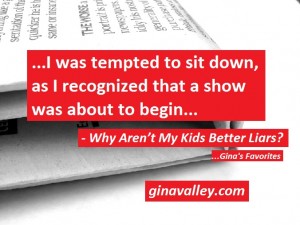 "I see.  And, you needed a car key for that?" I asked, pointing to the key in his other hand. I'm sure Mr. Jane would have been proud of me.
"Uhhh," he began.  I was tempted to sit down, as I recognized that a show was about to begin.  "I went out to get donuts for the family."
"Really?" I like to play along.
"Yeah, I figured I better go early, so there was a better selection," Son#2 continued.
"How thoughtful!" I said.  "Where are the donuts?"
"Uhhh, I didn't have any money in my wallet to buy them," he continued.  "So, I went to the bank to cash my paycheck, but I couldn't get the machine to work and they weren't open, so I just came home."
"Give me your keys.  You won't need them for quite some time," I said more calmly than I thought possible, considering my mind was running through all of the different ways to strangle a person at the time.
"Why am I getting in trouble for trying to do something nice for the family?" he scoffed, clearly wounded by this perceived injustice.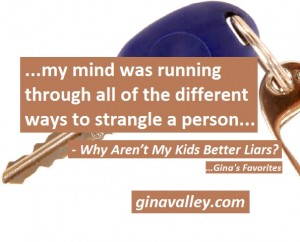 "You weren't trying to do something nice for the family.  The closest you got to buying us donuts this morning was driving past the mini mall on your way home after sneaking out to play video games at you friends' house all night.  And, if you say one more word, I will take you down to the bank when it opens, and have them show you the video tape of you not trying to use the ATM to cash your paycheck, which by the way went through the laundry last night because you left it in your jeans pocket."
You know, it's not the lying so much as the lack of effort behind it that really bothers me.  I mean, come on, if they're going to be dishonest, couldn't they at least make an effort?  I'm not a complete moron.
How about even a little effort? Couldn't my kids at least wipe the chocolate off their faces before denying they ate my chocolate bar?
How about showing some respect?  Is it too much to ask that they at least hide my suede boots after wearing them out in the rain, rather than sticking the mud cover things back on my shelf?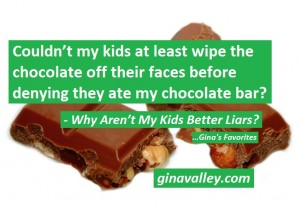 How about acknowledging my intelligence?  Why not put down his brother's truck before denying taking it from him?
I worry for my children.  They seem to be lacking such basic level dishonesty skills, and they aren't putting in the hard work necessary to become quality deceivers.
How will they be finesse-filled spouses or skilled parents or Christmas character supporters?
How will they successfully apply for a mortgage or negotiate for a car or eat dinner at their in-laws house?
I realize now that I should have set a better example.  I should have been lying to them all along.
But, it's never too late to start.  I'll change my ways.  I'll make a difference in their lives before it's too late.  I'll start today.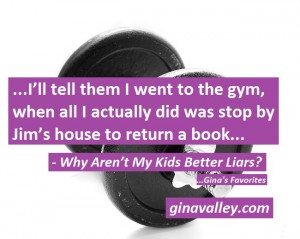 I'll tell them I'm in the kitchen making dinner, when I'm actually in the kitchen snarfing cookie dough.
I'll tell them I went to the gym, when all I actually did was stop by my friend Jim's house to return a book.
And, I'll tell Son#3 that he can borrow my car, and when he heads for the door, I add, "but you may not" just to help them work on those semantics.
I know there's still hope.
If I really focus, I may be able to raise a pack of skilled liars yet!
Laugh Out Loud!
-gina
Anyone told you a real whopper lately?  What was it?  What did you do?  Did you ever feed your parents a pile of bologna?  What happened?  Shoot me a comment.  I'm looking forward to hearing all about it.
Oh yeah – I just wanted to remind you – if you haven't hooked up with me on Facebook or Pinterest or Twitter, I hope you will today.  I want you to be in on all the giggles.  Plus, it's always fun to hang out with you!
Be sure to click on the subscribe box in the sidebar up near the top, right-hand side of this page to receive all of my blog posts in your e-mail.  It's super convenient and I promise not to do anything weird with your email address.
And, hey –Thanks for reading!  I appreciate you spending your time with me!
Photos courtesy of 
Stock.xchng
 – Used with permission.