Sometimes Juice Spills …Gina's Favorites
by Gina Valley
I picked my Sometimes Juice Spills post for Throwback Day this week, because it makes me giggle.
Laugh along with this Gina's Favorites post.
Sometimes Juice Spills
You know it's going to be a good day when you start it off by finding a pimple the size of a can of soup sprouting out of the side of your neck.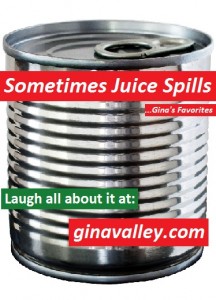 Where does it fall on the irony scale that I found the pimple while putting on my anti-wrinkle cream?
At first I thought it was a bug bite.  I was hoping it was a bug bite.  But it wasn't a bug bite.
All doubt was removed when I found his mini-me brother sprouting up from the middle of the scar on my forehead.
If there was another one on the other side of my neck, and it was Halloween, I could have passed it off for a neck bolt.  But, just the one at this time of year leaves little option for disguise.
There is cover up. I coated it with that. Twice. It went from looking like a flare guiding aircraft landing on a carrier in the fog to more like a stubby thumb trying to hitch a ride.
A turtle neck would have covered it. Of course the 90 degree F weather around here this week would have made that less than comfortable. Plus, there's my obsessive need to not let anything touch my neck.  I hate that feeling, so I don't even own a turtle neck.
I guess my body didn't hear about the "nothing touches my neck" rule before it started growing my third arm there.
But, I realized that I was probably making too big a deal out of this. We all focus on our own bodily imperfections, even though most people never notice them, much less give them a second glance. So, I decided not to worry about it and headed down to breakfast.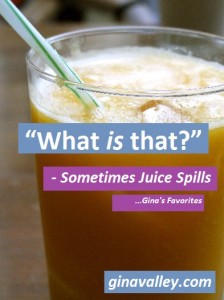 The Professor did a double take as I sat down across from him at the breakfast table. "What the bloody 'ell is that?" he asked, staring at my neck growth.
"I'm not sure," I answered. "Might be a bug bite," I suggested, hopefully.
"I don't think so," he said, looking intently at it.
"Does it look like a pimple?" I asked.
He shook his head.  "Not exactly," he said.  "It looks more like the beginning of an alien emerging."
Somehow his orange juice got dumped on his lap about then.
I have no idea how that happened.
Sometimes juice spills.
Laugh Out Loud!
-gina
Ever been double "blessed" with the troubles of youth and the pains of aging at the same time?  Is your significant other super helpful when you're feeling self-conscious?  Shoot me a comment.  I'm looking forward to hearing all about it.
Click over to my posts below for more fun with The Professor:
WHAT Is The Dog Sniffing Now?!?!
 As always, the extra clicks count as cardio.
Thank you for reading and sharing.
Photos courtesy of Stock.xchng – Used with permission.