It Was Kind Of A Quest
by Gina Valley
We just spent hours rehabilitating our kitchen trash can.
Yes, it's old.  Yes, it's dented.  Yes, it's scratched and the lid doesn't close right and the foot pedal came off.  Yes, it's really beyond repair.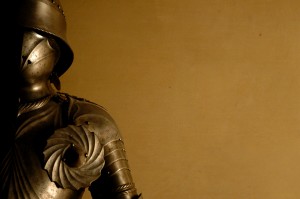 But, we can't buy a new one.
We just can't.
We can't afford it.  It costs too much.
I'm not talking about the money.  We can shell out the cash for a new rubbish bin.  I'm talking about the emotional cost that buying a new trashcan causes.  Because, you must remember, if we get a new trashcan, we have to throw out the old one.
I can't take the stress and turmoil of trying to throw out another trashcan.
It is so dang hard to throw out a trash can.  Have you ever tried to throw one out? It's next to impossible to do.  I know.  I've tried.
The last trash can I tried to throw out was one of those molded plastic ones.  It was about 2 feet high and held about 15 gallons of trash.  I have to admit that I never actually measured its capacity.  Nor did I measure the length of the crack that had developed under mysterious, never fully explained circumstances while I was away for a weekend, that ran zigzagging from near the bottom of the trash receptacle to the top.
Keep in mind that this was one of those supposedly indestructible trash cans with the commercial that shows the trashcan none-the-worse-for-wear after being run over by a truck.  Indestructible my eye.  Clearly, the marketers hadn't met my pack.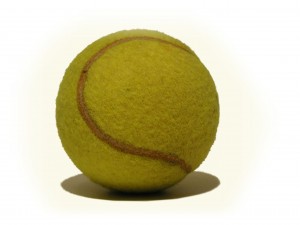 There was a tennis ball size hole on bottom of one side, where one of our furry family members had decided to increase air flow.  The well ventilated trashcan also had a distinctive fish odor to it.  No one was exactly sure why, and no one wanted to ask.
If my dad had seen me about to throw it out, he would have said, "All you need is a tube of chalking, a welder's torch, and a mold of the trashcan in its original condition, and you can totally rebuild that thing."
I was happy he didn't see me toss it into our big trashcan, to await its ride to the dump on Wednesday morning.
Wednesday morning after I heard the roar of the garbage truck pulling away, Son#1 rushed into the house clutching the trash can I thought was on its voyage to the great garbage beyond.  "Mom, good thing I went out when I did.  I pulled this out just in the nick of time," he happily explained.
"I was throwing that out," I explained, not as happily.
He looked puzzled. "Oh. Why?" he asked. "Just needs a little duct tape."
Before my favorite person in the world, the garbage man, returned the following Wednesday, the broken trashcan was "rescued" 4 different times by 3 members of my pack and The Professor, who made a nearly identical "duct tape" comment.  It runs in families.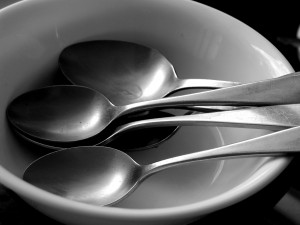 This run of rescues was frustrating, but understandable.  After all, my family never throws anything away voluntarily, except spoons and important notices sent home from school.
Tuesday night I called a family meeting.  I took the retired trashcan away from our dog, which had "rescued" it around lunch time.  I placed on our coffee table (the trash can.  Not the dog).
"This," I informed my anti-throwaway-ite family, "is trash."
Almost in unison they replied, "can."
"No, no, no!" I corrected.  "This was a trash can.  Now it is just trash.  I am trying desperately to send it on to that great trash utopia in the hills, and I need you all to stop taking it out of the trashcan."
Daughter#3 said, "I'll bet Grandpa could fix it."
"Don't tell Grandpa!" I almost, but didn't quite holler.  I knew she was right.  He could fix it.  He would fix it.  I didn't want it fixed.  I wanted it gone.
I placed the trashcan into our big trashcan myself.  I put a bag of garbage from the bathroom inside to make sure it didn't fall out.  I sighed a sigh of relief, knowing that my buddy, the garbage man, would be whisking it away in less than 12 hours.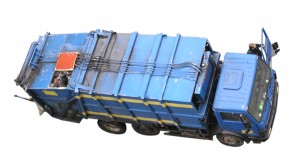 Our trash man and I have been pals for ages.  For several years I thought the reason he always made sure to pick up any spills and overlooked it when we put out an extra bag was because I brought my littles out to the front porch to wave to him every week.  They love trash trucks.
A couple months ago The Professor suggested another reason that the garbage man might be particularly interested in doing a great job with our refuse.  As he was leaving for work, The Professor noticed that when the sun shines on the porch while we're waving, it makes my robe nearly transparent.  Perhaps, he'd theorized, it wasn't seeing our kids that was making the man smile.
So, I was wearing my current wave-wear, a thick sweat shirt and pants, when the garbage man pulled to a stop in front of our house Wednesday morning.  Sons #3 & #4 were at my side, dutifully waving.  Our garbage man made quick work of our cans, and waved and smiled, as always, as he continued up our street.
Son#2 came into our house after putting away our garbage cans, holding the broken blue trash can.
I gasped, and said, "Oh my gosh! I think it's possessed!"
Son#2 shook his head and said, "Nah, I think the garbage man took it out, 'cause he put three of our spoons and a fork in it.  I don't know how he spots that stuff."
I was thankful our garbage man had again rescued some of our ever diminishing supply of flatware, but I couldn't help but wonder if we would ever be able to get rid of that useless garbage receptacle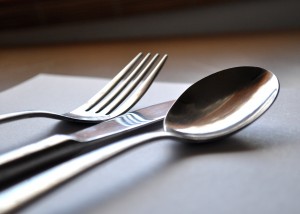 We did finally get rid of it.  I admit that it was a premeditated trashcan canning.
I packed it in the back of our van for a trip to Arizona.  In the middle of the night, while we were filling up our van's tank and my pack was dozing, I made a dash to the dumpster at the gas station in the middle of nowhere.
As we pulled away from the pumps I could see the gentleman who had been hanging out near the dumpster pulling the black plastic bag encased bundle out of the dumpster.  We were almost to the exit driveway when he began to peel the plastic bag away, and to stare at the trashed trashcan I had so cocooned.
Time seemed to move in slow motion.  The exit from the gas station seemed to get farther away with every passing moment.
We had to wait for traffic to let up before we could pull out onto the road.  He started to walk in our direction, with the former trashcan cradled carefully in his arms.
I considered praying, "Please, don't let him catch us.  Please, don't let him catch us."  But, I felt like ditching a trash receptacle shouldn't be something I need to call on The Almighty for help with.  There are other issues.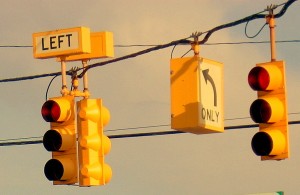 The man with the can was picking up his pace as we waited at the exit.  He was nearly at a jog.  He held our dearly departed plastic trashcan in front of himself like a holy offering.  He was getting closer.
At the first break in traffic we pulled onto the road, probably a bit faster than we needed too, nearly rousing our sleeping pack.  Fear makes you do desperate things.  I saw the man waving the trashcan like a beacon, as if calling to the trash mother ship.
I'm still fearful that he may have jotted down our license plate, contacted the Department of Motor Vehicles for our address, and will one day bring our former trash can back home.
This is why I don't answer the door anymore.
And, why, despite it being so easy to replace, The Professor and I spent a couple hours making our current kitchen trashcan at least semi-functional again.
We don't have time to go on the lam with another trashcan right now.
Laugh Out Loud!
-gina
Have you ever had trouble getting rubbish hauled away?  Are your family members packrats?  Shoot me a comment.  I'm looking forward to hearing all about it.
Be sure to check out my Gooey Trash Ed post for more trashy humor.
As always, the extra click counts as cardio.
Thank you for reading and sharing!!!