Is That The Key To Your Heart?
by Gina Valley
Spring is the season of graduations.
It's truly even beyond that in our home this spring, as 4 of my pack members participated in graduation ceremonies this week.
You experience a lot watching 4 of your children graduate in one week, including inspiration, hope for tomorrow, and a splotchy sunburn.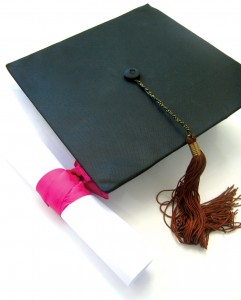 But, the thing I had re-confirmed for me over and over and over this week is that each and every one of the graduates is in a state of, hopefully temporary, insanity. These folks have lost their minds.
One of my graduates decided that he did not want his picture taken. Ever. Not before the ceremony. Not during the ceremony. Not after the ceremony. Under no circumstances were we to take his photograph.
No problem.
I just ignored what he said and took tons of photos of him anyway. He ignores me all the time. Welcome to payback, Son.
Our high school graduate did not want to go to dinner with our family after graduation. He didn't want to have cake. He didn't want to see us at all. Rather, he and his friends were going to meet up and hang out together.
I told him, "No, you're not. You're going to have dinner with your family. You're old enough to make your own decision, but you are going to decide to have dinner with your family."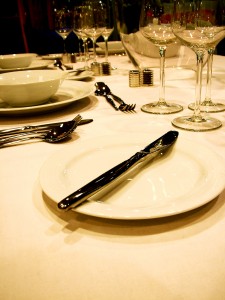 He headed out toward the student parking lot with his friends after the ceremony, while we walked the 3000 miles to where we parked our van. We weren't even halfway to our van when he called to ask if we would pick him up and take him to dinner with us.
I knew he would. I was sure of it. I'm glad he decided spending time celebrating with family first, before hanging out with his buddies, was important.
I won't mention to him that I know his friends parents, and I knew there was no way his friends were going to get out of going to dinner with their families after graduation. I'm sure that had nothing to do with his decision to want to have dinner with his family.
My daughter informed me weeks ago that she would be wearing her older sister's suede, high heeled boots with her graduation dress. I informed her that she would not want to, as it would be too hard to walk across the grass surrounding the graduation area, much less up the stairs to receive her diploma, in the heels she had no practice wearing.
I also pointed out that suede boots of any heel height would likely be a bit warm on graduation day, which somehow is always the most humid, hot day of the spring. Not my first time at this rodeo.
But, I told her that it was totally her decision.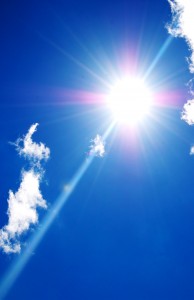 To help her with that decision, we went shoe shopping on the first hot day of spring. I had her try on high heeled, suede boots, just to be sure she was happy with the color of her sister's boots. I had her walk laps around the store to make sure they were comfortable, while I sat on that little bench with the slanted mirrors under it, and dabbed humidity off of my forehead with a tissue.
After a couple wobbly laps, she asked me if she could have a tissue to dab her forehead. And, she asked if it would be alright if she picked out a nice pair of sandals to wear with her graduation dress. I expertly smiled and swallowed my "I told you so," even though it was practically screaming to get out.
But, my favorite crazy graduate behavior this week came from her older brother, while he and 500 of his closest friends were decked out in asbestos robes and those funny flat hats, behind the football stadium, waiting to march in.
I, feeling quite like the sentimental mom, hiked over to the throng and searched him out, just minutes before the ceremony was scheduled to begin. I wanted to get his picture. Sort of a pre-ceremony, candid moment kind of thing for us to cherish for years to come.
I was a bit surprised at how happy he was to see me. I had anticipated a bit of resistance to my wanting to photograph him, as he would have had to admit to his buddies that he does in fact have parents. I know how much teenagers hate to do that.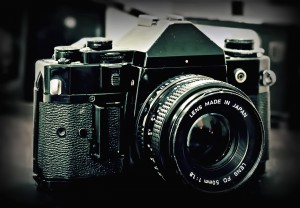 But, to my surprise, when one of his buddies tugged on his sleeve and pointed me out to him, he greeted me excitedly. He hurried right over to me.
I was thrilled.
He had a big smile. His eyes were twinkling. He said, "I'm so glad you're here!"
I almost squealed with delight. My boy-who's-really-a-man was glad I was there!
He reached into his pocket, pulled a shiny metal trinket out, and offered it to me, while he happily said, "Would you go move my car? I parked on an island, and I think they're gonna tow it."
I think we all know who the crazy one was in that conversation.
Laugh Out Loud!
-gina
Have you been privy to any crazy graduation behavior?  Are any of your loved ones graduating this year?  What's your favorite part of the ceremony?  Shoot me a comment.  I'm looking forward to hearing all about it.
Click here to read my vital posts on surviving graduations (or just for lots of laughs):
Will This Sunscreen Raise My Cholesterol?
The Graduate – Not Just A Sweaty Guy In A Dress & Funny Hat
Don't Make Me Back This Car Up!!!
Death By Folding Chair –The Perils Of A Graduation Audience
Just 'Cause You're At Graduation Doesn't Mean You're Smart
As always, the extra click counts as cardio!
Thank you for reading and sharing my work with your friends and family on your social media accounts.  I appreciate your support!