Stuck In the Car All Day
by Gina Valley
I'm hanging out with the fun folks over at Voiceboks today, laughing about what transpires when we're stuck in the car all day with our family on a road trip. I hope you'll click on over and join me there.
Here's snippet of the giggles you'll find there:
Great Things About Being Stuck In The Car All Day
School starts soon in our neck of the woods. I thought it'd be fun to squeeze in a quick, end of summer road trip to see the actual woods before school slips fully into gear. So, we, my pack and I, will be spending a couple days in the car.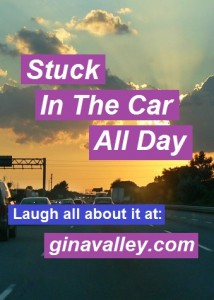 Some people complain about being stuck in the car all day. In fact, many of the people in our car complain about being stuck in the car all day. And, I'm not just talking about the kids.
But, I consider myself to be a positive person most of the time, or at least when I've had enough sleep, or have mysteriously lost a pound, despite eating more chocolate the night before than I'm willing to admit to. And, positive person that I am, I can see many great things about being stuck in the car all day.
First of all, there's no need to nag children to do their chores. They have no chores. They're stuck in the car. It's wonderful to have a break from that source of stress. Now granted, there are still a few things that need to be done, even when we're in transit all day. But, the closest thing we have to doing dishes and vacuuming is throwing out Happy Meal bags, and brushing crumbs off of the seat and out the door.
Plus, when you're in the car all day you get to play everyone's favorite travel game Guess Which Side The Next Nose-Picker Will Drive By On. This simple game is great fun for all ages, from toddler to grandparent, and everyone in between. It does require some concentration, as nosepickers tend to race by at top speed (Why are nose pickers always in such a hurry? Is there some sort of Nose Pickers Anonymous meeting they're all late for? I hope they don't greet each other with a handshake).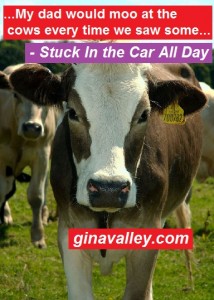 When you spend all day in the car, no matter where you go, eventually you'll see some cows. I think the highway department sticks a herd out next to the highway every hundred miles or so to help keep things interesting. But, the great thing about cows is, if you do it just right, when you moo at them, they'll moo back at you.
I learned that as a kid. We took lots of road trips. My dad would moo at the cows every time we saw some. Every time he did it, the cows would moo back at him, and my mom would say, "Stop that, Gino! You don't even know what you're saying to them." From the way he'd smile, I think maybe he did know.
Spending the day stuck in the car is also a great way to ensure your children will behave well…a few years down the road. At some point during any all-day driving experience, every child falls asleep. If you make a point to snap tons of great Look How Funny You Looked Sleeping Sitting Up pictures, you'll find them to be very useful for blackmailing your children when they become teenagers…
…
Click on over to Voiceboks to see all of my Great Things About Being Stuck In the Car All Day post.
And, remember, as always, the extra click to counts as cardio.
Laugh Out Loud!
-gina
What "games" does your family play while stuck in the car? Do you have a favorite road trip memory? Shoot me a comment. I'm looking forward to hearing what you have to say.
Photos courtesy of 
Stock.xchng
 – Used with permission.