I'm  Somebunny
by Gina Valley
We're all exhausted from traveling.   We just got home from a couple days of services for my husband's mom.
I'm always amazed at how tired sitting all day while traveling makes us.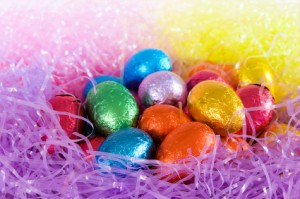 My kids are crashed in bed, so it's time for me to morph into the Easter Bunny and fill baskets with all kinds of goodies.  I will, of course, reserve the right to claim my 10% of all chocolate.
I'm really just tasting it to make sure that it's good.  I'm a giver like that.  Especially with those little chocolate eggs wrapped in foil.  Those are so yummy.  I sample several of each color to make sure they are all equally delicious.  Attention to detail matters.
Now, if I could find the tape, I could seal up these baskets so I'm not tempted to sample any more.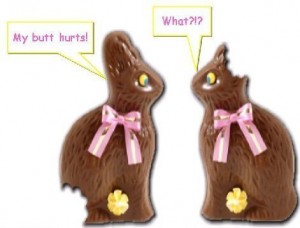 And, has anyone seen that big roll of cellophane I bought to wrap the baskets in?  Maybe we'll go with aluminum foil this year.
Happy Easter to you and yours.
May your chocolate never melt and may your black jelly beans be few and far between.
Laugh Out Loud!                                        
-gina
Who is the Easter Bunny at your house?  What's your favorite Easter treat?  Do you like the black jelly beans?  Shoot me a comment.  I'm looking forward to hearing all about it.