As I'm spending extra time celebrating with my family, today's post is one of my favorites from the past.
I'm NOT Freaking Out…Yet…Gina's Favorites
by Gina Valley
Ok, I am officially stressed out by how much I still need to do today.
I admit it.
I'm not in a full on panic or at freak out stage, but the day's not over yet.
I'm not ready for Christmas.  I'm behind in work, too.  I haven't had enough play time with my kids.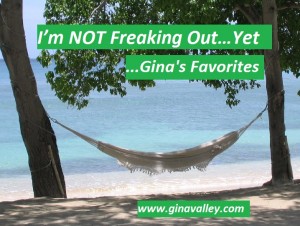 Part of me would like to sneak off to a warm beach and take a nap until January 3. But, that part of me is gonna have to suck it up because real life, or some semblance of it, is here with a vengeance.
To help myself relax a bit as I'm out amongst the throngs, hunting for trinkets, prime rib, and Skylanders, I'm reminding myself of all of the good things about being way behind and unorganized this year.
Why I'm Glad I Waited Until The Last Second To Shop This Year:
Quick decisions – It is so much easier to make quick decisions when that is my only option. I know that if I hesitate, some blue-haired lady hopped up on Starbucks and Cinnabon will knock me out of the way and grab all the Care Bears while I'm weighing the pros and cons of Sunshine Bear versus Cares A lot Bear.  What I really need is a "Back Off, Lady!" Bear.
None of that annoying shopping around for the best price – You got it in stock? Sold!  I'll take it. It's kind of like coming to terms with having to pay Amazon for one day shipping.  It's the last minute.  I'm beaten.  Take all my money.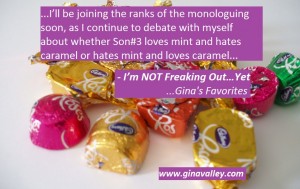 I'm not lonely – There are plenty of people to talk to everywhere I go. Or, at least to listen to.  There seems to be quite a bit of rambling going on.  I imagine I'll be joining the ranks of the monologuing soon, as I continue to debate with myself about whether Son#3 loves mint and hates caramel or hates mint and loves caramel, and whether Daughter#1 should get the coat she needs or the sundress she wants.
Inspiration for future projects – I'm picking up all kinds of ideas for work in the future.  Right now I'm envisioning a reality show called "The Most Bitter Man In The World."  We'll be able to find plenty of contestants by trawling around women's fitting rooms and talking to guys holding purses, mumbling, and constantly checking their watches.
Reminded about the needy – This time of year, in the rush to provide that magical, goody-filled experience for my kids, it's easy to forget about those who have real needs.  Standing in line at the mall I have only to look around to see that I'm surrounded by truly needy people.  So far I've counted 23 women and 6 men who truly need bras, innumerable teenage girls who truly need more fabric, and 57 parents who truly need soap to wash their mouths out from Santa this year.  And, I haven't even been to Toys R Us yet.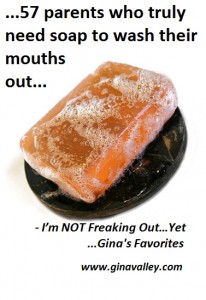 Learning new holiday traditions – Not five minutes ago I heard a man give a clerk a holiday greeting that I hadn't heard before.  I can't remember exactly what he said, but it was something like this (note: I've substituted the word "holiday" for a shorter word that the man used, as I am not quite ready to welcome that word into my holiday lexicon):
Holiday! You better holiday–ing listen to me you little holiday-er.  I have been to 4 holiday-ing stores looking for that holiday-ing toy and when I holiday-ing called here some holiday-er told me that you holiday-ing had plenty of the holiday-ers. Now you go holiday-ing find me one or I'm gonna put my holiday-ing foot up your holiday-ing mistletoe. Holiday! (note: I have substituted "mistletoe" for a slightly different word that described a body part)
I couldn't help but wish the man a "Merry Christmas!" as I passed by him.
Great training for a Zombie apocalypse – Hanging out with weary, angry aggressive shoppers is a surprisingly realistic approximation for running among the throngs of the un-dead. Trying to keep possession of a giant Skylander all the way to the registers at the front of the store is an excellent way to train for Walking Dead.  I'm pumped up.
I feel better now. I hope you do, too.
Laugh Out Loud!
-gina
What's something ridiculous you've come across while preparing this year?  How do you keep a good attitude?  Who is the grumpiest person and who is the most cheerful in your neck of the woods? Shoot me a comment.  I'm looking forward to hearing all about it.