If You Want Something Done, Don't!!!
by Gina Valley
I looked everywhere for them.
OK, if I'd looked everywhere, like I always tell my pack, I would have found them.
I looked everywhere that made even a little bit of sense, and everywhere that could even somehow, perhaps by a tremendous stretch of the imagination, make sense to my pack members. But, still they were AWOL.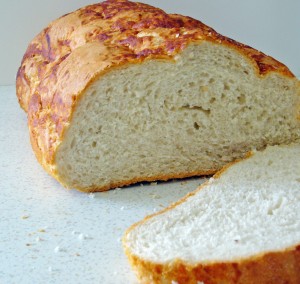 Can a canister of bread crumbs actually walk away?  Could they have become cognizant and decided to play Hide & Good Luck Seeking with me?
Good grief!  This was the giant 2 pound canister. It was almost as big as a gallon of milk.  How does that disappear?  It's not like my pack is hiding behind the dining room curtains downing handfuls of bread crumbs, like they do with the big bags of M&M's or chocolate chips I buy.
The bread crumbs are supposed to be on the bottom shelf of the freezer in the kitchen.  I searched the entire freezer and refrigerator.  No bread crumbs.  I searched all of the kitchen cupboards.  I searched our auxiliary freezer in the garage.  No bread crumbs (did find a big Ziploc bag in there full of what I am hoping is old chocolate pudding.  I threw it out, and washed my hands.  Twice.  With Lysol).
I was working on dinners for 2 days.  Meatloaf for dinner tonight.  Oven fried fish for tomorrow night.  I had to have bread crumbs.   Somehow we didn't even have any stale bread, so I could make some of my own.  Stupid fresh, soft, delicious bread.
I'd bought the new canister full of bread crumbs 2 days before, knowing that the week's menu was heavy on the bread crumb side.  I'd loaded it into the car myself.  I'd thoroughly searched the car after I searched the kitchen.  No bread crumbs.  Crud.
We didn't even have enough crackers to smash up for fake bread crumbs, thanks to my "let's be healthier and eat fewer processed carbs" idea.   Stupid healthy non-carb snacks.  Almonds and flax seed do not make good bread crumbs.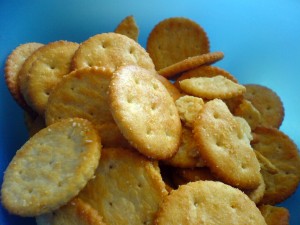 You can't make meatloaf without bread crumbs.  It'd just be…I don't know…meat.
My family loves my meatloaf.  I don't make it often because I don't often cook red meat.  But, I'd told them I was making it, and they were looking forward to it.  I wasn't about to mess it up by skipping the bread crumbs and I didn't have time to go to the store.
As we were in the midst of eating our pizza for dinner, Daughter#3 said, "I thought we were having meatloaf."
"We were going to," I replied.  "But, I couldn't find the bread crumbs I bought.  Does anyone remember bringing them in?  They were in a blue canister about the size of a jug of milk."
"Oh, I brought that in," my youngest son announced proudly, and then stuffed some more pizza into his mouth.
"Where'd you put it?  I asked him.
"With the other crumbs," he answered.  I was pretty sure I felt an implied "Duh!"
"The other crumbs?" I asked
"Yeah," he explained.  "I put it with the other box of crumbs, so you'd know where it was."
Hmmm.  Had I bought a box of crumbs?  I was pretty distracted at the store with breaking up my pack's impromptu shopping cart drag racing down the frozen foods aisle.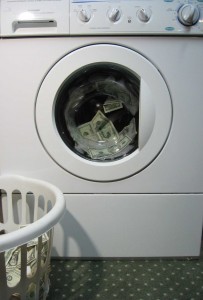 "What box of crumbs?" I asked.
He sighed, clearly trying to be patient with his poor, confused mama.  "The other one you bought.  You told me to put it on the dryer."
"The laundry soap?"  I asked.
"I don't know.  You said to put the box on the dryer, and the blue thing had the same shaky crumb stuff, so I put it there, too."
Sure enough, there they were.  The bread crumbs were right behind the big box of laundry detergent (the powder kind) on the dryer.  Kind of makes sense, from a certain point of view.
I guess I hadn't looked everywhere.
The AWOL breadcrumbs reminded me of another time when things weren't quite where they should be, so I decided that my That's NOT A Squirrel!  post would be particularly fitting for Throwback Day this week.
You can read my That's NOT A Squirrel! post in its entirety below, or you can fly through the magic waves of the internet by clicking on one of these magic links and read my That's NOT A Squirrel!  post in its original location.
Either way, I'll meet you at That's NOT A Squirrel!.  You bring the carrots (I'm still working off my Easter candy).  I'll bring the laughs.
That's NOT A Squirrel!
Dear Family,
As you know, yesterday, while I was doing laundry in preparation for our imminent departure on our road trip, it was brought to my attention, by my nose, that some woodland creature had apparently chosen one of the walls of our garage as its final resting place.  This was, of course a sad revelation to all of us, especially for what likely had been one of the many neighborhood squirrels.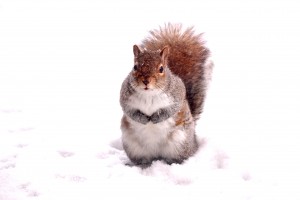 Last night it became even more difficult to think about some poor squirrel alone in our wall, especially because the aroma it was producing was nearly gag-inducing, keeping me from being able to complete a thought and making my eyes water.
So, as The Professor and I had made the decision to exhume and transfer the esteemed creature's remains to a more suitable location (Can you flush squirrel?), I started sniffing around in the garage trying to pinpoint specifically the squirrel's semi-final resting place.
While I was hunting for the lair of the remains formerly known as "Squirrel Running Through Yard" something reminded me that I hadn't thanked whichever individual helped me by unloading the car when I got home from Costco a few days ago.
You will all likely recall that I was cutting it very close time-wise with an important conference call, and had hollered something to that effect as I dashed into my office.  At least one of you also heard me holler before I shut the door, "Would someone please bring in the Costco stuff?  There's a box in the back seat."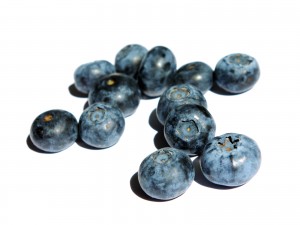 When I emerged from my office, post successful conference-call, you were all quite engaged in our darkened family room watching Turner & Hooch.  I asked if anyone had brought in the Costco stuff, generating a chorus of affirmative grunts.
I didn't pursue the matter further to determine who I should specifically thank for their helpfulness, because Tom Hanks, aka Turner, had just been saved by his dog, Hooch, who was injured in the process, and frankly it was a very emotional time for all of us.
Now, I realize that I should have taken time then to find out who specifically had helped me out.  I've got that whole "hindsight's 20/20" thing goin' now.
So, although I do not know who specifically I should be thanking, and something tells me I never will know, I would still like to take a moment to thank whoever brought in the box of groceries from Costco 3 days ago.  Thank you for the effort you made.

Now, I don't mean to trivialize your efforts, so please don't take this the wrong way.  But, I would appreciate it if next time, in addition to bringing in the box and setting it next to the refrigerator in the garage, if you would also unpack the box and put the blueberries, feta cheese, and salmon INTO the refrigerator or at least train them to climb in there on their own.
Today they are nearly ambulatory and very unhappy.
Especially the salmon.
We may have to move.
On a positive note, apparently our squirrel population remains alive and well.
Love,
mom
Laugh Out Loud!
-gina
Anything hiding from you this week?  Has someone been "helpful" in the worst possible way?  Shoot me a comment.  I'm looking forward to hearing all about it.