Join Me Wed 3/23 for Humor In Parenting
One of the most important keys to parenting is humor. Sometimes you have to laugh to keep from crying.
Let's Chat! I'll be discussing Humor & Parenting on Wednesday, March 23, at 9pm EST with the great folks at  #30SecondMom Chat. Everyone is invited to join in. I hope you'll be there.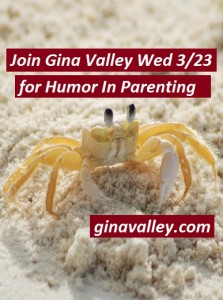 Whether you are in the thick of parenting, are grand-parenting, or are still considering becoming a parent, there will be fun and knowledge for you. Plus, we look forward to hearing about your parenting and growing up experiences, both the funny and the cringe worthy.
You can join in the chat by searching #30SecondMom on Twitter. There are many useful platforms to use during a Twitter chat, too, including Tweetchat (I use Tweetchat), Tweetdeck, and Hootsuite, plus several others.
I will be chatting with my Twitter handle @GinaValley and also my back up Twitter handle @GinaValley2 (in case I am thrown into Twitter jail on my primary account for tweeting too much!). Be sure to follow both so you can easily see the Tweets.
I will respond to everyone I can during the chat. If I miss a comment or question during the chat, I will answer it after the chat. Sometimes chats get so crazy it is hard to keep up, and I have to review and answer afterward.
If you'd like to qualify to win prizes you can RSVP here.
Be sure to attach the #30SecondMom hashtag to each of your tweets during the chat so we can all see what you have to say.
#30SecondMom Chat is the best moms' night in on Twitter.
I look forward to hanging out with you and hearing what you have to say.
See you there!
-gina