How To Make Ice Cubes – An Old Family Recipe
by Gina Valley
Like most people with a refrigerator with a built-in automatic ice maker, our automatic ice maker is beyond repair.  So, we've had to revert to making ice cubes the old-fashioned way.  And, by "we" I, of course, mean "me."
I decided I better write down the recipe for this old family favorite after my husband, The Professor, explained to me that the football team of the cross town rival of his university no longer had ice in their Gatorade because the guy who knew the recipe had graduated.  I'd hate to think of such a tragedy visiting our family, as I am, judging by the perpetually empty trays, currently the only pack member who knows this secret recipe.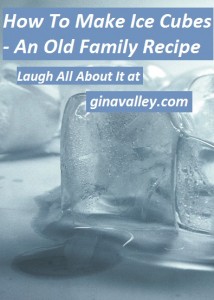 So, here is the recipe, along with tips and techniques from my personal, real-life ice cube making experience.
Ingredients:
Water – Any variety will work.  I prefer clear, but it's really a personal choice.
Red wine, large bottle, good quality – I prefer a fine Cabernet Sauvignon, but use your favorite
Special Equipment:
Ice cube trays – double as many as you think you'll need.
Freezer – plugged in, turned on, pre-cooled
Optional Equipment:
wine glass – if you drink from the bottle you won't have to waste time washing the glass.
Directions:
Pre-cool your freezer to below 32'F (0'C)  –  It helps if you plug it in.  We've tried freezing stuff in an unplugged freezer before.  It really doesn't work very well.
Place ice cube trays on a flat, horizontal surface – This is usually the most difficult step in the recipe in households where children or fraternity brothers reside, as there is rarely an available even semi-horizontal surface of any kind.  A gas-powered leaf blower, garden rake, or frightened cat all work fairly well to rapidly clear off a surface.
Carefully pour water into each vessel of each ice cube tray to about the ¾ full point – Although not a fatal problem, overfilled ice cube trays will over flow, causing the ice cube tray to attach itself to whatever it is in contact with, be it the freezer shelf, last week's chili, or the top layer of your wedding cake.  In the last case, in my experience, it comes very close to being fatal.
Halfway through filling the first tray, be prepared for your two year old to "help" you – She will surprise you by reaching higher than is physically possible for someone of such small stature and by moving quicker than light itself moves.  She will grab the tray you are filling, and rush out of the kitchen, while screaming, "I hep you! I hep you! I hep!" and disappearing down the corridor. Don't worry she'll be easy to find, just as mine was.
Follow the trail of water your 2 year old made on the new carpet in the corridor, the fragile wallpaper in the living room, and somehow on the 20 foot ceiling in the foyer.
Dry off the wallpaper first.  You'll never be able to reach the ceiling anyway, and it's already soaked through the carpet by now.
Let her keep the tray – Don't even try to get the ice cube tray away from your little one.  She's going to want to take it everywhere with her for the next week.  Mine slept with it, ate with it, and took it to preschool.
Return to the kitchen after you have dried off and reattached the wallpaper.   Fill up the remaining ice cube trays.
After you have carefully filled each and every vessel, carefully carry each ice cube tray to the sink or a nearby planter and dump out the water – This is necessary because while you were chasing your two year old, your cat jumped up on the counter to sprinkle fur into each of the vessels of each ice cube tray to provide that designer look to the cubes.
Next, you will need to refill the newly de-haired ice cube trays.
Once filled, you will need to place the trays into the freezer – Many of my pack members have failed to absorb this important detail, choosing instead to attempt to freeze the ice cubes by leaving the trays (sometimes filled, sometimes not) on the counter for days. This has never worked at our house, but I suppose, were it cold enough, it might work in some.
Look both ways to check for kitchen traffic before proceeding to cross the kitchen to place the trays into your freezer – Carrying filled, unfrozen ice cube trays attracts a kitchen crowd even quicker than trying to wrestle that mammoth Thanksgiving turkey out of the oven does.
Now comes the tricky step – Unfortunately, in her haste to escape, your 2 year old has undoubtedly left a nearly invisible trap for you in the form of a pool of potential ice forming water on the floor in front of your freezer.  You will slip.  You will slide.   You will flail your arms about causing the water in the trays to be dispersed in a precipitation like manner throughout your kitchen.  But, and you will congratulate yourself for this, you will not fall because of that puddle.
You will nearly recover your balance – But, unfortunately that will occur in the exact moment that the ice cube tray generated precipitation reaches your cat.
And, just as you are congratulating yourself for your cat like reflexes that kept you from falling, your cat will use his to seek shelter from the falling water in between your feet, causing you to accidentally step on either his paw or tail (I'm not sure which now; it's all kind of a blur of fur, screeching, and claws). This foot-upon-cat condition will cause your cat to feel the need to express his displeasure with having one of his body parts stomped on by screaming and climbing up your leg.
Your two year old will be standing over you with a box of bandages when you open your eyes.  She will ask repeatedly, "You got boo-boo? Huh? You got boo-boo?"  Your Labrador will be looking in through the window in the back door with an expression that clearly means, "I told you that dang cat was trouble."  And, the cat will be back on the counter shaking his head and rolling his eyes in disgust at your inability to stick the landing.
As you lay there on the floor waiting for the world to stop spinning you will curse the cat and curse the stupid plastic ice cube trays and curse the bloody repairman who said it wasn't worth the money to fix the ice maker.  As you painfully drag yourself up to your feet you will even curse ice itself, but then take it back as you remember your love of ice hockey.
Then, you will growl at your mocking cat, scoop up your helpful two year old, and head for the car.  You will drive seven blocks to nearest convenience store, shell out $5 for a 10 lb bag of ice you, in theory, could have made at home for free.  You will then return home, shove the bag of ice into the freezer, switch on Dora for your two year old, and open your wine.
As you plop down on the sofa next to your two year old and sip your wine, you will remind yourself that wine really is essential to all good family recipes.  And, you'll make a mental note to start with the last step of this recipe first next time.
Laugh Out Loud!
gina
What are your favorite family recipes?  I'd love to hear about them!  Shoot me a comment before it's time to mop something up again.
Photos courtesy of 
Stock.xchng
 – Used with permission