How To Know If Your Kids Have Had Too Much Candy
by Gina Valley
I don't know how things are going at your house, but around here things have been quite candy-centric lately.
My children have occupied their every waking moment with counting their candy, comparing their candy, trading their candy, and, of course, eating their candy.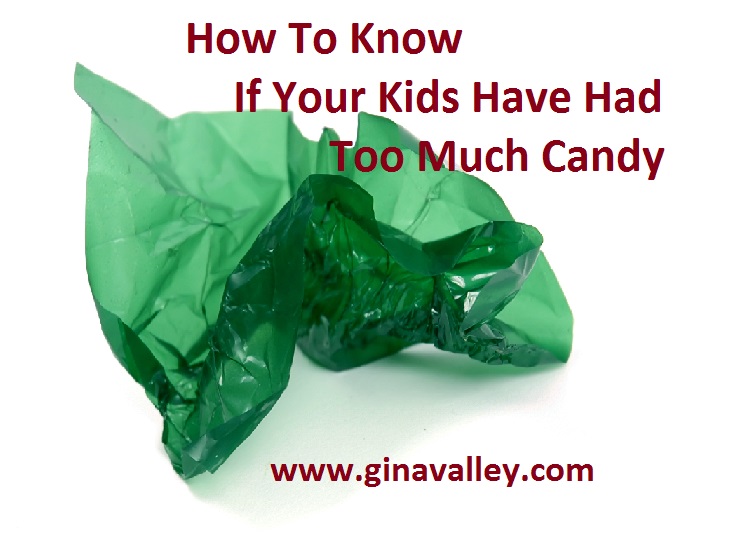 I have occupied much of my time telling them to put away their candy, to calm down the heated negotiations about their candy, and, of course, to pick up the blasted wrappers from their candy that are now scattered throughout our home like some sort of New Year's Eve confetti.
My pack has also managed to scarf down the leftovers from the giant bowl of candy I'd prepared to hand out to the throngs of kids knocking on our door.
The bowl was still quite full after the designated Night O' Candy Begging, despite our having let each and every child who came to our door take as much as they wanted to, as we only had 15 kids come a knockin' (our neighborhood is not exactly a hot bed of Trick or Treating activity.  Even my pack goes to a different neighborhood to Trick or Treat).
With all this candy saturation, it is important for a parent to know when his or her child (or his or her self or his or hers spouse's self) has had too much candy (yes, there is such a thing).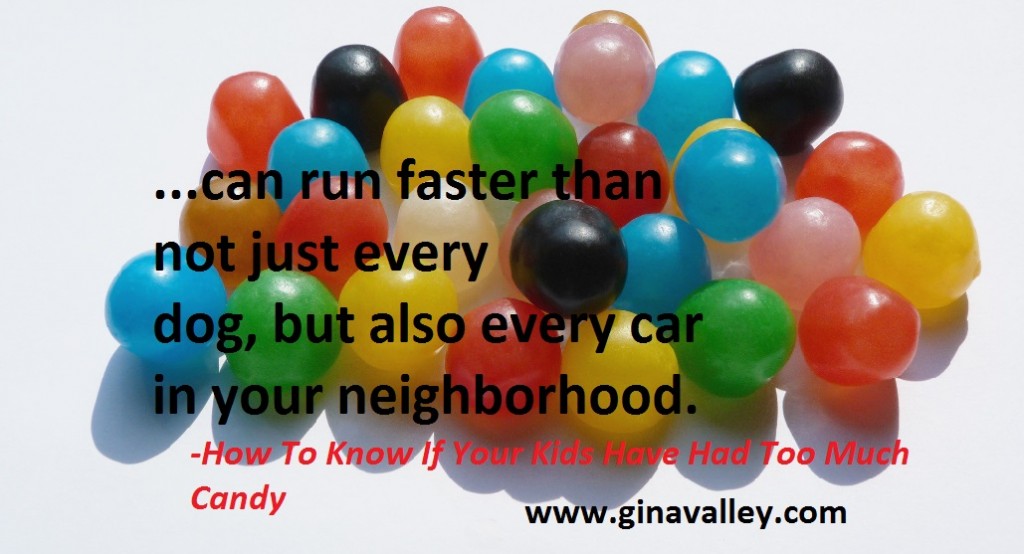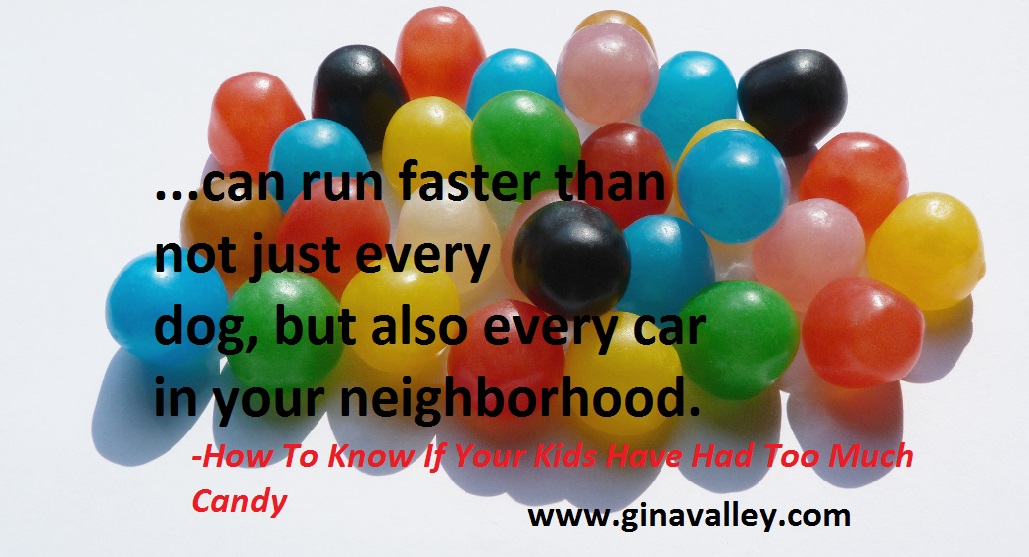 My years of parenting and candying experience have helped me to develop a keen sense for when someone has passed that line dividing Candy Nirvana and Candy Insanity.
If your child (or your spouse or you) meets any of the following qualifications, he or she (or you) has had too much candy:
can run faster than not just every dog, but also every car in your neighborhood
has left indentations in every wall in your home from bouncing off of them
can switch off the light and be out of the room before it gets dark
when forced to sit down causes every piece of furniture in the room to vibrate and the hamster's wheel to spin
has not stopped talking, even to take a breath, for the last 48 hours (also an indication of being a 3 year old or my Aunt Bessie).
can not only say the entire alphabet forwards and backwards in one burst, but also has added in 15 new letters
sends your diabetic cat into a sugar coma just by breathing on her
checks out his or her hamburger, and yells, " Why isn't there nougat on this?!?!"
does that River Dance thing so fast smoke is produced and groves are made in the floor
causes fluorescent lights to glow every time he or she (or you) walks near them
If you still aren't sure whether your child (or yourself or your spouse) has had too much candy, slip a mini Snickers into their beverage, then see if they can swim a lap without getting wet.
Laugh Out Loud!
-gina
How flows the candy tide at your house?  Do you monitor the candy intake or just hope it all disappears soon?  Shoot me a comment.  I'm looking forward to hearing all about it.