The Healthy Stuff Will KILL You!!! …Gina's Favorites
by Gina Valley
Laugh along with this timely Gina's Favorites post.
That Healthy Stuff Will KILL You!!!
My go-to crunchy snack of late is almonds. They're no Cheez Doodles, but they are a healthy choice. They're low in carbs, high in protein, and yummy.
Usually.
I've also started taking a multivitamin. Technically, I've always taken multivitamins, but I'm not so good at the pill swallowing thing, so, for the last decade or two, I've had those gummy vitamins.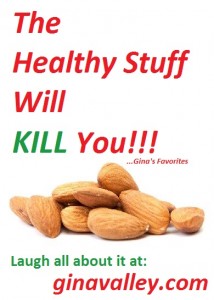 My sister, the doctor, recently pointed out that "someone your age should have a much broader spectrum of nutrients in their supplement to aid in brain sharpness than is available in a gummy bear."
I pointed out that, first of all, they were not gummy bears; they're gummy vitamins.  And, that my age is 10 years younger than hers.
But, I knew she was right (nobody tell her I said that), so I found a multivitamin with all the bizarre brain sharpness supporting stuff in it she said to take, and I've done pretty well swallowing the giant pill each day for the past month. I think I'm almost a grown up now.
When I began this pill-swallowing-act-like-a-grown-up routine, I realized that my stomach was less than welcoming to the giant pill, and quite prone to reject it altogether (and to return it to sender in a most rapid and disgusting manner) if I did not have a little snack right before I swallowed the near-submarine-sized chunk o' health. So, I usually eat a few almonds when I'm getting ready to trip the pill fantastic.
Today, I grabbed my 12 almonds (yes, I count them. OCD – the gift that keeps giving!), and started munching them while I got out my multivitamin and my fish oil capsules out of their bottles. Yes, I'm becoming quite the health nut (Chocolate is still healthy, right?).
I was just about done with my almonds when I bit into what I thought was an almond, but was clearly a minion of satan.
I immediately wanted to cry out "Something evil this way comes!" but I couldn't because it tasted so bad I was gagging (and no one was home to hear it anyway, other than our dogs, who have never put anything into their mouth that they didn't find delicious).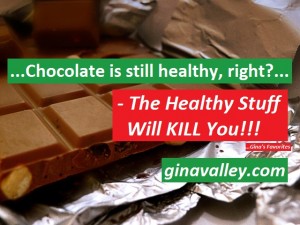 This taste was worse than the rotten, cherry cough-syrup taste usually gifted to me by the occasional bad nut in each bag (almonds are not technically nuts, but still). It was beyond-this-world horrible.
I gagged. I coughed. I spewed the rancid mess into our kitchen sink.
Then, I gulped from the faucet and swished and gargled and spit in an attempt to rid my mouth of the foul invader.
I was truly a vision of breathtaking femininity.
The nasty nut had crumbled and wedged pieces of itself in between my teeth. I briefly wondered if the power washer we rented to clean off the patio would fit in my mouth or if my dentist would consider opening his office on his day off to blast my teeth with that water jet thing they have.
But, it occurred to me that, were I to bite into some good tasting almonds, the pieces of those yummy almonds would dislodged the pieces of the evil almond, rendering them spit-outable.
Just as I was tossing the last two almonds from my hand into my mouth in an effort to get the foul remnants of the disgusting almond out of my teeth, I remembered the reason I was munching on almonds in the first place. I was preparing my sensitive stomach for the arrival of my multivitamin.  The horrible almond, I realized as the last 2 almonds landed in my mouth, was not an almond at all.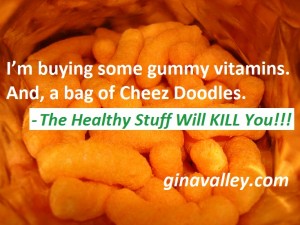 It was my multivitamin. (how are vitamins good for us when they clearly are made out of evil?!?!)
And, I realized just in time to abort the first chew, those last 2 almonds I'd tossed into my mouth to save me from the evil almond, which was not an almond, were not almonds, either. They were fish oil capsules.
I think the multivitamin is not so much helping with my brain-sharpness.
So, I'm calling my sister, the doctor, to tell her, as soon as I get back from the store.
I'm buying some gummy vitamins.
And, a bag of Cheez Doodles.
They may not be good for me, but at least they've never tried to kill me.
Laugh out loud!
-gina
Do you take vitamins? Are you good at swallowing pills? What healthy stuff do you do? Shoot me a comment. I'm looking forward to hearing all about it.
Photos courtesy of 
Stock.xchng
 – Used with permission