Happy, Happy Birthday, America!
by Gina Valley
July 4th is a big day here in the United States.  It's our birthday!
We love to celebrate, and having something we can all celebrate makes it extra special.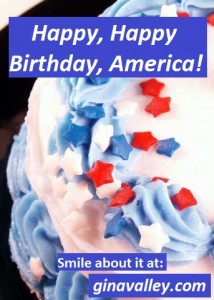 So, Happy, Happy Birthday, America!!!
238 years look great on you!
Here's a few thoughts for your birthday – some serious, some silly:
Let freedom never perish in your hands – Joseph Addison
Did you hear about the cartoonist in the Continental Army?  He was a Yankee doodler!
Those who won our independence believed liberty to be the secret of happiness and courage to be the secret of liberty – Louis D. Brandeis
Freedom is nothing but a chance to be better – Albert Camus
The difference between a duck and George Washington is:  One has a bill on his face; the other has his face on a bill!
Liberty is the breath of life to nations – George Bernard Shaw
We must be free not because we claim freedom, but because we practice it – William Faulkner
The 4th of July is coming up and you know what that means! Time to use Sparklers as wands and shoot spells at people again! And, to write your name in the air!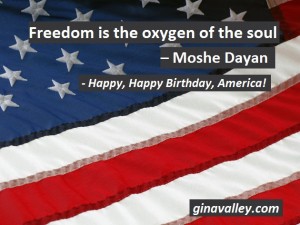 From every mountain side – Let Freedom ring – Samuel F. Smith, "America"
What kind of tea did the American colonists thirst for?  Liberty!
Those who deny freedom to others deserve it not for themselves – Abraham Lincoln
Freedom is the oxygen of the soul – Moshe Dayan
What was the craziest battle of the Revolutionary War?   The Battle of Bonkers Hill.
This nation will remain the land of the free only so long as it is the home of the brave – Elmer Davis
What did one flag say to the other flag?  Nothing. It just waved!
He that would make his own liberty secure, must guard even his enemy from opposition; for if he violates this duty he establishes a precedent that will reach himself  – Thomas Paine
Food, Family, Fourth of July, and Fireworks. The four best F-words ever!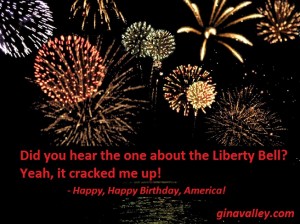 Did you hear the one about the Liberty Bell?   Yeah, it cracked me up!
If our country is worth dying for in time of war let us resolve that it is truly worth living for in time of peace – Hamilton Fish
What happened as a result of the Stamp Act?   The Americans licked the British!
People have forgotten what the 4th of July really is. It's the day we got the freedom we use every day. It's not fireworks and parties. That's just what makes it fun.
Why were the first Pennsylvania settlers like ants?   Because they lived in colonies.
American Soldiers don't fight because they hate what's in front of them.  They fight because they LOVE what's behind them!
What's red, white, blue, and ugly?  A revolutionary warthog!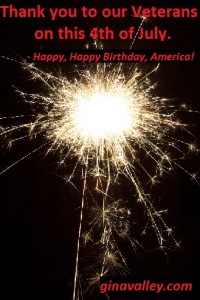 Being an American is awesome. The end.
Why did Paul Revere ride his horse from Boston to Lexington?   Because the horse was too heavy to carry!
Thank you to our Veterans on this 4th of July.
What was General Washington's favorite tree?   The infantry!
Conformity is the jailer of freedom and the enemy of growth – John F Kennedy
Those who expect to reap the blessings of freedom, must, like men, undergo the fatigue of supporting it – Thomas Paine
Liberty is always dangerous, but it is the safest thing we have – Harry Emerson Fosdick
7,000 people were treated in emergency rooms for injuries sustained from fireworks. Don't be a statistic.  Let your friend light the fuse!
Never forget – freedom is never free – Victor Killingsworth
Be safe, be sane, and have a joyous day!
Celebrate & Laugh Out Loud!
-gina
What do you love about your homeland?  How do you celebrate it?  Shoot me a comment.  I look forward to hearing all about it!