They're NOT GROSS – They're Activists
by Gina Valley
My friend DeAnne and I were discussing our children the other day, and we had an epiphany.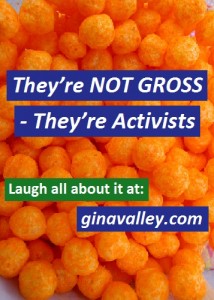 Kids are gross.
They are. They really, really are.
I know it. You know it. We all know it.
After our chat, I felt like I should immediately call my mom, and apologize for any and all grossness I perpetuated on her while growing up.
I was slowed in my attempt at the belated apology, because our phone was cemented to our kitchen counter by a puddle of maple syrup and a pancake, with two bites missing and 3 finger holes pushed through it.
Gross.
But, the more I thought about our kids' anti-hygienic behavior, the more I wondered if perhaps we were overlooking the true cause of their grossness.
What if we're wrong? What if we're all wrong?
What if it's not that our children are gross, but rather that they're misunderstood?
What if what appears to be slovenly ways is actually them answering a higher calling?
What if they're not fungus-spreading, bacteria-building urchins re-wearing yesterday's dirty garments because they're too lazy to put on new clothes? What if they're thoughtfully attempting to reduce the mountain of laundry produced by our household, thereby saving me work and reducing the strain on the environment?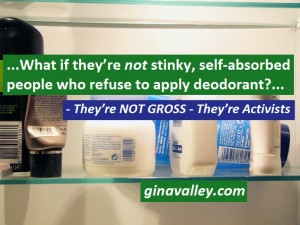 What if they did not bring the giant package of chocolate chips, the bag of Cheez Doodles, and the jug of Gatorade into the bathroom to input while they…output? What if they were stocking the room that has easy to access fresh water with food, so we'd all be well fed in the event of an earthquake?
What if they're not stinky, self-absorbed people who refuse to take my advice, much less follow my instructions, to apply deodorant at least once a day? What if they're protecting our family from the ever present and growing encroachment into our lives, and their armpits, by complicated chemical compounds?
What if they're not mess-blind to the nacho cheese sauce they dribbled from the kitchen through the dining room, and halfway up the stairs? What if they're instead working to provide a welcoming environment for any endangered species of ants that might, perchance, be living nearby?
What if they have not been trying to reschedule their daily shower into a biweekly event because they're anti-shower-ite, caked-on crud lovers? What if they're choosing to conserve water to save us from our giant SoCal water bill, and to ensure the next generation of Californians has a shot at a green lawn?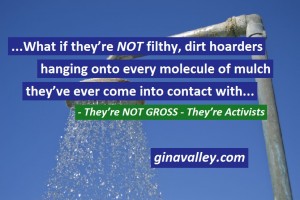 What if they're not too lazy to throw away the sticky, stinky paper plate they used while eating their peanut butter and pickle sandwich? What if by leaving it on the kitchen counter, right next to where the garbage bin is, they're instead attempting to save the next hungry family member from the time and trouble of having to open the cupboard to retrieve a paper plate for him or herself?
What if they're not filthy, dirt hoarders hell-bent on hanging onto every molecule of mulch they've ever come into contact with, in order to blend in with the mess that is their bedroom? What if they're ever so politely saving the soap and shampoo for other members of our household, lest we be caught unprepared in the event of a sudden soap or shampoo dependent emergency?
What if they're givers?
Nah.
They're just gross.
Laugh Out Loud!
-gina
Any givers in your household? Are you living with any activists? Were you neat and tidy when you were a kid? Shoot me a comment. I'm looking forward to hearing what you have to say.
Photos courtesy of 
Stock.xchng
 – Used with permission.