Defying Gravity…Gina's Favorites
by Gina Valley
I'm traveling with my family this week, so, to keep you in giggles, I've qued up some of my favorite posts from the past. Laugh along with this timely 
Gina's Favorites Throwback
 post.
Defying Gravity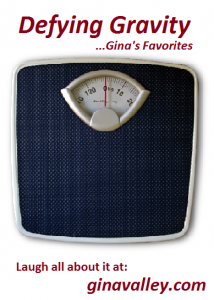 It's that time of year. We're all doing it.
You start with just the standards.
Like taking off your shoes and jacket.
Amateur stuff.
You get on and fly off.  Surely, that is not right.
You spy the depository, and ask yourself if you've completed all possible off-loading already. Just to be, sure you make an attempt at excess inventory reduction. But, alas, no change.
Oh, of course. You have your cell phone and a pack of gum in your pocket.
Still not there.
You take off your clothes and stand there in your underwear.  Nope.
Then, you change in to your thin underwear.  No dice.
You switch to that thong you got as a gag gift at the office Christmas party last year.  Still can't be right.
What about that underwire?  It's metal.  That's got to be significant.
You put on that see-through, good for nothing sports bra your know-it-all cousin talked you into buying at the pro shop.  Nope.
You take off your glasses and put in your contacts.  Nope.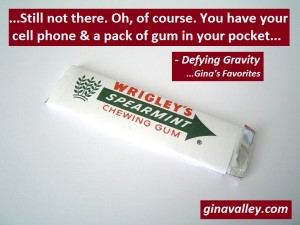 You take out your contacts.  They're heavier than they look (why do you think your eyes get tired when you wear them too long?).
Pretty soon you're standing there on the scale, naked, flapping your arms.
That's why they kicked me out of Waist Watchers.
I was good at Waist Watchers, too.  But, did you know they won't give you that ten pound pin unless you have lost the ten pounds?  Please.  That seems discriminatory to me.
Then, it dawns on you.
Iron.
You've been eating dark, leafy greens (well, except kale. Kale is nasty) to improve your health. You've been increasing your iron.
You're probably carrying an extra 10 lbs of just iron.
Which means, since the scale only shows a 3 lb gain, you've actually lost 7lbs.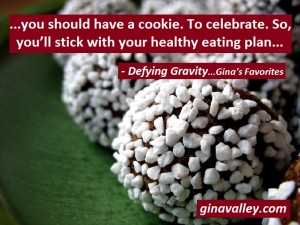 Experts say that it's important to reward yourself occasionally.  That's what the experts say.  Celebrating small victories improves your chances of sticking with your healthy eating plan.
Which means you should have a cookie.  To celebrate.  So, you'll stick with your healthy eating plan.
I really want to stick with my healthy eating plan.
So, I'm having 2.
Laugh Out Loud!
-gina
Where's your will power this week?  Do the calories in a mini Snickers count if no one sees you eat it?  If my kids witness me noshing on celery, I get to have chocolate for free later, right?  How is your battle for great health going?  Shoot me a comment.  I'm looking forward to hearing all about it.
Stop by my Where Have All The Stretchy Pants Gone? post for lots of great tips to reduce calorie absorption rates, and be sure to leave some of your own in the comments there so I can share them with everyone.
Thanks for reading and giggling with me.
You've earned a cookie.
Maybe even two!
Photos courtesy of 
Stock.xchng
 – Used with permission