Glue Sticks Are The Devil!!!
by Gina Valley
If there's a greater minion of evil than the glue stick, I have yet to come across it.
Like Satan himself, or "Stan" as my youngest calls him (my apologies to anyone named "Stan." I'm sure you're a wonderful person, Stan, and not at all the leader of all that is evil in the Universe. But, my youngest just can't seem to pronounce that word any other way), glue sticks seem to be, upon first sight, beautifully helpful items.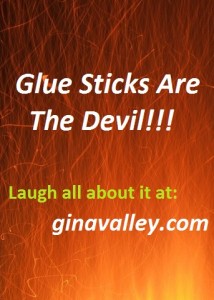 Then, they steal your soul.
Or, at least your will to live.
You first spot these innocent-looking shafts of stickiness, neatly packaged, in large bins at the front of every big box discount store on the planet. They're displayed in this prominent manner for weeks on end, all through the summer school break, right up until you decided it's time to purchase some for your kids for the upcoming school year.
At that point, the glue sticks instantly vanish. The only evidence of their existence left behind is a tiny, empty space on the office supplies aisle, labelled with a price tag 10 times what it was when the glue sticks congregated in the giant bins.
I assume the price increase is due to the tremendously labor intensive process required to remove the packages from the bin, transfer said packages through the store to the office supply aisle, and to slide the metal bar on the display rack into that triangular hole at the top of the package. I'm sure that's a lot more difficult than it looks.
If you do manage to spot a few stragglers, left behind as the herd made its rapid retreat, grab as many as you can. It's not a matter of how many you need. It's a matter of how many you can get. It's kind of like canned goods hoarding on The Walking Dead. Just get as much as possible. You can figure out what to do with it later.
You'll notice a couple basic differences among the glue stick quarry you happen to catch. There are large and small glue sticks. Most of the glue sticks are small. As a kid-wrangler, you'll immediately recognize the purpose, then, of the large glue sticks is to cause your children to get into a fist fight over who gets the large glue sticks, and who gets stuck with the clearly inferior, easier-to-actually-use, smaller glue sticks.
Perhaps, if you're terribly unlucky, you'll bag one of the rare, glittery glue sticks. The purpose of these sparkly sticks is to cause your child to have a major meltdown, followed by an epic tantrum, when you attempt to explain to him that you're not going to spend 6 times as much for a glue stick with glitter in the glue, because you won't be able to see the glitter anyway when it is used to glue 2 pieces of paper together.
Be prepared for this fit by bringing along some tissue.
And, Xanax.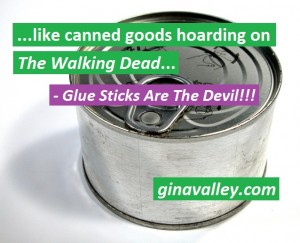 The last major difference between glue sticks is the color of the actual stick of glue. Most are white. Some are purple. At first glance, the color difference may seem like a re-run of the glittery glue stick battles waiting to happen. But, au contraire.
The purple color in some of the glue sticks is evidence the glue stick syndicate actually listened to some parents or teachers, and attempted to make glue sticks a bit easier to use. When the purple glue stick is rubbed on paper it's easy to see where it's been applied. Not so with the transparent glue from the white glue stick.
With the advent of the purple glue stick, gone are the days when kindergarteners would continue to rub glue stick onto the back of paper until the glue was completely gone, and the plastic base was tearing holes into their artwork. This diligence was necessary to be sure they'd covered the entire piece of paper, themselves, and their desk with a thick layer of stickiness to guarantee their artwork held together for all of eternity.
The only trouble with the purple glue sticks is getting your child to believe the purple color will disappear from their artwork as the glue dries. It's not an easy sell the first couple of times. Bribing might be necessary to convince your 5 year old to even try it.
Your 3 year old, however, will need no convincing. She'll love the purple glue sticks so much that, while you're still busy trying to convince your 5 year old of its merits, she'll open a package, right there in the big box store, and apply the purple glue stick to her lips.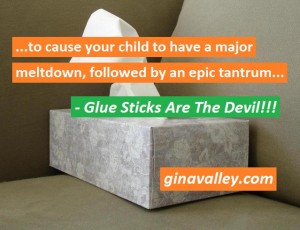 Upon seeing her purple lips you'll immediately panic, thinking she's experiencing a serious circulatory problem. Hearing her mumble, apparently unable to open her mouth, your panic will likely increase.
But, when you notice her lips are significantly stickier than usual, and see the glue stick with its purple-ness in her hand, you'll realize what's really happening. You'll understand what she's been trying through her sealed lips to say all along:
She's wearing "wipstick."
Seeing teeth marks in the tiny remaining piece of the glue stick, you'll frantically search for the package, hoping the glue stick isn't poisonous.
Usually about the time the Poison Control Center places you on hold, your 4 year old will pull the package out of his pants to start gnawing on it. You'll be relieved to see that it's labeled "non-toxic" (the package, not his pants), and breathe a sigh of relief.
You'll calm down, and your mind will slip back into normal parenting mode.
You'll wonder whether your 3 year olds lips are permanently sealed together.
You'll wonder whether that purple color is going to fade before your mother visits.
And, you'll wonder whether, since she already ate the better part of a glue stick, you still need to feed your 3 year old dinner today.
Laugh Out Loud!
-gina
Has your summer flown by? When do schools start in your area? Anyone consuming school supplies in your neck of the woods? Shoot me a comment. I'm looking forward to hearing what you think.
Photos courtesy of 
Stock.xchng
 – Used with permission.