Stupid Fun Stuff I Do With My Kids…Gina's Favorites
by Gina Valley
I'm taking this week off to deal with some family issues, so I've lined up some of my favorite posts to keep you giggling. Laugh along with this 
Gina's Favorites
 post.
Stupid Fun Stuff I Do With My Kids
You're never closer to cardiac arrest than when you realize your child is about to describe you from his or her point of view to other people.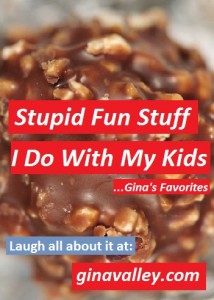 This week I overheard my daughter describing the roles of her dad and I in her life.
"My dad?  He takes us to the dentist.  My mom?  She tells the jokes."
It's a strange, hold your breath, pray for the best sensation waiting to hear what your child will say about you.  In this case, I was happy with what I heard.  Every time I make my kids laugh, to me, that's a win.  And, I really do hate going to the dentist.
I like that my kids see me as a source of humor.  I spend a lot of time crafting humor as my job, but sharing humor with my children is much more important to me.
I have never found parenting to be easy.  It's simple, yes: be the grown up, do what's best for them, set appropriate boundaries.  But, easy?  No.  Rarely, maybe never, easy.
We've had very difficult moments, painful times, tough realities to deal with.  I suppose every family does.  And, being able to grab a little breath of fresh air by laughing about something has often made tremendously heavy loads bearable.
I try to make sure we laugh every day, and I'm not above using cheap tricks and bad jokes to do it.
We make fake poop and leave it in places to freak people out.  I've taught my kids to employ a variety of mediums when working in the poop genre.  Brownies, chocolate sprinkles, melted chocolate, a perfectly shaped wooden stick, and, of course, the every resilient Tootsie Roll are all in our pot of tricks. Pun intended.
We've left creations for grandma and grandpa, their dad, friends, neighbors, even many of them.  It's a hoot.  Fake poop is always good for a laugh.
We share a joke of the day.  Anyone can come up with it.  The cheesier the better.  I have a joke about a time traveler that I don't even have to tell anymore.  If I just say "Time traveler says" I'm met with a chorus of giggles and groans. When my youngest son's band teacher started their first class with a joke, my son instantly thought of him as family.
We laugh about my irrational fears.  Monkeys, clowns, and spiders freak me out, and, not only have I been honest with my kids about that, I encourage them to make light of it, in a kind way.
We laugh about my OCD.  I like the forks sorted by size.  I hang coats by age.  My shoes have to point the same way in the closet.  I hate touching cheese puffs. My goofiness is an endless source of giggles.
We give voices to our dogs.  When one of our furry family members is staring at someone or something, someone will invariably, speak thoughts for them, i.e. "Give me your cookie.  Just put the cookie down and back away slowly." Or "I pooped in your shoe.  I'm very sorry.  It was just such a lovely place to poop."
We short sheet beds.  If you haven't taught your kids to do this, get on it.  It's a life skill everyone needs to have.
When we leave a hotel room, after putting the towels in a neat pile and the trash in the can, we arrange the covers so it looks like someone is still in bed.  We stick Post It notes with messages under the toilet seat for the cleaning people, such as "We enjoyed our stay here.  This place is filled with class.  Thank you for keeping it clean and fresh and lovely for our…"  Well, you get the idea.  Yes, we leave a tip.
We toilet paper anyone who falls asleep on the sofa.  If a sound sleeper and barefoot, he or she might wake with painted toenails, as well.
We move your plate if you walk away for a moment while eating or preparing food.  Sometimes we completely hide it.  Sometimes it's just shifted.  Always it throws the plate owner for a loop.
I will turn on loud party music and we will take a 3 minute Dance Party break, for no particular reason,.
I will suddenly holler, "Oh my gosh we're late! Quick! Get in the car!" for no reason whatsoever.  Then, after everyone has rushed out and buckled up, we'll go back in our house and have ice cream for dinner, or head out to a silly movie.
When someone leaves the table to go to the restroom at a restaurant, we'll switch tables.  If the movie isn't going to start for a while, we'll do that at the movie theater, too.
The first question I ask each child after we have been apart is "What funny or weird thing happened today?  Did anyone fall down?"  I'll never forget when my now 17 year old son was only 10 and uncharacteristically ran full speed out to my waiting car after school. He threw open the door and burst out with, "Somebody fell down today!!!"  His friend, Ryan, had slipped on a dropped squid part during a science dissection.  He was unhurt, but slimed.  We still laugh about it.
We make it a point to take pictures of goofy things and to show them to each other.  My older kids have cell phones and iPods now, so we send each other goofy pictures in text messages.  But, even my youngest charges know to grab the nearest camera or phone when the dog is snoring, we pass a sign that says "Haircuts While You Wait," or a squirrel has its head stuck into a pumpkin.
And, speaking of pictures, we take lots of silly ones on purpose.  Every time we take a formal "Everybody look at me and try to look happy" kind of picture, we follow it up with a "Do something funny" shot.  Those are often the best pictures of the whole photo shoot.
I think I got the whole "Share Laugh With Your Kids" thing from my parents.  My mom used to include us kids in playing jokes on my dad.  She'd let us help pack plastic fruit in his lunches, or help us fill the cookie jar with dog biscuits for an after dinner surprise.  She'd fib to us all day on April Fools' Day.  And, she still puts a rock amongst the baked potatoes every time she serves them.
My dad liked to wake us up early and tell us we were running late for school.  On Sunday.  We fell for it every time.  He also liked to join in on water fights.  Long before Super Soakers, he'd use a giant (and clean!) oil changing gun to blast us with water from 50 feet away.
Of course, what goes around comes around.
When we drove away from my parents' house after our last visit, I giggled thinking about the realistic-looking poop sculpture we'd left on their bed.  I was sure they'd be expecting a parting joke.  But they have a new puppy, so I knew we'd have them going for a while with that one.
The family that laughs together, lasts together.
Laugh Out Loud!
-gina
How does your family get its giggle on?  What do you remember laughing about as a kid?  Shoot me a comment.  I'm looking forward to hearing all about it.
Photos courtesy of 
Stock.xchng
 – Used with permission