Please Leave Your Forks In Your Car!!!
by Gina Valley
Welcome to Graduation!
Please leave your forks in your car.
Because, let's face it, you will want to stab someone, and all that just ruins the post-graduation family photos, not to mention what it does to your chance of getting to The Cheesecake Factory before the wait for a table starts pushing 3 hours.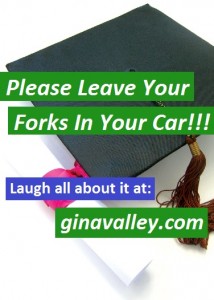 You will need a chair. Fortunately, chairs have been provided for you.
Unfortunately, the chairs are 6 inch wide, folding chairs, made out of cheap plastic. Their plastic becomes pliable during the requisite 1000 degree graduation day heat, and thus the chairs are prone to give-way and collapse with no warning.
Not only does the heat increase the chairs' "likeliness-to-suffer-structural-failure" quotient, it also makes the chairs cranky, resulting in a high incidence of chair-on-sitter violence, manifested as frequent incidents of spontaneous chair foldings.
This ensures that occupants of those chairs which do not suffer a sudden collapse due to structural failure within the flimsy plastic architecture will still possibly have the joy of experiencing a spontaneous self-folding of their chair the exact moment they sneeze, reach for a camera, or have a butterfly land on their leg.
It's really a race to see which happens first: self-folding or total catastrophic collapse. If you look around the audience carefully you'll notice people placing bets on the outcome of that race, particularly if the chair occupant is one whom is gifted with larger than average gravitational attraction.
There will be a sea of these low-quality, miniature, self-folding, likely-to-collapse chairs from which to choose. You will spy this vast bastion of seatishness as you approach the designated graduation area, after having completed your mandatory 4 mile hike in from the "Convenient Graduation Day Parking."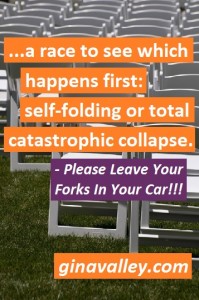 Please note that the touted "Be Sure To Carpool and Catch Our Shuttle To The Actual Graduation Site" shuttle is either an urban legend or invisible. No one has ever been able to find, much less catch a ride from, this mysterious, elusive machine. Plan ahead and wear your hiking boots.
As your gaze sweeps across the expanse of chairs provided for you and the other culmination hostages, also known as "audience members," it will likely fall upon areas of what appear to be unclaimed seating bounty, some in the most prime seating locations. Do not fall victim to this clever deception. As you attempt to occupy these plastic oases, you'll find they are already claimed, and seriously guarded, by everything from a strewn sweater to a package of gum to a rabid grandmother.
Perhaps, you'll wonder how these people managed to secure such excellent seats, seats from which the stage and its occupants are visible. The answer is fairly simple. These people arrived before graduation last year, and simply refused to give up their seats.
Those who were too short-sighted to be on-site 12 months in advance generally secured their seats by gaining employment with the chair rental company, and scheduling themselves to be delivered, already seated in and firmly attached to their chair.
But, don't worry. There will be plenty of available chairs. Try looking behind any nearby trees, behind the idiot who brought a bouquet of balloons, and behind the basketball team. The seats surrounding the guy with an air-horn, the deodorant deficient dude, and the life insurance salesman are also generally available.
Vendors will be conveniently available around the audience area. Remember, they only take cash. Feel free to bring that $100 bill the grocery store refuses to break for you, because nothing is priced less than $100 anyway.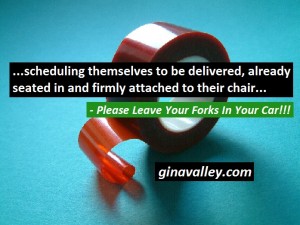 Unfortunately, the vendors sell useless items, such as teddy bears, flowers, and t-shirts. They will not have the basic graduation ceremony survival items you truly need, such as an extra-large can of Red Bull to help you remain conscious while the keynote speaker waxes on for 3 ½ hours about his vital contributions to the world changing field of blueberry color stabilization.
Or, a gallon jug of Febreze to spray the deodorant deficient dude.
Or, a set of blow darts to take out that giant balloon bouquet the moron four rows in front of you brought, that's blocking the view of stage for everyone in your section.
Bathrooms are conveniently located 2 miles away, in the direction exactly opposite to where you parked your car. Don't worry, though. Thanks to your long hike and the heat, you'll probably be suffering from dehydration and won't have need of facilities for at least a couple days after the graduation is complete.
When you hear the distant sound of speaker feedback and clarinet music, you will know that the graduation has begun. You'll see a wave of people filing down the center aisle of the graduation seating area. Several of them will be melting in their asbestos robes and funny hats, and will be dragged down the aisle by other graduates.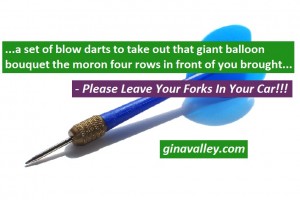 The matching goofy graduate garb and giant guy sitting next to you will work together to make it highly unlikely you'll spot your graduate during this processional. Nonetheless, social mores require you to stand, bobbing and weaving, in a futile attempt to get a clear view of the processional-ists to prove your devotion to your graduate.
But, don't worry about not spying your graduate on his or her way in. You will, assuming the keynote speaker ever finishes speaking, get to see your graduate march across the stage after his or her name is read. Please note that in this context "read" means "completely mangled and mispronounced to such an extent that even your graduate is not sure who the name card reader is talking about.
Naturally, your efforts to capture forever that look of confusion on your graduate's face will be hampered by a full memory card, a depleted battery, or both. Fortunately, a professional photographer will be stationed at the exit point of the stage to snap a charming candid photo of your graduate sweating and clutching his or her fake diploma. For only $87.63 you can purchase 2 wallet-sized prints of that photo.
The ceremony should take less than 3 days. Hopefully, you packed a canteen and a snack.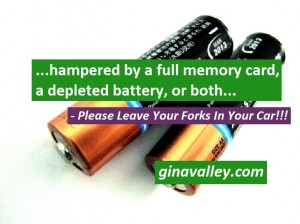 You will know the ceremony has ended when the army clad in asbestos begins to march out of the designated graduation area, and people around you begin yelling into their cell phones, "I don't see you. Do you see me? I'm waving. Do you see me? I don't see you…"
This is the point in the day when you'll wish you had set up a predetermined meeting point with your graduate. Some families spend more time trying to find their graduate after the ceremony than it actually took their graduate to complete his or her course of study.
This delay in departure is a critical issue, because for every extra minute that passes before you get to The Cheesecake Factory, the wait for a table increases by another hour.
Of course, if you're really thinking, you'll decide to remain in the designated graduation area.
After all, that's really the only way to get a good seat for next year's ceremony.
Laugh Out Loud!
-gina
Did you attend any graduation ceremonies this year? Did your chair try to eat you? Shoot me a comment. I'm looking forward to hearing what you have to say.
Photos courtesy of 
Stock.xchng
 – Used with permission.