Top 5 IDIOTIC Things I Do When I Forget My Phone…Gina's Favorites
by Gina Valley
I'm taking this week off to deal with some family issues, so I've lined up some of my favorite posts to keep you giggling. Laugh along with this 
Gina's Favorites
 post.
Top 5 IDIOTIC Things I Do When I Forget My Phone
We were running late.
We're always running late.
I should just say, "We left." Everyone knows the "We were running late" thing is implied by the whole "We left" thing in the first place.
I'll start again.
We left.
In our rush to leave not even close to on time, I diverged from my standard packing protocol, and forgot to put my phone in my right pocket.
I always put my phone in my right pocket. Always. I won't even buy clothes without pockets there anymore. I need that pocket for my phone.
I'm sure some are thinking that perhaps I don't need to have my phone with me all of the time, and perhaps you're right. But, I like to keep it with me all the time if any of my kids are not with me. I like knowing they can reach me if they need to.
Plus, I'm a little OCD (by "a little" I mean "a lot"), and I have to put stuff in the same place every time or I'll freak out.
And, of course I just need to have my phone with me all of the time, just like you need yours with you all of the time. Because we're normal. Or, maybe because we're not. I'm a little fuzzy on that.
Either way.
We were 10 minutes from home, already running 20 minutes late for my daughter's treatment appointment, when I realized my phone wasn't in my right pocket.
So, I morphed into an idiot.
Top 5 IDIOTIC Things I Do When I Forget My Phone
#5.  I lose my mind – I try to use my phone because I don't have it. The second I realize I've left my phone at home I decide to use it to call home to tell my family I left it at home. That's one of those moments when I'm glad my inner thoughts aren't being broadcast to the universe.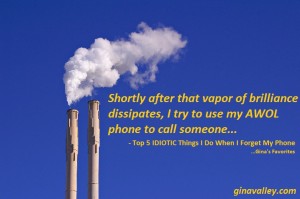 Shortly after that vapor of brilliance dissipates, I try to use my AWOL phone to call someone to ask them to call my phone to make it ring, just in case it's with me. Again, I'm thankful my thoughts aren't being broadcast.
#4.  I turn into The Town Crier – Finally, having accepted that I don't know where my phone is, I feel the need to share that important bit of news with everyone I encounter, as though it's a cross between winning the lotto and being stuck in quicksand.
Amazingly, upon hearing about my phonelessness, people treat me like I'm recovering from major surgery. "You forgot your cell phone? You poor dear. You better sit down and rest. Would you like a cup of tea? Is there anyone we should notify? Shall we call your pastor?"
#3.  I turn into timeless traveler –  I hear myself constantly asking people, "What time is it?" "What time is it now?" "Really? Only 3 minutes have passed." "Now what time is it?"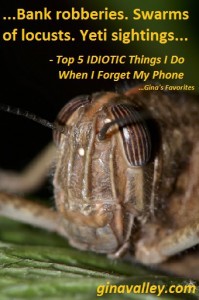 #2.  I join the cast of Happy Days – With my dear phone AWOL I slip into thinking that not having a cell phone must be what it was like to live in the 1950's. I think to myself, again thankful these thoughts aren't headed out over Wifi, that maybe they didn't have cell phones then because all the hair goo they used would wreck them. Plus, who's ever seen a poodle skirt with a pocket? Pretty soon I'm doing a Fonzie impression, looking for a jukebox, and wondering if I could put a carseat on a motorcycle.
#1.  I feed my inner-paranoid – I imagine all sorts of horrendous emergency situations are about to happen, which I could've easily escaped if only I had my cell phone with me. Bank robberies. Swarms of locusts. Yeti sightings. Granted none of these situations have ever happened to me or anyone I know, but when I forget my cell phone, I leave logic at home with it, so it won't be lonely. I'm a giver like that.
I did find my cell phone later that night.
It was in the right pocket.
But, in the pants I changed out of right before I left.
A rookie mistake, really.
There should be an app for that.
Laugh Out Loud!
-gina
How do you handle it when you misplace your cell phone? Have you lost it recently? Have your kids ever tried to flush it? Shoot me a comment. I'm looking forward to hearing all about it.
Photos courtesy of Stock.xchng – Used with permission