Flying Fur
by Gina  Valley
I'm chuckling as I watch our newest family member, Ziva, a 7 week old Lab-mystery-mix puppy, bound around our backyard.  Our older dog, Douglas, a 12 year old Lab-Saluki mix, has finally comes to grips with the fact that this ball of furry energy is staying.  It's hard dealing with a brand new baby sister out of the blue.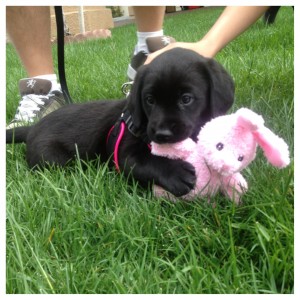 I think he's even starting to enjoy having her around.  He seems to be chuckling a bit, too, as we watch her clumsy efforts to stalk the army of squirrels and flocks of sparrows that call our back yard home.  The only threat she poses today is being annoying.  But, I think the animals know to keep an eye on her.  She'll be a whole different kind of trouble for them soon.
Perhaps it brings back memories to Douglas of his younger days, when he, too, was a squirrel nemesis.  In his prime he served as an agent of nature, insuring that only the swiftest, smartest squirrels survived in the little woodland world that is our backyard.
Then, there was only a handful of squirrels that would venture down from the trees to our lawn and patio.  Certainly, we never saw any of the small ones or the tubby ones I can see raiding our bird feeders right now.
Douglas doesn't bother to chase them much anymore.   Most of the time he evens ignores the squirrels that creep over to steal a piece of kibble from his bowl.  He rarely bothers to give chase, much less catch one.   I like to think that's due to our training efforts, but I think it's more likely due to aging and laziness.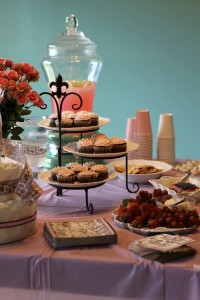 But, sometimes he has his moments.
And, man oh man, does he know how to make those moments count.
Last Fathers' Day we had quite a crowd.  Our pack, family, friends, our home was full.  It was quite the party.  A joyous celebration of Fatherhood filled our home.
Apparently, that stopped at our backdoor.
I don't know if Douglas was bored or energetic or felt like the party needed livening up, but for whatever reason, our giant, lightening quick dog decided it was the perfect time to go hunting.
Generally, we never hear Douglas hunting the furry tree hoppers.  We'd certainly discourage him, if we did.  Usually, we'd just find what looked like a squirrel that had been sat on by the giant dog.  It was usually flat and quite intact.  I kind of wondered if he was in fact simply sitting on them.
Well, whatever his usual mode of operation is, last Fathers' Day it definitely wasn't sitting on it.
Over the din of the crowd I heard him emit a long, low growl.  The back wall of our house is all windows, so I had no trouble spotting him as he came out of his crouch and took off across our yard and into the trees.
I was hoping no other people noticed, and that all the animals did.  Surely, every woodland creature heard him, and knew to run.  Right?
Well, not so much.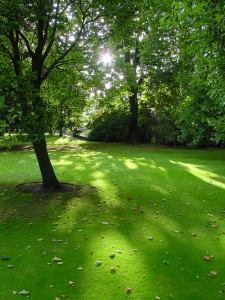 It was only a couple of seconds before he emerged from the trees carrying a none-to-happy captive squirrel.  Horrified, I grabbed The Professor and Son#1, and practically shoved them out the backdoor, while whispering , "Do something!"
Now, of course, the squirrel didn't go quietly.   Our guests might not have noticed had the squirrel not emitted an ear splitting, screech and bitten the dog, who then, for good attention getting measure let out a cat like howl.
Did our company notice?
Why, yes, they did.
Did my kids notice?
Yes, they did.
Nothing brings down a holiday quite like animal carnage in the backyard.
Naturally, the dog did not want to give up his hard fought, now limp, prize.  Nor, did he want to let us take a look at his squirrel-incisor-sized piercing.  And, to make sure neither of those things occurred, he proceeded to run away from my husband and oldest son as they tried to subtly corral him.
Of course, the dog decided that the best place to hide to escape his pursuers was right by the large glass sliding door that leads into our house.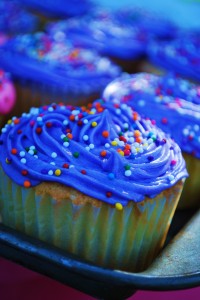 Yes, it is part of the all windows, back wall of our house, which, conveniently, all of our guests were staring out of.  Their mouths gaped in horror at the sight of an injured dog carrying around a formerly injured, now clearly way past that, squirrel.
I won't even get into what flew off when the dog shook the former squirrel and ran around the patio trying to avoid capture.  It was not pretty.
Do we know how to throw a party or what?
Fortunately, we'd long finished dinner.
Dessert was less popular than usual.  I suppose that's understandable.
I've seen studies that show that having pets makes you live longer.
I think maybe it just feels that way.
Laugh Out Loud!
-gina
Have your pets ever provided less than appropriate entertainment for your guests?   Are you a dog person or a cat person or a no pets person?  Shoot me a comment.  I'm looking forward to hearing all about it.