My Flab Is Snickering Again
by Gina Valley
See all those sad people around you?  They're the ones trying to adopt healthy habits.
These days nearly everyone is trying to get healthy.  That's why there's so much road rage on the freeways, at the grocery store, and in the Jelly Belly Factory parking Lot.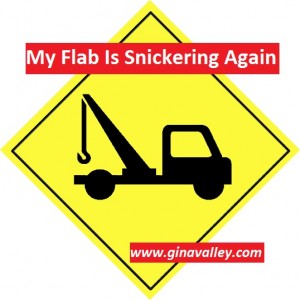 I've been caught up in The War Against Flab just like everyone else.
In the name of Good Health, I parked in the farthest space from the door when we went to the ice cream parlor.
When we returned, our van was boxed in by two 18-wheelers, a Prius, and a minivan. I almost threw my triple cone at them.  Almost.
I'm pretty sure I heard my flab snickering.
Again in the name of Good Health, I decided to take the stairs instead of the escalator to get to my gym.
It took the combined power of me and 2 trainers to shove the door to the stairway open.  One of the trainers remarked that he didn't think anyone had opened that door since the building was constructed.  Since the stairs inside were covered with enough cobwebs to be a set for the next Indiana Jones movie, I was inclined to believe him.
The other trainer said, "I'm not sure those stairs even work."  I think he may have dropped a barbell on his head earlier.
I'm pretty sure I heard my flab snickering.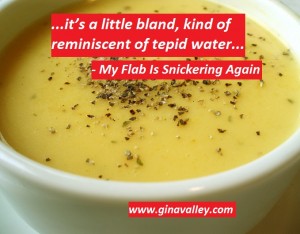 And, in the name of Good Health, while I was at Costco I bought some canned soup to use as a quick lunch back up for those days when I don't have time to pack a healthy lunch, and I don't have a lunch date (I also noted that I really need to get more lunch dates).  I bought the healthy, low-fat, low-salt soup.
The soup wasn't bad. I admit that, before you heat it up, it's a little bland, kind of reminiscent of tepid water. But, after you heat it up, it takes on a whole new attitude. It tastes just like chunky hot water. Did I really buy a pack of 10 cans of this? Stupid CostCo.
All it really needs is a big handful of cheese, 6 or 8 crackers, and a spoonful of salt.
I definitely heard my flab snickering that time.
Laugh Out loud!
-gina
What's you strategy for fighting the battle of the bulge?  Are you winning?  Do you take the stairs or the escalator?  And, why does the hand rail move faster than the steps on those things?  Shoot me a comment.  I'm looking forward to hearing all about it.