Top 10 Reasons My Kids Can't Help In Our Garden …Gina's Favorites
by Gina Valley
As I prepare to inform my family they have the privilege of helping me clean up our front and backyards this weekend, I thought this
Gina's Favorites
post was a timely place to find some giggles. Laugh along with me.
Top 10 Reasons My Kids Can't Help In The Garden
I bought a couple flats of flowers this week.
My mom is coming to visit next week, and I want our yard to look less like the local plant graveyard while she's here. Assuming we get all the flowers planted, surely even I, with my two black thumbs, can keep them alive for the week of my parents visit.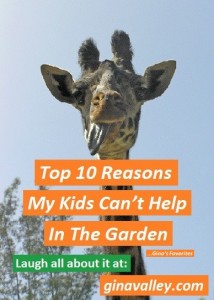 The Professor reminded me that I've killed artificial flowers in less time. I reminded him that I can start cooking vegan-only again anytime. He, then, told me that I'm smart and I'm pretty.
He really hated my vegan era.
Due to our long standing agreement to never work on the same DIY project at the same time together (one can only imagine how many murders and trips to the divorce attorney this policy has prevented in our home), The Professor was off the hook as far as helping plant the flowers.
He muttered something about needing to grade midterms and taking his car to the mechanic because it's making a new, weird sound, just to be sure he was able to dodge the draft he knew was coming.
I didn't really want him to help plant the flowers anyway. He always ends up dissecting the plants to show our kids the different parts. The plants do not like to be dissected and make that clear by, not only dying, but encouraging their friends to do the same.
The last thing I need is more help killing plants.
The other members of my pack, however, were all eligible to be drafted into service. Somehow, though, the little draft dodgers did not agree, and came up with a myriad of excuses.
Top 10 Reasons My Kids Can't Help In The Garden
#10.  "I'm watching a live feed of a giraffe giving birth" (he was, and, ewww!).
#9.  "I just put a new stick of gum into my mouth."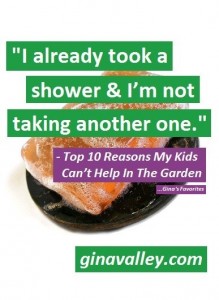 #8.  "I already took a shower today and I'm not taking another one."
#7.  "When I wear shoes my feet can't breathe."
#6.  "I'm allergic to dirt" (this from the teenager whose dresser is covered in a layer of dust thick enough to plant vegetables in).
#5.  "That bug is looking at me" (yes, the bug was looking at him).
#4.  "I'm thinking about doing my homework."
#3.  "The dog is asleep on my foot."
#2.  "I have to watch this program so we can erase it from the DVR."
#1.  "There's no Wi-Fi out there."
They did all end up rushing out to help me plant the flowers after all, though.
It was just after I announced that the last one ready to help had to clean all the toilets.
Not my first time at this rodeo.
Laugh Out Loud!
-gina
Any less-than-eager helpers in your house? Does your family find chore time a great time to practice Hide-and-Seek? Shoot me a comment. I'm looking forward to hearing what you have to say.
Photos courtesy of 
Stock.xchng
 – Used with permission.